Campus Ministries
A Lutheran college?
"Whoever welcomes you welcomes me, and whoever welcomes me welcomes the one who sent me."
Matthew: 10:40 NRSV
As a college related to the Evangelical Lutheran Church in America, Augustana College is committed to meeting the spiritual needs of all its students. The college's relationship to the church requires respect for all persons, regardless of religious preferences.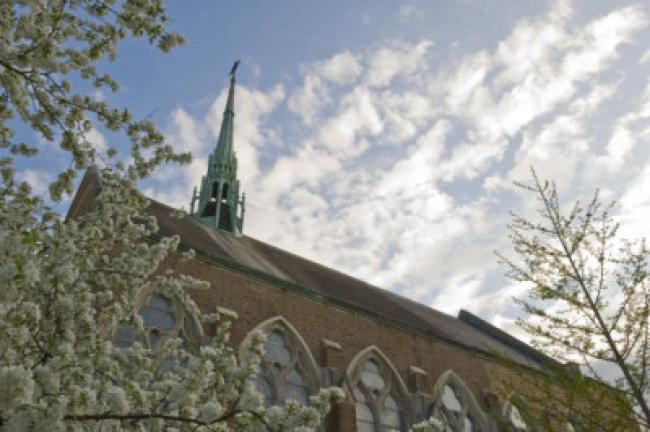 The Office of Campus Ministries is a primary resource for students seeking spiritual guidance, providing opportunities for worship, learning, and service during the school year. There are two full-time chaplains who are available to all students and a student leadership team who serve as peer mentors and event planners for Campus Ministries.
Spring break service trip
Since 2009, Campus Ministries' "Alternative Spring Break" has take Augustana students to Appalachia. Working a variety of jobs, mainly housing improvement jobs through Henderson Settlement in Frakes, Ky., the group affects the lives of others, and also their own lives.
The jobs completed throughout the week ranged from insulating an attic, to flooring projects, ramps, porches, decks, and replacing a roof on a house. Even though there is work to be done all day, there is still plenty of time to relax, reflect, and just hang out and get to know everyone better. It's safe to say that despite the 625 mile trip from Rock Island to Frakes, it is a spring break to never forget.
The next group will be going in March 21-28, 2020. Contact Campus Ministries for more information.
Wednesday Night Chapel
"Every Wednesday night at 9:30, my friends and I cram into a pew under those arches [in Ascension Chapel]....What is most Augustana-y about Augustana surrounds me at this service, like the candlelight that fills the chapel's dark corners and reaches its high ceilings. Kneeling in the dark at the altar, praying with my peers, I think to myself how precariously everything is balanced. What if I had gone to a different school, what if I had lived in a different residence hall, what if I had chosen a different major, what if... I must have just gotten lucky, I decide. I close my eyes and thank God for bringing me to such a wonderful home."
— Anonymous Augustana student 
Five Faith Commitments
As part of Augustana's dedication to helping students not just develop academically, but to grow in mind, spirit and body, we present our Five Faith Commitments, aspirations that reflect the importance in the church relationship of the college.
Have a question or something you want to share with us? Email us at Campus Ministries.
We are proud to be a Reconciling in Christ congregation, welcoming students of all ages, genders, sexual orientations, races, colors, creeds, ethnic backgrounds, and individuals with disabilities to participate fully in our ministry.