Campus Ministries events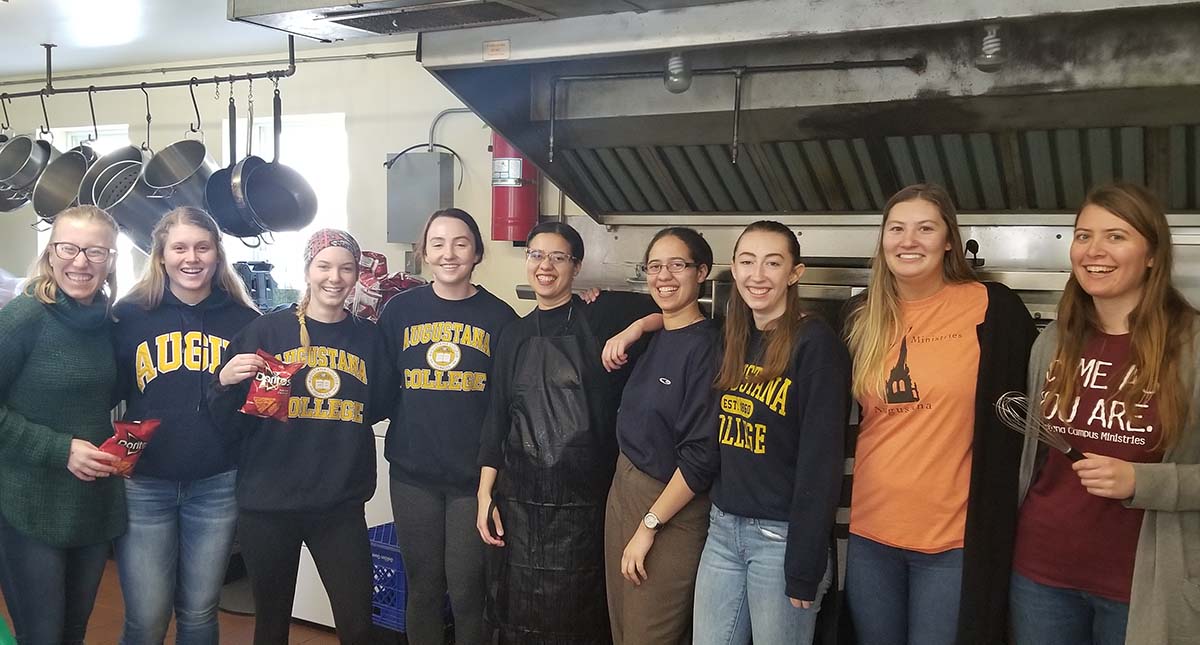 Service event
Campus Ministries organizes a volunteer opportunity to prepare and serve food to the homeless community of the Quad Cities through an organization called Café on Vine in Davenport, Iowa.
Retreats
Retreats are free of charge and are open to all Augustana students, faculty, and staff. Space is limited, so sign up as you see emails for the retreats.
These retreats are a beautiful way for your heart to move closer to God, and spend time away from the stress of daily life. We have a retreat for every term, so there are many opportunities for you to be a part of these relaxing getaways.
Fall
This is a day retreat to Loud Thunder Forest Preserve for lunch, canoeing, games, and meeting new people! There is transportation to and from Loud Thunder.
Winter
This is a 24-hour retreat to St. Mary's Monastery.
Spring
The 2020 spring retreat will be Feb. 28-March 1 at Benet House Retreat Center near Rock Island.
Taizé Trip
Augustana Pastor Richard Priggie will lead students on a fun and inspirational seven-day trip to the Taize' community in France in 2020 (dates TBD).
The Taizé community is an ecumenical monastic order in Burgundy, France, of more than 100 brothers from Catholic and Protestant traditions, who come from many countries.
Every year, thousands of college students and other young adults from around the world come together for worship, singing, Bible study and conversation.
The Augustana group's time in Taizé will be preceded by two days in the  provincial town of Cluny and will end with three days in Paris, including a side trip to the magnificent Gothic cathedral in Chartres.
The cost of the trip, including airfare, lodging, and food, is $3,000 per person. Augie Choice may be used to defray part of this cost. Because this trip is offered just once every three years, current first-year students are eligible to use their Augie Choice money for this purpose.
Appalachia Spring Break Trip
Leaving: Saturday, March 21, 2020, 9 a.m.
Returning: Saturday, March 28, 2020, 6 p.m.
Since 2009, Campus Ministries' "Alternative Spring Break" has take Augustana students to Appalachia. Working a variety of jobs, mainly housing improvement jobs through Henderson Settlement in Frakes, Ky., the group affects the lives of others, and also their own lives. 
The jobs completed throughout the week ranged from insulating an attic, to flooring projects, ramps, porches, decks, and replacing a roof on a house. Even though there is work to be done all day, there is still plenty of time to relax, reflect, and just hang out and get to know everyone better. It's safe to say that despite the 625-mile trip from Rock Island to Frakes, it is a spring break to never forget.
The cost of the trip is $200 per person, paid to Connie Huntley, Campus Ministries Office Room 207, Founders Hall, by Feb. 21, 2020. A check can be made out to Augustana College. The cost covers transportation, lodging, food, hotel, and the cost of materials for the work that we will do. More than half the actual cost is subsidized by Campus Ministries and Augustana alumni. Travel will be by vans.
Questions? Contact:
Pastor Richard Priggie, richardpriggie@augustana.edu
Connie Huntley, conniehuntley@augustana.edu