Services for fall semester 2020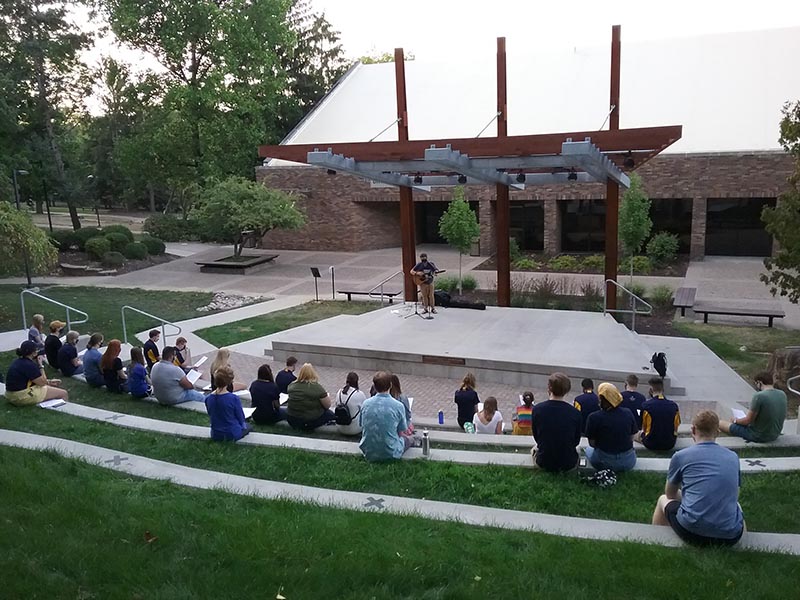 Wednesday chapel
Outdoors at 8 p.m. at the Anderson Pavilion or in Ascension Chapel in bad weather.
Sunday services
Lutheran services: St. Paul Lutheran Church (virtual) available any time on Sunday.
Non-denominational: The House Church  (live virtual) 10:30 a.m. on Sunday.
Catholic: Mass at 10:30 a.m. Sundays outdoors near the Tredway Library or in Ascension Chapel in bad weather.
Jewish services
Augustana community members who wish to attend Jewish services are encouraged to explore the options offered by their home congregations until  ervices in the Quad Cities can be resumed.
For more information, consult Temple Emanuel, Davenport, Iowa, for Reform services and the Tri Center Jewish Center in Rock Island for more a traditional liturgy. Both temples welcome Augustana students for all services, activities, and volunteerism.
Muslim prayer
Augustana community members who need a space for the five daily Islamic prayers can use the Muslim Student Association's prayer/worship room in Olin 306. Only two individuals are allowed in the room at the same time.
Face masks, physical distancing, and personal prayer rugs are required.
There will be no Jummah/Friday congregation this semester on campus.
There are local mosques nearby for students interested in attending Friday/Jummah prayer services. Please read the COVID guidelines before attending Muslim community worship services. 
Islamic Center of the Quad Cities in Moline, Ill.

Muslim Community of the Quad Cities in Bettendorf, Iowa
Students who have questions about Muslim worship opportunities or interested in participating in the Muslim Student Association can contact Dr. Fatima Sattar, MSA faculty advisor.