Tips to survive (and thrive!) during finals
To survive (and thrive!) your finals week, remember to take care of yourself mentally and physically, eat and drink right, and stay on top of your assignments. 
 
This can seem overwhelming, especially when it's the Sunday before, but stay ahead and healthy by following these tips. 
 
Mentally and physically
It's important to take care of yourself mentally and physically every day, but make it a priority during finals time. 
 
To physically take care of yourself, consider going to one of the many workout classes offered at Augie. There's yoga, kickboxing, palates, and a lot more. Plus, all classes are free for Augustana students!  
 
If group exercise isn't your thing, (trust me, I understand) the Westerlin gym is always a good idea. Or if the weather is nice, consider a walk-through campus. 
 
Taking care of your mental self isn't always a priority for people, but mental care is just as important as physical care. 
 
The best way to practice mental care is through self-care. Augustana has a lot of self-care options during final weeks that differentiate every year.
 
In the past, the library has brought in therapy dogs and button making. These events are fun, quick and can be the perfect time for a study break!
 
Self-care is important and should be a priority. If offered events don't work in your schedule, then give your mind a break by coloring, journaling, or playing a board game with friends. Oh, and a face mask is always a good idea! 
 
Consider focusing more on your mental health during finals week than you normally do. If you find yourself struggling more this term than normal, don't be afraid to reach out to counseling services. 
 
Also, try reaching out to your professor or fellow classmate. The community around you is always willing to help.  
Eating and drinking
Eating and drinking right is crucial during finals week. 
 
Consider taking a break from all caffeinated coffee and having a hot caffeine-free tea instead. Oh, and don't forget to drink water! Your body needs it. 
 
I am very guilty of stress eating, but it's important to control yourself during finals week. Don't let yourself stress eat McDonalds cheeseburgers or nuggets every night. 
 
Instead, head to the dining center where you can enjoy a wide range of dinner options, all of which your body will thank you for eating instead of fast food. 
 
Get Organized 
Finals are stressful between papers, presentations, and tests. The list of things needed to get done can seem endless, but the best way to conquer finals week is by staying organized. 
 
If you don't use your planner a lot during the semester, use it now! You don't want to find yourself forgetting to turn in a paper or worse -- showing up to the wrong final time. 
 
When working on your assignments, you might think of going to the library, but it can feel as if every Augustana student is in the library during this week. If you can still work with white noise in the background then consider going to a coffee shop off campus. There are endless options around the Quad Cities! 
 
But, if you prefer to stay on campus, the library is always a good idea. The different floors can make certain assignments or tasks easier to work on. 
 
The 3rd floor is a quiet floor which makes it the perfect place to study. If you have a group project or find it easier to work with friends, head to the 2nd floor. 
 
The second floor has numerous tables and desks to use, but during finals week they bring out the giant stuffed animals, puzzles, and coloring pages. 

Remember that finals week is important, but it's not everything. Continue to work hard and stay focused but don't let finals consume you. 
 
Oh, and good luck!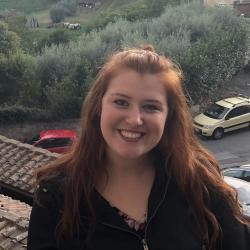 Chelsea Meyer
Chelsea Meyer is a senior from Roscoe, IL. She is double majoring in Communication Studies and Multimedia Journalism & Mass Communication while on the Pre-Law track. 
On campus she's involved with Greek Council as the service chair, a member of the Delta Chi Theta Sorority, and a member of the Women's Golf Team.