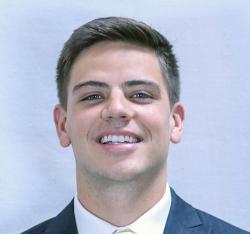 Dylan Sortillo
Admissions Counselor
Hometown: Bettendorf, Iowa
Current town: Davenport, Iowa
College attended: Augustana College
Degree: Bachelor of Arts
Majors: Business administration (marketing and management), communications
What did you do before Augustana? I worked as an account executive in group events and hospitality for the Arizona Diamondbacks, the major league baseball team in Phoenix. I have a passion for sports and was able to get an awesome experience working for a first-class organization; largely in part to resources I garnered while at Augustana, including an internship for a minor league baseball team I was able to get through our career development center in CORE.
Why did you decide to work in this field and/or at Augustana? I decided to work in this field because I genuinely love Augustana and the people here. I think anyone who has spent time on campus can attest to how special of a place this truly is. I'm grateful I get to showcase that every day and hopefully give perspective students the opportunity to have a similar experience.
What do you like to do around the community? The Quad Cities is truthfully a hidden gem. With a population of around 400,000, you can get whatever experience you're looking for here whether that's a big-city feel or more of a tight-knit community feel. There's a little something for everyone depending on your interests. I enjoy checking out our minor league baseball, hockey and football teams as well as the John Deere Classic PGA tour event. I also am into concerts, restaurants, and outdoor activities the QC has to offer.
What advice do you have for students who are searching for the right college for them? Decipher what it is you think you might want to get out of your college experience and go from there. Figure out what's most important to you and find a college that checks all of the boxes.
To me, the biggest thing is to take lots of visits, meet with real people on campus who have experienced the college, explore campuses, and get an understanding of exactly what that particular college is all about. It sounds cliché, but doing this you'll be able to find a place that feels like home. Most of the time you'll know when you have found the place you want to be. 
 
Specializations: Admissions