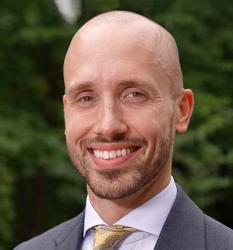 Kyle Ekberg
Assistant Director of Advancement, Intercollegiate Athletics Fundraising and Alumni Relations
Kyle Ekberg joined the college in 2017 as Augustana's first athletics gift officer. The newly created position in the Office of Advancement seeks out and builds relationships with donors who want to give specifically to the athletics.
 
A 2009 Augustana graduate, Ekberg returned to his alma mater after fours years as the head coach for men's and women's track & field and cross country at Rockford University in Rockford, Ill.
 
A native of Rockford, where he attended Rockford Christian High School, Ekberg enjoyed a tremendous four-year track career at Augustana. He was a two-time NCAA Division III All-American and a five-time College Conference of Illinois & Wisconsin champion.
 
After graduating from Augustana, Ekberg moved on to Valparaiso University in Valparaiso, Ind., where he earned a M.S. in sports administration in 2012, graduating with highest distinction. He worked in various capacities in the athletic department at Valparaiso before landing the position as the head coach of both men's and women's cross country and track & field programs at Rockford. While there, he earned an M.B.A. in 2015.
 
Ekberg also worked in the financial world with positions at Merrill Lynch and Wells Fargo immediately after graduating from Augustana.
Specializations: Advancement
Education
B.A., Augustana
M.B.A., Rockford University
M.S., Valparaiso University