News
$10,000 Business Plan Competition open for 2020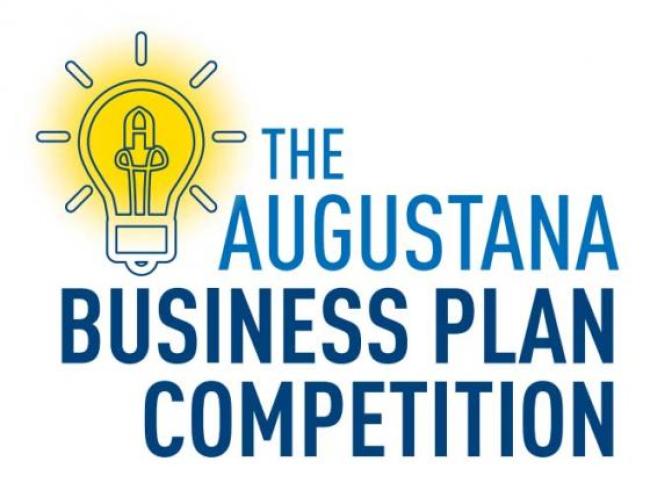 The 2020 Business Plan Competition at Augustana College will award $10,000 in prize money to students with the best business ideas.
The fourth annual competition, sponsored by the Augustana Creative Enterprise Fund, allows teams or individual students to present their ideas and plans to a panel of business professionals.
All current students of Augustana College are allowed to submit written business plans, and the best five plans will be invited to compete.
Written business plan submissions are due to Dr. David Thornblad by email by noon Feb. 2, 2020. The teams with the best plans will be informed by March 9.
Teams will then have two weeks to update their plan and submit it to Dr. Thornblad by March 24. These plans will then be sent to the final panel of judges for them to review before competition. The competition consists of presentations to judges, and will take place from noon-4:30 p.m. on May 2.
Presentations will take place in a conference room on campus. Each team will have 10 minutes to present their business idea to a panel of business professionals, followed by 10 minutes of questions and answer. A PowerPoint or Google Slides presentation is recommended to highlight and explain major parts of the business plan.
Once all teams have presented, the panel will make decisions as to which teams had the best plan based on the merit of the idea, the research the team has done with regard to the business's feasibility, as well as the team's persuasiveness. 
Presentations may be videotaped and/or photographed for media, publicity and teaching purposes. Teams should expect that these videotapes and photographs to be shared on social media, websites, and other locations to promote the college and the event.
Students who submit a business plan to the competition must be available to present sometime between noon and 3 p.m. May 2, and attend the awards ceremony afterward. The competition should be completed by 4:30 p.m. The top three teams will be asked to have their pictures taken with the judges after the ceremony.
The $10,000 will be awarded as follows:
First place: $4,500
Second place: $3,000
Third place: $1,500
Remaining two teams: $500 each
The judging panel will consist of CEOs, bankers, investors, entrepreneurs and consultants, as well as other professionals. No Augustana faculty members, staff or administrators serve on the panel.
Information for students
Q: What does a business plan look like?
A: Business plans identify a problem that people or businesses have, and propose a solution in the form of a product or service an entrepreneur wants to offer. Business plans tend to have in-depth research about the problem, and how it affects people or businesses as well as the industry. It is important to do research to show there is a legitimate problem that people or businesses will pay to solve.
Business plans also have financial estimates, generally for the next three to five years, of costs to start and manage the business as well revenue projections. These estimates need to be researched in order to provide a convincing argument about how a business will be profitable.
There are many free sources to get templates for business plans and guide you through the process. We recommend using the SCORE Business Plan Template for a Startup Business.
The business plan needs to include the names and ID numbers of all people on the team on the front page.
Q: I am not a business administration student, can I compete?
A: Yes! If you have a business idea we encourage you to submit your written business plan. However, you may want to consider partnering with business students to help develop your business plan.
Q: Can people outside of the college be on a team that includes Augustana students?
A: Only Augustana College students enrolled in the spring semester may present to the panel. Only current Augustana students will be awarded money if they do well in the competition. Only one business plan per student.
Q: Am I required to use the award money to start my business?
A: No, you may use it however you wish. Award money will be split evenly among team members unless there is a written agreement signed by all team members requesting a different split.
Q: Who will judge the submissions to narrow the plans down to the best five plans that will be invited to present?
A: Business professionals affiliated with SCORE who have no prior knowledge of the business ideas. SCORE is a nonprofit organization and a resource partner of the U.S. Small Business Administration. 
Q: Are there any other stipulations?
A: Yes. If you win a monetary award you will be expected to sign a document stating that you understand the following:
1. You agree that any award money you are due from the competition will first be applied to any outstanding debts that you may have with Augustana College.
2. You understand that by accepting this monetary award it will be counted as income (a resource for educational expenses). This may negatively influence your eligibility for federal work study eligibility, federal and private student loans, scholarships and grants in future years.
3. This money will be considered taxable income. You will be paid through Augustana's payroll office and income taxes will be deducted from the award money you are due. However, if you have a legally established business, the full amount of the award money can be given to your business pursuant to filling out a W-9 and/or other appropriate forms.
Before you sign the document, you should note the following:
1. You have the right not to sign this document. If you do not sign, you forfeit any monetary award. However, you retain the right to state that you competed in the competition and your team won an award in your resume or other documents.
2. You have the right not to sign this document immediately. You have up until the end of the work day immediately after graduation of this academic year to meet with financial aid to discuss how this award will influence your future aid package. If this agreement is not signed and returned to the business office before the end of the work day after graduation, you will forfeit any monetary award.
Q: How and when will I be paid?
A: You will be paid through Augustana's payroll office; income taxes will be deducted from your award money (see previous question).
Q: How is this competition being funded?
A: The Business Plan Competition at Augustana College is funded by the Augustana Creative Enterprise Fund, which has been provided with a gift by a donor.