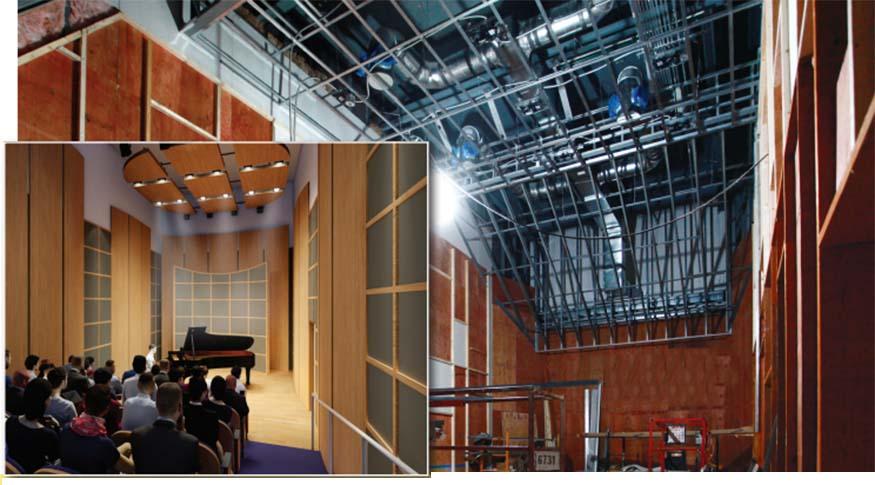 News
$2 million anonymous gift for Bergendoff project
An anonymous donor has contributed $2 million for improvements to Bergendoff Hall of Fine Arts.
Bergendoff, which houses the music, music education and art history programs, and performing arts spaces, is currently in Phase I of a three-phase renovation. 
The unexpected gift will enable the college to continue into Phase II of the project. In total, the renovation project is expected to total  $12-$13 million. About $5 million has yet to be raised. To date, donors have committed nearly $2.3 million to the project.
"This tremendous gift directly supports the teaching and learning opportunities at Augustana," said Kent Bards, vice president of external relations. "Direct support for this project shows how important the fine and performing arts are at Augustana College."
Augustana music ensembles recently performed two well-attended Christmas at Augustana concerts, one of the cornerstone performances of the music program. 
The renovation plans include upgrades to classrooms, ensemble practice spaces, faculty offices and performance venues. Phase I included two music education classrooms, common spaces and multiple faculty offices. 
The former Potter Theater space in the building is being divided into two new classrooms and rehearsal spaces. The backstage area of Potter Theater has two-and-a-half stories of vertical space and will become the Julie Hamann '82 Elliott Concert Hall for recitals by senior students and faculty.
About 25% of Augustana students pursue majors in music, music education and art history, or participate in one of 17 music ensembles.
"Donor support like this makes a direct and lasting impact on the lives of Augustana students," said Barnds. "Projects like these cannot happen without considerable generosity, and we are pleased to continue the transformation done inside Bergendoff Hall.
"Donor gifts — big and small — are treasured and appreciated on our campus," said Barnds. "But, I have to admit, a gift of this size, at this time of year, conjures up some very special Christmas feelings."
 
Contact: