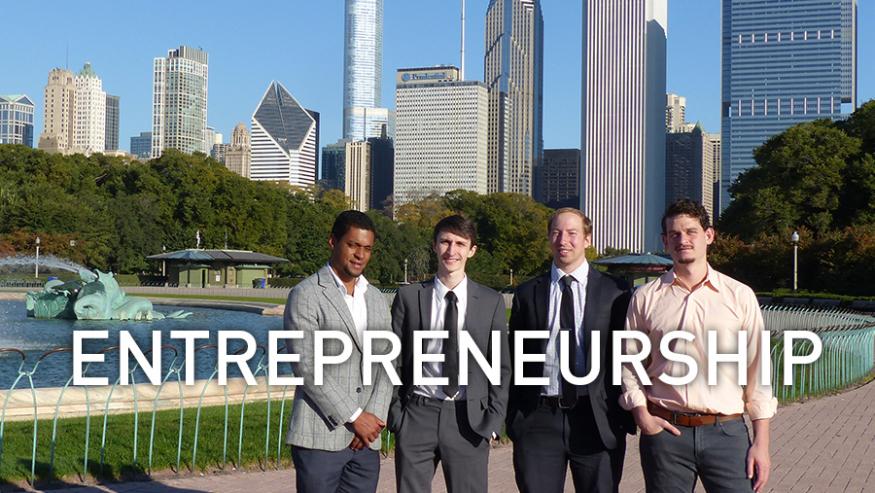 News
38th Street Studios
Some enterprising young alumni are dipping their toes into the multi-billion-dollar tech industry. With the launch of one smartphone app, and a more ambitious one in the works, they're starting to get those chills up their spines that suggest business might be taking off.
It's heady stuff, considering they're only a couple years out of Augustana. This summer they opened their first office in downtown Chicago. And they credit much of their entrepreneurial success to Augustana. In fact, the name of their company is 38th Street Studios, a name derived from the 38th Street address of Augustana.
"We're just a product of the Augustana environment," said Ken Clay '14, who founded the company along with Mark Hoffmann '15 and Stuart Casarotto '14. "We've had great mentors and leaders at Augie who have helped us along the way, and enabled us to carry our vision into the real world."
It's a vision that now includes a view of Lake Michigan from their offices on South Wabash Avenue, just off State Street. Their technology consulting company has grown to a staff of 10 with new hires, and nine are from Augustana. The orientation toward the college is reflected in almost everything they do, whether it's networking with other alumni or adopting Augustana's credo of leadership and service.
"I had opportunities that never would have happened at a larger school," said Casarotto. "I had better access to professors and better access to ideas. I was encouraged to do things I felt were important, and developed a mindset that I could accomplish what I set out to do, and make an impact on the world we're living in."
All three say that all the entrepreneurial resources they needed to succeed were sitting on their doorstep at Augustana. They talked to their professors, joined leadership and service groups and did their homework.
Translation? Everything translates
Casarotto was an engineering physics and environmental studies major. On the side, he developed the AugiePonics food science program on campus, the Salon program for Socratic dialogues and software for the City of Moline.
Clay was a quarterback and defensive back on the football team, pledge chair for Phi Omega Phi fraternity and the business major who convinced his two buddies they all needed to start a business.
Hoffmann was another engineering physics major. He was executive director of the Office of Student Life program at Augustana for three years where he managed people, led programs and developed projects. He topped it off with a master's degree in data analytics from North Carolina State University.
The result was an unusual depth of experience when they decided to dive headfirst into the business of 38th Street last November, pulling all-nighters and surviving on ramen noodles in Clay's basement.
The first product they developed was "First Class," a ridesharing smartphone app for limousine companies, and a tool those companies could use to compete for high-end customers against other ridesharing services like Uber and Lyft.
They held a coming-out party for "First Class" in April, and turned it into a fundraiser for non-profits. It was a gesture that held special meaning for the crew of 38th Street, Clay said, by aligning the company with the service component of their Augie experience.
"We're young, we're a new company, and we want to show people who we are," Clay said.
When "First Class" caught the attention of Chicago's Windy City Limousine, Clay said the owner was so impressed, he signed up as a strategic partner and investor in 38th Street. For Clay, that was a defining moment. "I realized we could accomplish big things."
Precog wins over Chicago
The next break came in June, when 38th Street entered as a team in a citywide entrepreneurial contest sponsored by AT&T. The object was to develop a mobile app to make the city of Chicago smarter. The 38th Street crew took first place, and did it with Hoffmann's special expertise in predictive analytics.
The team developed a software tool called Precog, a short form of "precognition." It crunched years of Chicago crime data, allowing the police department to see future trends and distribute its resources more efficiently. Precog can digest all the variables that relate to crime — weather, type of crime, location, time and day, special events nearby — and then predict the probability that crime will occur in any given location.
The result also is a mobile app that police can share with local communities. If they can see where there's likely to be trouble, they can get in early and set up a local collaboration with the community to stop it.
"That's where we saw an opportunity to come in and say, 'We can make this data work for you, and potentially save lives in the process,'" said Hoffmann. "So there was an opportunity for social good, which is also very important to us."
"We're just a product of the Augustana environment."
The prospects for Precog are a big deal for Chicago as it suffers high murder rates and a public backlash against policing practices. Executives from the police department and the mayor's office have begun discussions with 38th Street about deploying Precog as a template in Chicago. Venture capitalists are talking to 38th Street about Precog as a template for departments in other cities nationally and around the world.
Whatever happens, the young entrepreneurs have already pulled the curtain open on the world. They see a future almost unlimited for those who can use data in smarter ways. Hoffmann is the cruncher. Casarotto develops the interface to access the information that Hoffmann crunches. Clay is the chief exec who pulls it all together.
They are a startup on the brink: talking to a big city, big companies, and feeling an urgent need to expand rapidly in downtown Chicago so they can develop more products.
But they also are continuing their conversation about service and leadership, the other pillars of success. Their long-term vision is to start a venture fund that can help encourage other entrepreneurs at Augustana.
"If you have an idea, and you have a tie to Augustana, we want to have a portfolio fund that has the kind of resources to help you pursue that goal," said Clay. "That's the ultimate goal of 38th Street; to keep it all in the family."
– Jeff Moore is a freelance writer and videographer
Who's at 38th Street Studios
Co-founders: CEO Ken Clay '14; Vice President of Analytics Mark Hoffman '15; Vice President of Operations Stuart Casarotto '14
Director of Marketing: Lauren Santee '15
Creative Director: Jesse Nagelberg '15
Director of IT: Steve Ash '11
Interns: Alec Welser '16 and Kyle Zeberlien '17