News
Alumni find joy in building school in Tanzania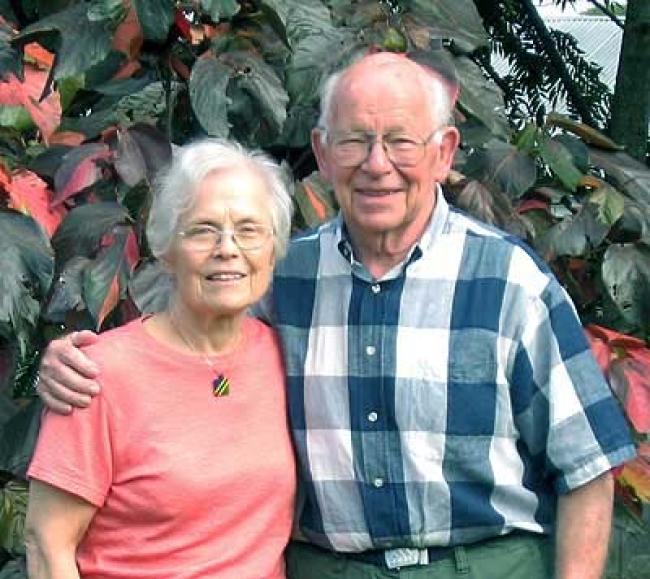 During a mission trip to Tanzania in 1999, Don '50 and Joann Swanson '52 Tolmie talked with Lutheran pastors about the dim future for physically challenged children due to the country's lack of appropriate facilities and the culture's prejudice against those with handicaps.
"Because of Joann's mother we started wondering what we could do — and we went with that thought," Don says. Joann's mother, Mabel Swanson, graduated from Augustana when she was in her late 30s; she then taught physically challenged children and young adults for 22 years.
The Tolmies met with a Lutheran bishop in Tanzania and inquired how they could help. The bishop carefully pulled out a set of blueprints that had been drawn five years earlier. "We had faith someone, sometime, would come along to help us," the bishop said. After the Tolmies looked over the plans for the primary school, they knew they wanted to be the ones to get the project started.
"And here we are, 11 years later," Don says, and he and Joann share a laugh.
Don and Joann funded the building of the residential school in honor of Joann's mother. In Swahili, faraja means comfort and consolation. What better name than Faraja Primary School for a facility that offers not only academic instruction but also vocational and physical therapy to children with physical challenges?
Their vision to provide opportunities for these special children to obtain a primary education was realized in the fall of 2008 when the first class of 15 students received certificates of graduation. But that wasn't the biggest news. When the Tanzanian government announced the results of the national examinations taken by all primary school graduates, Faraja's graduating students rated third among the 60 primary schools in the district. All 15 Faraja graduates had qualified for secondary school.
The boys now attend a highly rated secondary school that provides residential facilities with some provisions for physically challenged students. The girls attend a different, but equally rated, secondary school. One graduate received unusually high scores on the national exam and is attending a school for exceptional students. The Faraja Fund Foundation continues to support Faraja students through secondary school and on to the university, vocational training and job placement.
It's been several decades since the Tolmies were on campus in the late 1940s and early 1950s. Joann Swanson '52 studied "speech correction," the name for today's communication sciences and disorders major, under the tutelage of professors Dr. Don Davis and Martin Holcomb. Don Tolmie '50 went on to study law at the University of Illinois in Urbana-Champaign. He graduated from law school in 1953, the same year he and Joann married.
A family focus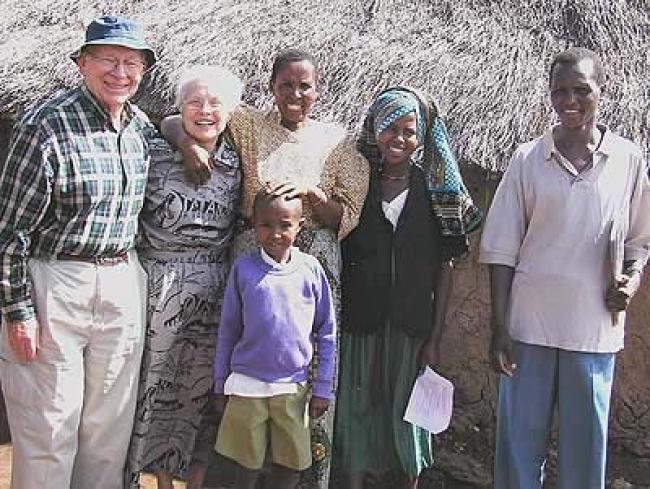 Now in their early 80s, Don and Joann have dedicated themselves to a ministry that is changing the lives of children in a country thousands of miles from their home in Virginia.
"We love them all, and they love us," Joann says. "We sometimes mix up names, but no one minds. They truly are all unforgettable."
The couple recently received the Hearts & Hands Diamond Service Award from Lutheran Family Services of Virginia for their work in bringing about the Faraja Primary School. They were recognized for their extraordinary vision, organizational skills, fund-raising acumen and stamina. Both have traveled to Tanzania 22 times in the past 11 years, often with members of their church, the First Lutheran Church in Norfolk, Va. "The more we're there, the more we get done," Joann says.
The Tolmies are proud that Faraja School has become an important part of their church's outreach. "Faraja is not something that Joann and I do," Don says. "It is something that First Lutheran does."

Don and Joann's three sons and their families, including eight grandchildren, all have made at least one trip to Tanzania. Everyone has been involved in the Tanzanian ministry by raising money and donating supplies. To ensure the school will continue for years to come, the Tolmie family created the Faraja Fund Foundation, a non-profit organization. Two of the Tolmies' sons currently serve on the board.
"This focus on service ... we hope it stays with them," Joann says, referring to her grandchildren. "We hope it becomes as important to them as it is to us."