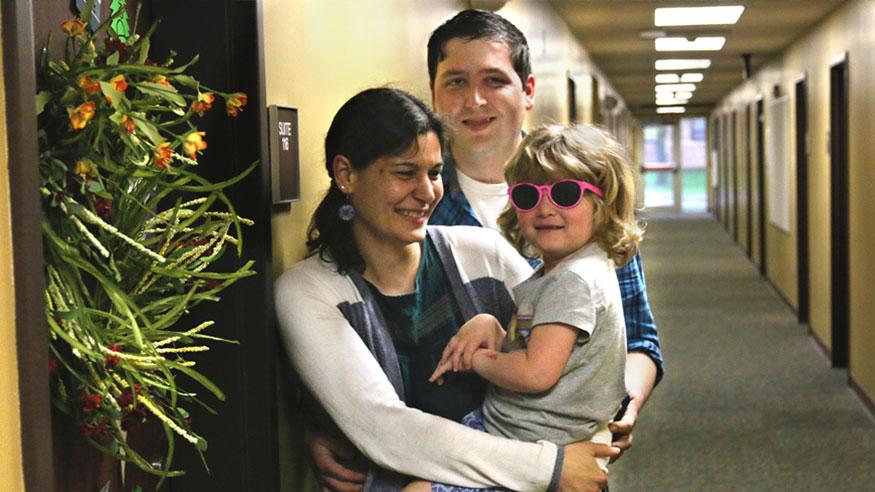 News
Ask the librarian! (She lives down the hall.)
On college campuses it's not that unusual to meet people who say they "grew up in the library." But librarian Maria Emerson says she grew up in a residence hall. 
This alone suggests she's a good fit for Augustana's faculty-in-residence program, in which a faculty member lives for three years in Swanson Commons, providing a resource and helpful presence for the sophomores living there. 
As a child, Emerson lived for 13 years among students at Hope College in Michigan, where her mother was a resident director in the halls. "College students don't see children often, so I got a lot of attention," she recalled. 
This summer she'll move with her husband, Lee Villalpando, their four-year-old daughter Scout and dog Storm into an apartment in a wing of Swanson Commons. Emerson is excited about closer connections with more students, especially after serving as a first-year advisor this year.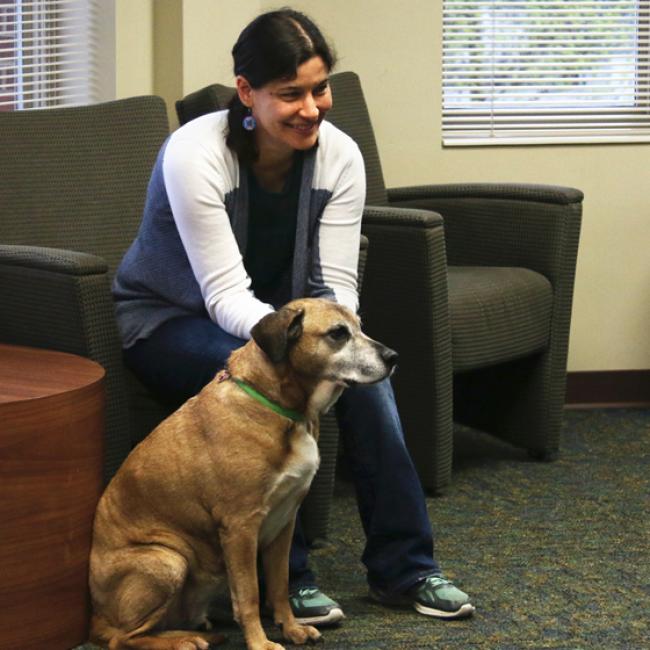 "I think getting to know students better will be a lot of fun," she said. "In the library I spend some time with them, but it will be nice to be able to form more solid relationships."
In Swanson, she will be available for advice and support. She'll arrange social gatherings and programs to help students through the important second year, when many are choosing majors. Emerson thinks it's important to develop programming according to what students want. 
"She's been doing some really fun things in the library," said Director of Residential Life Chris Beyer, thinking of her Literary March Madness program, button-making sessions and more. "I'm sure she'll bring some of that energy into the residence halls."
According to Beyer, the faculty-in-residence program has been a huge success. Introduced in 2016, the program is part of the college's strategic effort to better connect the academic, co-curricular and residential sides of each student's experience. 
Augustana's inaugural professor in residence was Dr. Kathy Jakielski, head of the Department of Communication Sciences and Disorders. She has been living in the Swanson Commons apartment with her husband David Yordy and their two cats. 
She feels more connection to students now, Dr. Jakielski said, "because I understand that they're really not that different from my generation, or from anyone's generation." (However, one of the things she was surprised to learn during those three years is that students today really do write seven-page essays on their phones.)
Recently Dr. Jakielski invited Emerson's daughter, Scout, to see the room that soon will become her bedroom. With a four-year-old's excitement, Scout quickly showed off her new room to some Augie students. 
Emerson said her husband, Lee, also is looking forward to being on campus. "He loves video games, so he'll probably be pretty popular with the students," she laughed.