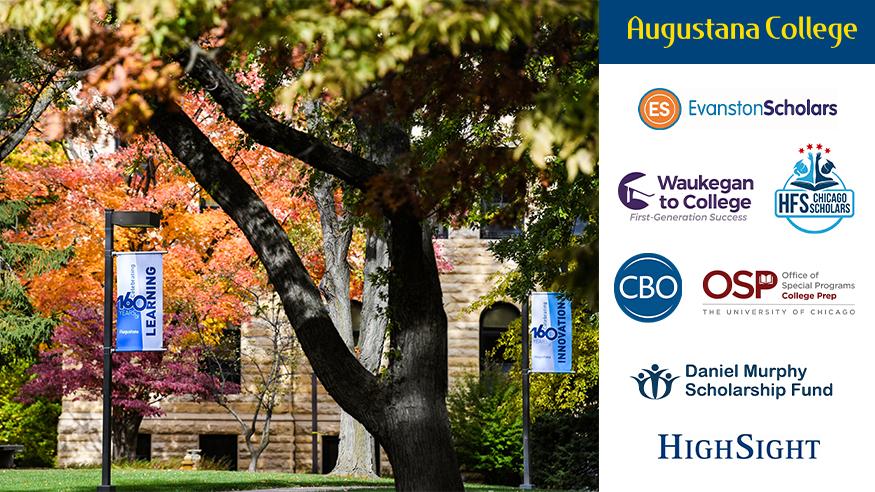 News
Augustana announces new grant, benefits for students
Augustana College has a new $3,000-$5,000 grant and other benefits for high-achieving Illinois high school students who have worked with community-based organizations (CBOs).
The seven CBOs, listed below, help students prepare for college and explore ways to access higher education.
Partner CBOs: 
Daniel Murphy Scholarship Fund – Chicago, Ill. 
HFS Chicago Scholars – Chicago, Ill. 
HighSight – Chicago, Ill. 
University of Chicago Upward Bound and Trio Program – Chicago, Ill. 
College Bound Opportunities – Highland Park, Ill. 
Evanston Scholars – Evanston, Ill. 
Waukegan to College – Waukegan, Ill.
"The vast majority of students working with CBOs will be the first in their family to attend college," said Karen Dahlstrom, Augustana executive director of admissions. "Our partner CBOs do an excellent job preparing students for the rigor of college, and we've recognized that for a long time.
"Our partner CBOs do an excellent job preparing students for the rigor of college."
"But too frequently, Augustana still felt too financially out of reach for these students. We are hopeful that this new grant will make it possible for these talented, college-ready students to enjoy the benefits of an Augustana education."
This grant, when combined with existing institutional, state and federal financial aid programs, can cover as much as 95% of Augustana's sticker price for qualifying students. 
"To be frank, for a student with more than average financial need, the result can be an annual out-of-pocket cost as little as $2,500 to $3,500," said W. Kent Barnds, executive vice president of external relations.
Reaffirming the work of the CBOs, Augustana has designated resources and mentors to
help guide students not only through the college selection process but also well into
their college careers. In addition to a grant up to $5,000, these students will have access to inclusion efforts, support for first-generation college students, and mentorship programs on campus.
Students currently participating in the partner CBO programs also will have ongoing
access to a CBO Scholars Enrollment Success Team with mentors from Augustana's
admissions and financial aid offices, first-year advising, CORE (Augustana's career development office), the student inclusion and diversity office, and residential life.
This effort is modeled after a similar and successful partnership Augustana currently has with Phoenix Pact, which connects college-ready North Lawndale College Prep graduates with colleges that have track records of graduating students of all backgrounds.
Throughout their college search process, CBO-participating students will have access to
campus visit reimbursements, a barrier-free application, as well as enrollment deposit accommodations from Augustana. 
To be eligible for the new grant and these additional benefits, students from Augustana's partner CBOs must submit all application materials, including the FAFSA and Alternative Application for Illinois Financial Aid, by Dec. 1, 2020. 
Representatives of other CBOs in Illinois may email Courtney Wallace, director of admissions–Chicago region, for information about participating.