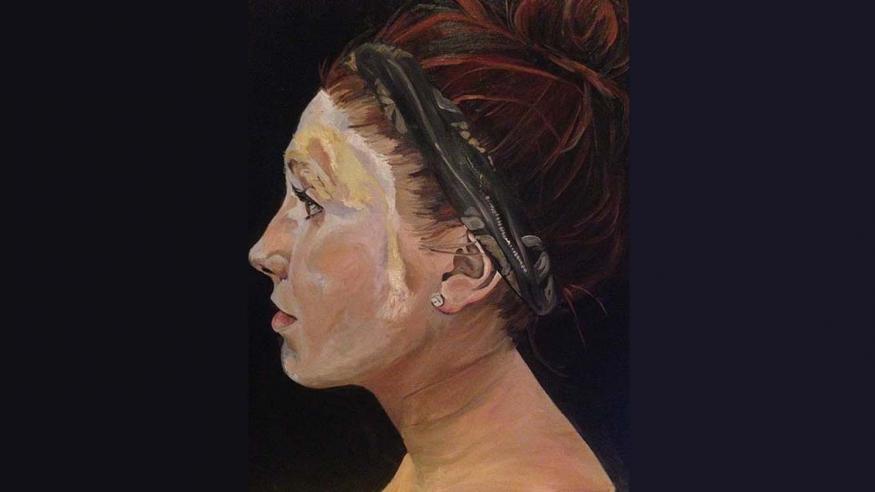 News
Augustana art students show work at the Figge
Six Augustana students are featured this year in the ninth annual College Invitational at the Figge Art Museum in Davenport. Their work can be viewed through Jan. 7.
The exhibition contains about 60 works of art by students from eight area colleges and universities. Art professors from each of the colleges were tasked with selecting the top works from their school to provide the framework for this year's exhibition.

In the selected works, a variety of techniques are used including ink, collage, stoneware clay, etching, digital illustration, watercolor, silkscreen and found materials.
Thanks to a sponsorship from Barbara Leidenfrost in memory of her husband, Oscar, the Figge awarded cash prizes for first-, second- and third-place winners. Winners were selected by a panel of judges comprised of local artists.
Augustana's Chloe Gale won a third-place winner for "Holly," an oil portrait.
"This portrait was inspired by a photograph that was taken of a dear friend," Gale wrote in her artist's statement. "It is intended to capture natural beauty and create visual interest with line, color, and medium."
Gale is a senior from Oregon, Ill., majoring in art and business administration-management.
Other Augustana artists in the show
Henry Roderick, a senior from Rock Island majoring in art and graphic design, has two pieces in the Invitational, "The Dance," a 2016 linocut print, and "Six" a 2015 photograph. "Six is a self-portrait in which my ideas and personality share the composition with the figure," he writes.
Brock McNinch, a junior from Moline, Ill., majoring in graphic design, is showing an earthenware piece, "A Ship Without a Sail," 2016.
"My inspiration for this piece came from the work of John Balistreri and his "Problems in Sailing" series," he writes. "The strongest aspect of my work was also the biggest issue I had to overcome and that was how the ship would be supported. I decided to create two coral supports for the ship to sit in which would continue the nautical theme and add contrast to the overall work. To help create contrast I glazed the supports with a mix of blue, yellow, and white glazes. The finished piece resembles a perfectly functional shipwreck.
Brianna Jepson, a junior from Belvidere, Ill., majoring in art education, is showing a clay piece called "The Hat," 2015.
"This piece has many different faces that all represent a different personality," she writes. "The faces differ in age, gender and personality and all fit under one large hat. The hat holds the faces together and helps blend the characteristics together. To signify unity between the faces, none of the faces have eyes. Each face is unique and personal, but each face also shares some of its characteristics with another face."
Glen Williamson, a senior from Moline, Ill., majoring in graphic design, has on view an earthenware ceramic piece, "Cuddles," 2015.
"The project was a ceramic self-portrait. I decided to create the self-portrait while incorporating a metaphor of a snake representing my homework and the pressures that came along with it," he writes. "The piece was created using slabs that were formed into a cylinder. This eventually became the body of the snake when the inside of the cylinder was gently pushed outward on a spiral. To help stop the form from collapsing under working pressure, I added my face after the cylinder was leather hard. The scales of the snake were pressed in using various tool handles. Glazes and slips were applied, and the piece was fired."
Olivia Havens, a senior from Homer Glen, Ill., majoring in psychology and art, is showing fiber art entitled "The Common Thread," 2016.
"This work reflects social challenges and makes reference to the abundance of racial tension that underlies most public debates of this time," she said. "It acknowledges and promotes the concept of motivation in understanding and accepting various cultural ethnicities. By weaving together and combining similarities across differing ethnicities and genders, we can work to overcome those ever-so-common discriminations found in the present day."