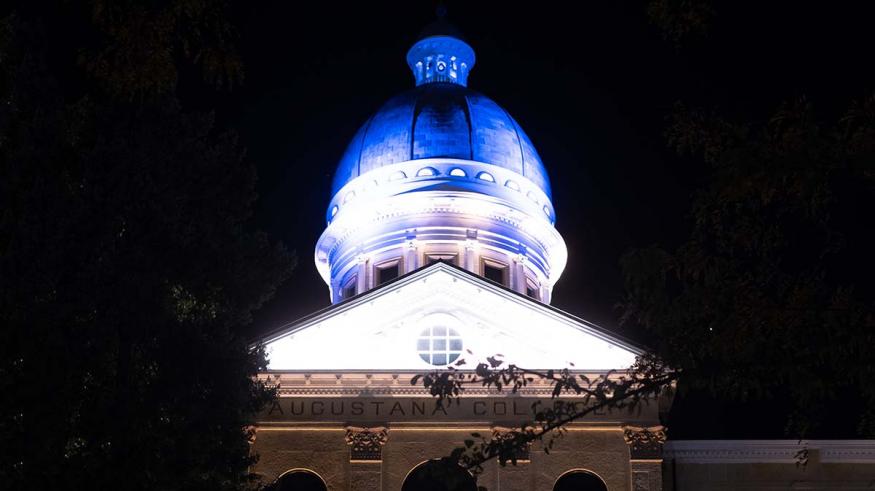 News
AUGUSTANA NOW campaign to raise $125 million
Augustana College is launching a $125 million campaign to strengthen its endowment and prepare graduates for a world that increasingly needs them.
The campaign, called AUGUSTANA NOW: A Campaign for Success in the World, for the World, kicked off with an intimate gathering of students, distinguished alumni and donors Oct. 11.
"We aspire to provide every one of our students with a highly customized educational experience that prepares them to stand out to employers and graduate schools, and positions them to use their success to make a difference," said President Steven C. Bahls. "Through Augustana Now, the college will provide students, regardless of socioeconomic background, with an uncommon college experience that prepares them to meet the uncommon challenges of our time."
The campaign has four goals, each aligning with a direction of the Augustana 2020 strategic plan:
1) Improve affordability. Augustana College must be accessible to students from all socioeconomic backgrounds. The campaign will grow financial aid to expand access and make campus improvements that will ensure the best students consider Augustana as their top choice.
2) Prepare graduates who are ready for the world. Augustana Now redoubles the college's commitment to students' career preparation, development, and the ability to create pathways to success. In addition to generosity, the college is asking alumni to connect with current students to help them develop their network.
3) Offer innovative learning experiences. Augustana must offer deeply engaging, personally guided learning experiences that help them reach their potential. Supporting innovative learning might include investing in faculty-student research experiences, upgraded or new learning spaces such as the plans for Bergendoff Hall, travel opportunities and more.
4) Promote diversity, equity and inclusion. Augustana Now will further build and develop a culture of support for all students, regardless of background, who seek to make a difference in their lives and the world. Generosity will help expand resources and programming so that a sense of belonging and intercultural understanding are part of the fabric of every Augustana student's experience.
Alumni, friends, corporate donors and foundations have already given $75 million during the campaign's initial quiet phase. Some changes made possible by the generosity of early donors include the 22,000-square-foot addition to Hanson Hall of Science, the addition of the college's inaugural vice president of diversity, equity and inclusion, and a new minor in data analytics.
Many more behind-the-scenes changes include several million in support of faculty and program excellence, and more than $7 million to the Augustana Fund for the annual operation of the college.
One significant change within the campaign's affordability goal is Close the Gap, a program started by alumna Julie Hamann. Close the Gap matches donors with students who have applied for financial aid but still have a critical need.
These scholarships and others funded through the endowment allow high-achieving students, like engineering physics/applied mathematics double major Adam Gronewold, to attend Augustana.
"I was going into the college application and commitment process knowing that I would have to pay for it entirely myself," said Gronewold, a senior. "I received the Presidential Scholarship as well as several grants and loans from the state of Illinois, but really what sealed the deal for me was the Close the Gap scholarship funded by donors, and it's really what made my experience here possible."
Augustana's last large-scale campaign was for $100 million in 2008. That goal was surpassed with the raising of $152 million.
To signify the beginning of the public phase of AUGUSTANA NOW, the college's Old Main dome has been lit blue. It will remain blue until Augustana alumni, friends and donors meet or surpass the campaign goal of $125 million, at which time the dome will turn gold.