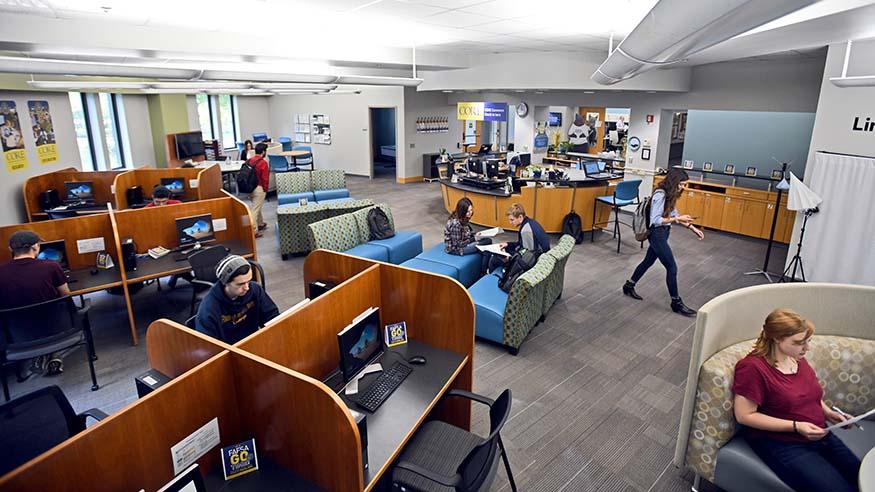 News
Augustana ranked No. 10 in the U.S. for experiential learning
An international firm that connects students with job simulations has ranked Augustana College No. 10 in the U.S. for "experiential learning," or learning by doing.
The rankings were announced today by Forage, which integrates project-based learning from companies into curriculums and internship programs.
"Augustana College has a remarkable three-year placement rate that sits 10% higher than the national average," the company said in its citation.
Through Forage, students work on projects that require the skills that specific employers need. This virtual work experience also connects students to the companies themselves.
Jeremy Grunfeld, global head of Forage for Education, said the company decided to institute the awards to put a spotlight on experiential learning.
"As students demand a more practical educational experience and employers seek work-ready early talent, experiential learning is fast becoming the most important way for universities to differentiate themselves," he said.
Forage looked at student engagement, faculty involvement and early participation by students at 800 institutions.
He said the key reasons for Augustana's strong results are:
• The Viking Score, a career-readiness program that helps track progress and ensures students are connecting the dots between academic interests and needed work skills.
• The EDGE Center, where students work with customers to develop websites and marketing plans and other creative services, such as logo and print design, event planning, social media marketing and video editing.
• Augustana's consistent and strong job placement rate.
In the college's most recent survey of graduates, 93% of students who applied to graduate school got into their first-choice institution. Ninety-eight percent said that they were in graduate school, employed or in professional service within six months of graduation.
CORE (Career, Opportunities, Research, and Exploration)
The Viking Score and the Edge Center are parts of CORE (Career, Opportunities, Research, and Exploration) at Augustana. CORE combines internships, entrepreneurial development, student research, study away, and community-based learning centers with career development and vocation. The offices are together in the Olin Center in the middle of campus.
Students use the Viking Score to track experiences and gain incentive points. Activities are designed to move students, at their own pace, through the process of career development and vocation.
Augustana held its first Viking Score banquet in 2019 celebrating 30 students who earned 100 or more Viking Score points. This year, 131 students earned 100 or more points, said Laura Kestner-Ricketts, executive director of career and professional development.
She said the small percentage of students who were not employed or in graduate school within six months of graduation had an average Viking Score of under 10.
"Many students are motivated to gather as many points as possible to earn an Augie decal, T-shirt, professional padfolio, Viking Bucks and the coveted Viking Score graduation cord," she said. "Our goal is a bit different. It is to motivate students to take ownership of their career path to success."
EDGE Center is short for Entrepreneurial Development through Guided Experiences. It's an office full of activity. Each year more than 150 students, from more than 30 majors, come through the programs in the center. The students work with more than 250 client organizations that include not-for-profits and businesses.
"Students leave EDGE with skills and experiences well beyond most college graduates." said Doug Tschopp, EDGE director. "This helps them get their first job after college and makes them more prepared to navigate their careers."
CORE also includes other experiential experiences, such as:
• The Upper Mississippi Center, which deploys students to work with local governments. Faculty from various disciplines lead teams of students to tackle community-driven projects.
• Augie Choice, a $2,000 grant for each student to support a hands-on learning experience they choose: internship, research or study abroad.
• Study abroad, which includes internships that carry academic credit through hands-on experience.
• Internships — local, in the United States and abroad. These may be part-time or full-time, paid or unpaid, for academic credit or non-credit. 
Career readiness
The ranking from Forage is the second recent recognition Augustana's emphasis on career readiness has received. In June, President Steve Bahls will receive the 2022 Career Services Champion Award from the National Association of Colleges and Employers for his leadership in career development programming.
In 2014, as part of the college's strategic plan, President Bahls prioritized "enhanced preparation," and resources were diverted to create CORE.
Contact: