News
Augustana selects Jonathan Enslin as vice president for college advancement
Jonathan Enslin has been selected to serve as Augustana College's vice president for college advancement. Enslin, who now serves as vice president for college advancement at St. Norbert College, De Pere, Wis., will join the college Jan. 1. 
Augustana President Andrea Talentino said Enslin will provide strategic vision and direction for philanthropic giving to Augustana. His leadership will provide direction for the implementation and assessment of a comprehensive and integrated fundraising plan, and his commitment to collaboration will be essential in setting institutional priorities.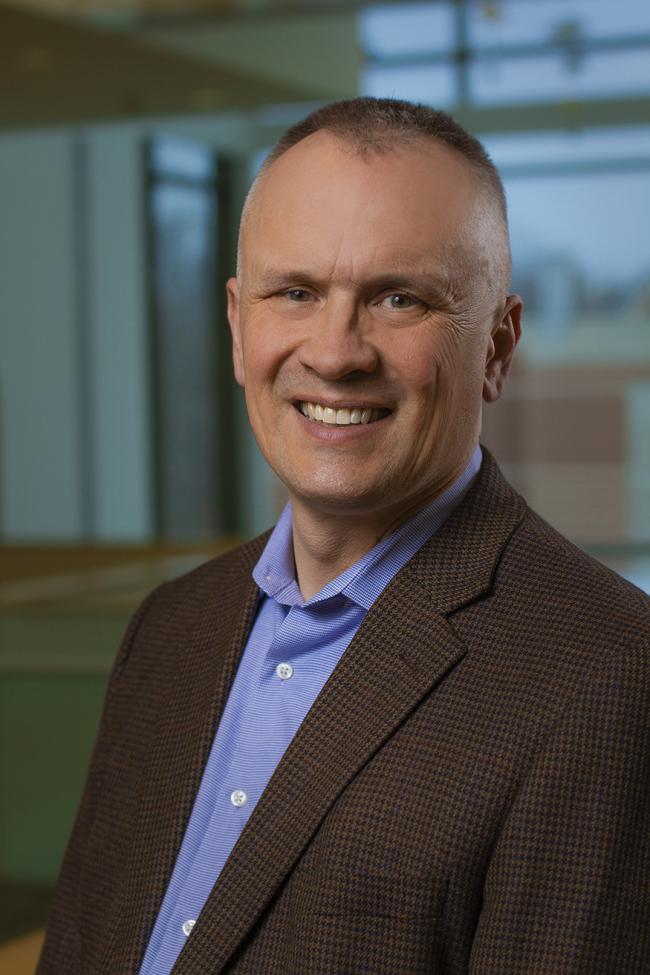 Enslin said he was drawn to Augustana because of its clear dedication to providing an education rooted in the liberal arts, while also encouraging students to discern their life's calling. 
"As someone who received such an education, I can personally attest to how it has helped to enable a positive outcome not only in my career, but in every aspect of my life," Enslin said. "I look forward to partnering in President Talentino's vision and working hard for the betterment of Augustana College."
Enslin earned his master's in business administration from the University of Wisconsin-Whitewater and a bachelor of arts from Marquette University. He is a longtime member of the Council for Advancement & Support of Education (CASE), a global nonprofit association dedicated to educational advancement.
At Augustana, Enslin will prioritize alumni and parent engagement while developing donor relationships to fulfill the college's mission to provide students with an education that prepares them for lives of leadership and service. 
President Talentino noted Enslin's track record of leading successful teams and effective philanthropic campaigns that truly make an impact.
"Jon is passionate about creating inspiring workplaces where staff members work together to achieve big goals, and he has a vision for making philanthropy a joyful experience for individuals who want to support initiatives they believe in," she said. "He is ready to step in and lead right away, and will also be a great partner within the leadership team.  
"We are thrilled to welcome him to Augustana, particularly as we are on the brink of launching a new strategic plan that will guide us in creating the future of Augustana and require significant philanthropic support to introduce new transformative experiences for our students."
Augustana's Office of Advancement has been led by Vice President Kent Barnds since 2017. In May 2023, President Talentino named Barnds executive vice president for strategy and innovation. Barnds will oversee all enrollment management functions and lead the college in institutional strategic planning efforts. 
Augustana Trustee Chris Coulter, Class of 1994, said Enslin stood out as the strongest candidate among an impressive group of applicants. 
"Jon's recent success with the $125 million 'Support What Matters' capital campaign for St. Norbert College is proof that Jon can help Augustana continue to build its endowment for the future benefit of its students, faculty and staff," Coulter said. "He will be a great addition to Augustana, and I look forward to working with him as he reaches out to alumni and friends of the college to build new, and expand upon existing, relationships in support of its mission."
The "Support What Matters" campaign is expected to secure more than $125 million for St. Norbert's endowment and other priorities by May 31, 2024. This initiative secured funding for the construction of St. Norbert's Schneider School of Business & Economics building. Work is slated to begin on the 45,000-square-foot, multi-use facility this winter.
Enslin said he coordinated support between many individuals, including St. Norbert's philanthropic advisors, the annual giving team, stewardship professionals and the alumni engagement group, to help everyone meet and exceed the goals of the campaign. 
During his 22 years at University of Wisconsin-Whitewater, he was the vice chancellor for university advancement, president of the UW-Whitewater Foundation, Inc., and executive director of development. He successfully led the "Campaign for Students," which secured $48.2 million for UW-Whitewater priorities and increased the endowment. He also oversaw the development of three strategic plans for the UW-Whitewater Foundation. 
A Wisconsin native, Enslin is married to Kay, and the couple has three adult sons.
Contact: