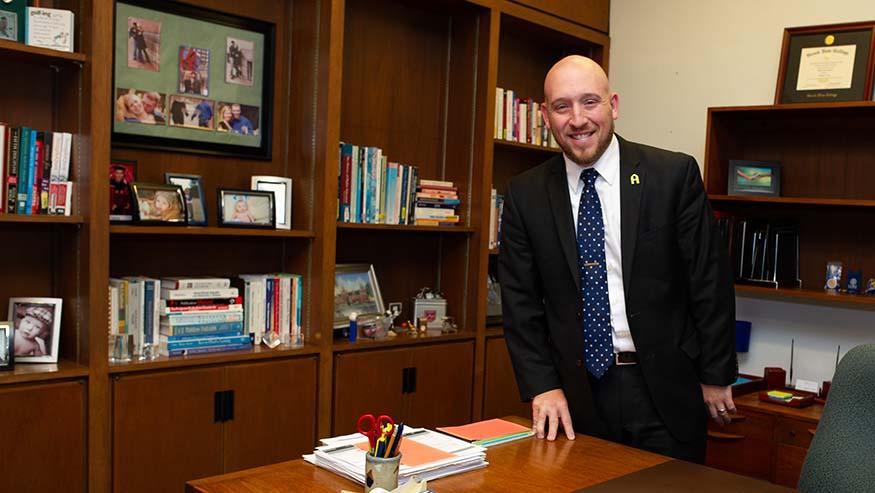 News
Augustana welcomes Dr. Wesley Brooks as vice president and dean of student life
Dr. Wesley Brooks has joined Augustana as vice president and dean of student life. He most recently served as vice president for student development and dean of students for Iowa Wesleyan University for three years prior to coming to Augustana. Dr. Brooks spent several days on campus being interviewed by faculty, administrators and students before being offered the position.
"I feel blessed to be joining Augustana College, which is a place driven by purpose, respect and civic responsibility," said Dr. Brooks. "Additionally, it's a student-centered institution that prides itself on developing meaningful relationships and believes in the growth and development that occurs in students outside the classroom. The opportunity to serve a place dedicated to student success and preparedness for life after college makes me very excited to be a part of the Augustana community."
Dr. Brooks will oversee several areas, including athletics, Augustana police/public safety, counseling services and residential life. He also will be part of the college's Title IX team.
"We have great confidence in Dr. Brooks and anticipate he will do great things for Augustana College," said President Steven Bahls. "We received tremendously positive feedback from our campus community who had the opportunity to meet with him and ask questions. Dr. Brooks' experiences at other institutions, including others very similar to Augustana, make him a great addition to our evolving leadership and we look forward to a great partnership with him."
Dr. Brooks is passionate about the student experience and plans to spend his first few months at Augustana building relationships with students, faculty and staff, and examining the current programs and policies in place. He believes strongly in working with Dr. Monica Smith, Augustana vice president of diversity, equity and inclusion, to ensure students have a safe, welcoming and successful experience at Augustana.
From 2009-2015, Dr. Brooks was an assistant vice president for student life and the director of residential life at Wartburg College, where he also was an adjunct faculty member of leadership education from 2012-2015. He served two different roles at Grand View University from 2004-2009, first as a student leadership co-coordinator, followed by director of residential life.
Dr. Brooks received his undergraduate degree from Grand View University, a master's degree in educational leadership and policy studies from Iowa State University; and a Ph.D. in higher education from Iowa State University. Dr. Brooks began his position with Augustana on Aug. 13.