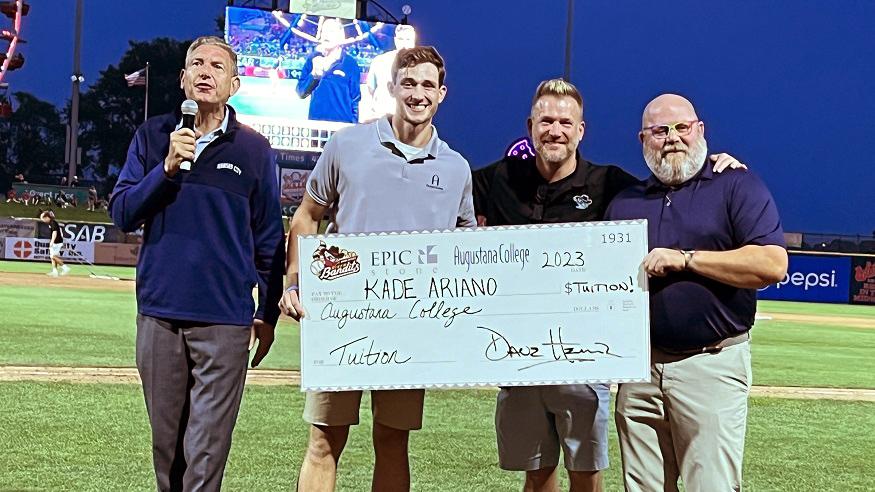 News
Augustana's Ariano '25 named a Bandits Scholar
The Quad Cities River Bandits, a Class A minor league baseball team, seeks to improve the Quad Cities by rewarding area college students every year for excellence in and out of the classroom. This year's winner from Augustana College is Kade Ariano, a junior from Geneseo, Ill.
"We cannot think of a better recipient of this award," said Jordan Delp '09, an assistant coach for the Vikings men's basketball team. "Kade's devotion and discipline are traits we can all learn from!"
"We cannot think of a better recipient of this award."
As a Bandits Scholar, Ariano receives a scholarship that pays for his junior year's tuition at Augustana and a paid internship with the Bandits in the summer of 2024.
"Being recognized for anything is always gratifying," Ariano said. "However, when it comes from a prestigious organization like the River Bandits, it carries significance. I pride myself on being a well-rounded person, so being recognized in the areas of academics, charitable endeavors and extracurricular activities is special." 
A kinesiology major with a 3.96 GPA, Ariano connects his studies with his extracurricular activities. He is the manager for the Vikings men's basketball team and a student athletic trainer. After Augustana, he plans to attend graduate school to become a physical therapist.
But first things first. Ariano is looking forward to his final two years at Augustana and his Bandits summer internship, where he hopes to learn "valuable skills in areas such as customer service and communication and learn about the business side of sports."
The Bandits Scholars program was established in 2009 by Dave Heller, owner of the Quad Cities River Bandits, to help local college students afford their academic passion, obtain on-the-job experience and make their future in the Quad Cities, serving as catalysts for the growth and improvement of the community.