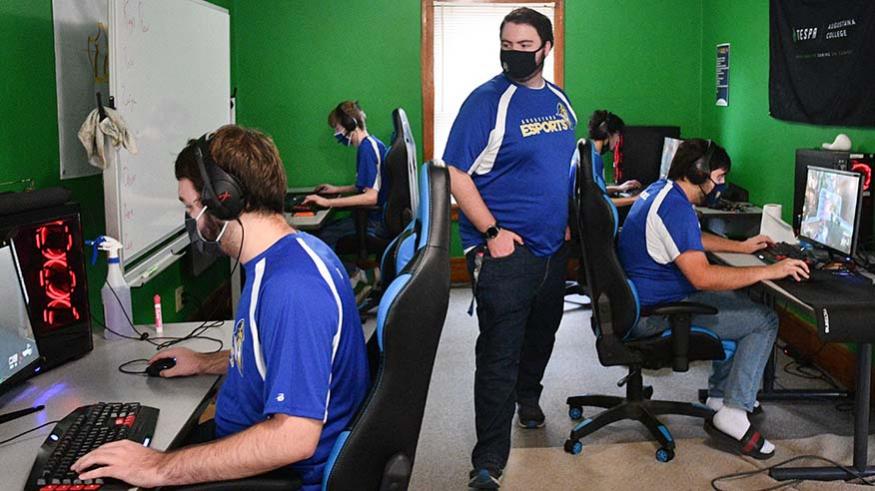 News
Augustana's Esports Club putting up big numbers
The Augustana Esports Club has certainly leveled up since the club began in 2017, moving up in competition and the number of members.
"My freshman year goal was just to establish the team and get some sort of foundation going," said President Michael Yuchs '22, referring to his Overwatch team. Today Yuchs and his team attend esports tournaments both nationally online and locally — with a new mindset.
"Instead of my goal being 'I would like us to win a fight or win a map'... now it's like, 'I want us to win the event,'" he said. "So while there still are bigger and badder teams than us, we're able to consistently put up these big numbers that would have been unimaginable with what we had my freshman year."
Augustana's Overwatch team competes in Tespa leagues while the club's three other core teams — Counter-Strike: Global Offensive, Dota 2 and League of Legends — compete in CSTAR leagues. Sometimes the club has smaller teams for Hearthstone and Call of Duty.
The Overwatch team recently finished 62nd in the nation in a Tespa league tournament, just ahead of Michigan State University, which had previously beaten Augustana. The tournament opened with 500 teams competing in various divisions.
For Esports Club Secretary Anthony Zavala '21, playing as an underdog is exciting. "We're competing with larger schools like Michigan State, Arkansas State...these large schools that have dedicated programs and recruiting and huge funding. We've played and beaten them."
A real community for a digital presence
A product of AFITT (Augustana Future Initiatives Think Tank) and brainchild of Dr. David Thornblad '04, associate professor in business, and Dr. Andrew Sward, assistant professor in mathematics, the Esports Club is about more than winning glory on the digital battlefield.
"A lot of times gamers can be a little introverted and stay in their dorm room or residence hall," Dr. Thornblad said. "Well, esports tries to get them out and to socialize. We hope it creates a much better inclusive environment at Augustana." 
For Yuchs and many others, this new community was a welcome addition.
"Through esports, I've also ended up creating some of my best friendships," Yuchs said. "Socially, the Esports Club and especially the house — when we're able to have that in-person community aspect — has had just an indescribable impact on me."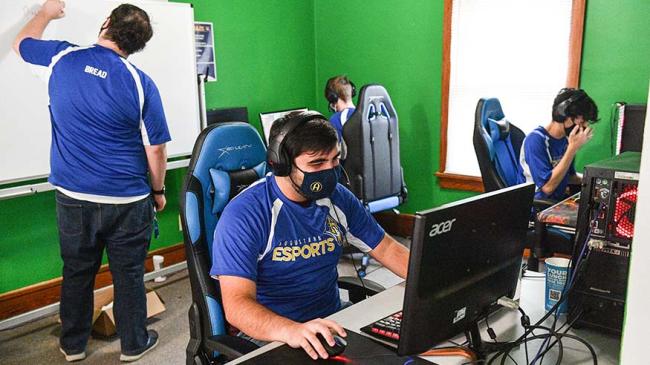 By Dr. Thornblad's count, the Esports Club is now one of the largest clubs on campus with more than 200 interested students. Although not all these members play on one of the four core teams, they are part of the community on the club's online messaging platform. 
During the pandemic, computer stations at the club's headquarters house on campus have been rearranged per social distancing guidelines to allow one of the club's teams to practice together at a time.
"As much as we don't necessarily need to be in person because we're all playing online games, the community aspect of esports and of a team environment is very, very important," Zavala said. "You want be with (your team) and create those bonds."
As for those who are curious about esports? Yuchs encourages anyone interested to join. 
"I don't think there's any sort of stereotype to be a player for an esports team," said Yuchs, who is majoring in teaching physics. "In the past, our best players have been our most dedicated players, people who are just willing to put in the time."
Zavala, a music education and composition major, couldn't agree more. "I think the relationships you can create and the experiences you can have doing something that you find so fun, like video games, is just a really awesome, awesome thing." 
Eyes on the prize
Dr. Thornblad and club members want to build on the club's fast start. Esports at larger schools are often categorized as varsity sports, complete with scholarships, recruiting and coaches. These are ideas the Esports Club student executive board recently presented to Augustana administration. 
Dr. Thornblad is quick to emphasize the source of this ambition and excitement. 
"The students are really the ones exploring the facilities other colleges have and showing Augustana what we need if we want to be able to recruit to attract more students for esports," he said.
For more information on the club, contact President Michael Yuchs.
— By Jack Harris '20