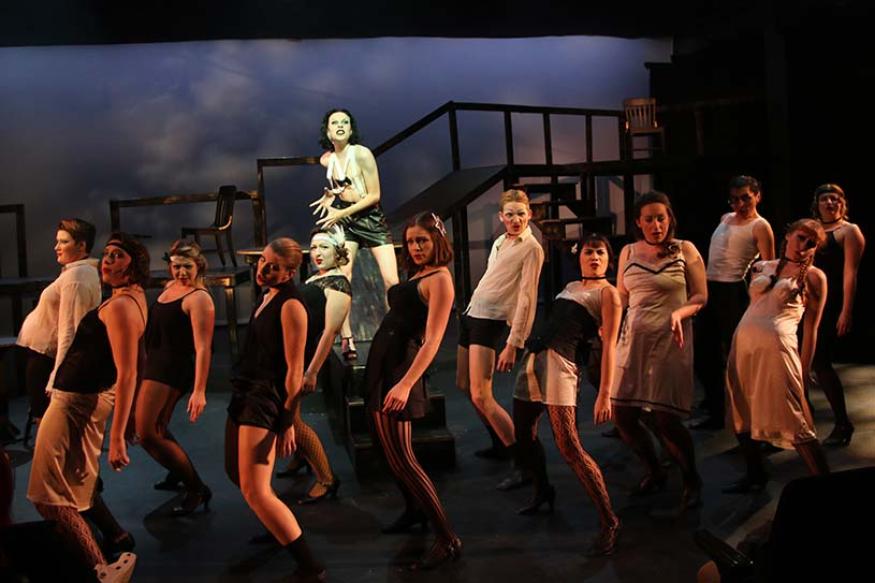 News
Back to the Kit Kat Club in 'Cabaret' Nov. 17-20
Augustana College will present the musical "Cabaret" Nov. 17-20 at the Brunner Theatre Center.
Performances begin at 7:30 p.m.-Thursday-Saturday, and at 1:30 p.m. Sunday. Tickets are $15, or $12 for seniors, free for Augustana students and $10 for all others.
Set in 1929-1930 Berlin, the musical focuses on the hedonistic nightlife at the Kit Kat Klub and revolves around an American writer's relationship with Sally Bowles, a cabaret performer. The original Broadway production opened in 1966 and ran for 1,166 performances.
A musical theatre performer herself, Augustana's Shelley Cooper, assistant professor of theatre arts, will direct "Cabaret."
Cooper said she hopes the audience takes away a simple message: "I can be changed by what happens to me, but I refuse to be reduced by it."
"The singer, Sally Bowles, represents the people who kept their eyes shut to changes in the world around them, and the novelist represents the new (perhaps naïve) American activist who could no longer sit by and watch the government ignore the will of the people," she said.
"Today, as activism at both ends of the political spectrum has experienced a renaissance in America, 'Cabaret' as a cautionary morality play has tremendous resonance."
Several principal roles are double cast and will be performed by different actors on different nights.  This was to accommodate the growth of the college's music theatre department and gives a chance for more students to shine on stage.
The cast includes:
Julie Tarling (Nov. 17 and 19) and Camryn Maclean (Nov. 18 and 20) as Sally Bowles.
Roger Pavey (Nov. 17 and 19) and Eli Bates (Nov. 18 and 20) as the emcee.
Jack McCurdy as Clifford Bradshaw.
Mukupa Lungu (Nov. 17 and 19) and Jacqualine Isaacson (Nov. 18 and 20) as Fraulein Schneider
Maggie Caliendo (Nov. 17 and 19) and Kaitlin Jacobson (Nov. 18 and 20) as Fraulein Kost.
Also, AJ Perez as Schultz; Ernst Ludwig as Titus Jilderda, Ella Miller as Max; Dash Crow as the officer, Grey White as Bobby and Spencer Warfield as the gorilla.
Lauren Clarke plays the dance captain, Ava Coussens is Rosie, Maxwell De Buys is Hans and a sailor, Audrey Siblik is Texas, Kaden Micklos is Victor, Milan Nielsen is LuLu and Sylvia Hughes plays Frenchie.
Alyssa Frazier is Helga, Abby Malina, Sarah Heiser and Anya Giordano play girls, and Rose Klinger is Herman
Dash Crowe, Ella Miller, Spencer Warfield, Grey White are the ensemble. Kaden Micklos and Spencer Warfield are understudies.
Production team:
Shelley Cooper, director, and Jessa Simon, assistant director.
Synth Gonzalez, stage, dramaturg and production manager; Natalie Hansen, assistant stage manager
Michael Turczynski, technical director and scenic designer; Kerah Hipes, scenic change.
Joe Burck, sound designer; Greyson Gunville, sound board.
Paige Withey, props master; Megan Hoppe, costume shop manager; Carlye Pichman, hair and makeup.
Bella Perkins, master electrician.