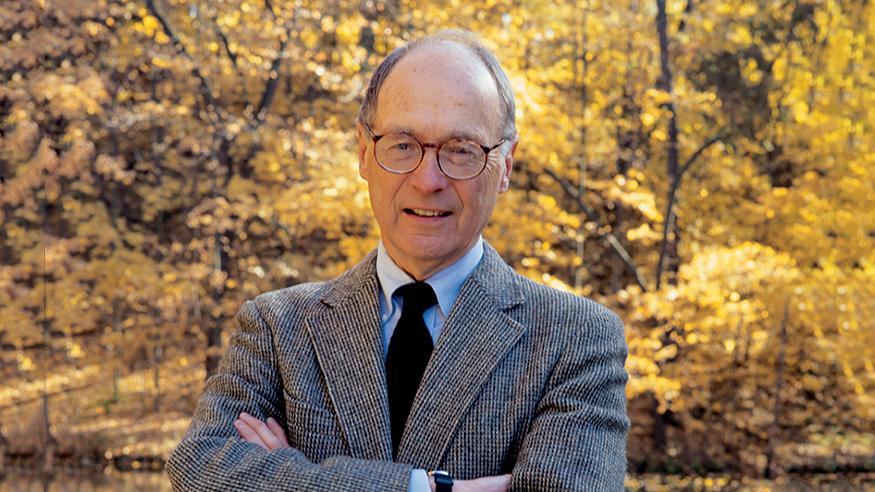 News
Campus mourns President Emeritus Tredway
Dr. Thomas Tredway, president emeritus of Augustana College, died on Sunday, April 10, after a brief illness. He was 86.
"From the time he joined the faculty in 1964, through his five years as dean and especially during his 28 years as president, Tom Tredway left an indelible mark on this college," said President Steve Bahls. "His leadership made steadfast Augustana's commitment to the liberal arts and sciences.
"His tireless work to build up the faculty and advance the academic program during a period of significant transformation in higher education will forever be recalled with gratitude by those who hold Augustana dear.
"Following his retirement, he maintained his connection with the college, writing both a history of the college through the middle of the 20th century and an intellectual biography of Conrad Bergendoff, a seminal leader of Augustana. But my personal gratitude will always include the care he showed in always being available to me, especially in the early years of my presidency, providing invaluable context and counsel.
"I know the community that is Augustana — which extends around the world and includes its alumni, students, faculty, staff, trustees and friends — joins me in extending our deepest condolences to Kate and the Tredway family."
Arrangements are being made for a campus memorial service; details will be shared when they become available.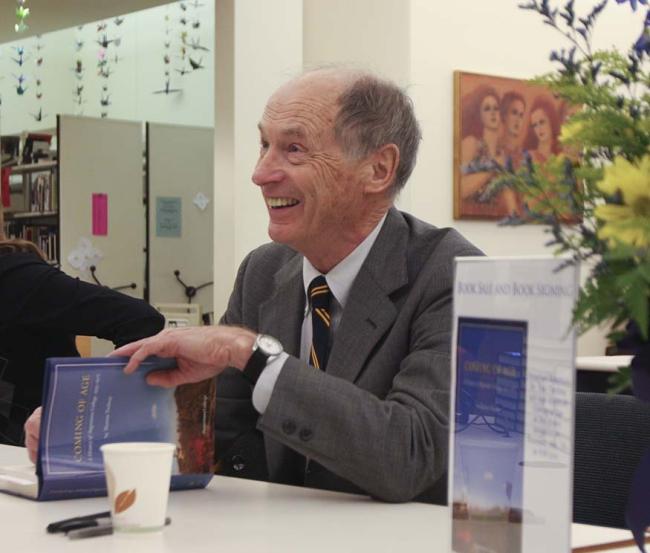 Post-presidency achievements
While the Augustana College Magazine article, "Reflecting on Thomas Tredway's 39 years at Augustana," documents well the achievements of Dr. Tredway, his contributions to Augustana did not cease with his retirement in 2003. In the two decades that followed, he would lend his scholarship to two important projects chronicling the history of the college. Likewise, the Augustana community's appreciation of its seventh president continued and grew in the years since he presided at his last commencement, the college's 143rd.
That year, the College Library, built under his leadership as a durable manifestation of Augustana's grounding in the liberal arts and sciences, was renamed on May 23, 2003, as the Thomas Tredway Library. The following year, the Augustana Historical Society published a festskrift titled "On and Beyond the Mississippi River: Essays Honoring Thomas Tredway," edited by his friends and former students Dag Blanck '78 and Michael Nolan '77.
In these years, Dr. Tredway maintained a certain remove from the campus, out of respect for his successor's nascent presidency; but he always made himself available to Steve Bahls for breakfast meetings, often held at a diner in nearby Milan, not likely to attract the attention of the campus.
In celebration of the college's sesquicentennial in 2010, Tredway wrote "Coming of Age: A History of Augustana College, 1935-1975," chronicling the life of the institution through the presidencies of Conrad Bergendoff and C.W. Sorensen, and building on the former's history of the college to 1935. In that book, he noted Bergendoff's admonition to his successor in 1962 upon Sorensen being named president of Augustana.
"It is a big job, an important one, and, I must add, not an easy one," Bergendoff wrote, "It will take all that a man has."
In 2014, Tredway wrote "Conrad Bergendoff's Faith and Work: A Swedish-American Lutheran, 1895-1997," published jointly by the Augustana Historical Society and the Swedish-American Historical Society. Both books showed a deep appreciation for the person who had been president during Tredway's student years at Augustana, and gave insight into the ways the president of a small college can have an abiding influence on their students. 
Those who were students during Tredway's presidency might find consonance in Tredway's description of Bergendoff's "combination of Christian optimism about the meaning and purpose of human life with an abiding humanistic interest in the worlds of both culture and nature in all of their aspects."    
Richard "Swanie" Swanson, the former college chaplain who's cited in the Augustana magazine article, died in 2005. In a eulogy Tredway delivered for his longtime friend, he noted that on one of their last bike rides together, they'd got to talking about one of the great catechetical questions with which some Christian denominations confront their youth – "What is the chief aim of man?"
On that autumn day, with miles of country road ahead of them, the two friends settled on the answer from the Calvinist tradition: "To glorify God and enjoy Him forever."
Another of Tredway's most-fast friends is the Seattle-based poet Arthur Mampel. The following is an excerpt from "Campus President," a poem included in "On and Beyond the Mississippi River":  
Whatever we sift from dreams
or take of Nature's bounty,
coats the layer of perception
with verities: wild and unfolding.
We raise temples for the mind, 
produce quantities of wisdom
among the pomp and tutorial,
a myriad of proficient art;
and what is new in thought,
perceived in tranquility,
lies bare among the quiet,
and ponderable hills.
In memoriam: Thomas Tredway
September 4, 1935-April 10, 2022