News
Caps and smiles in place, the Class of 2020 walks the stage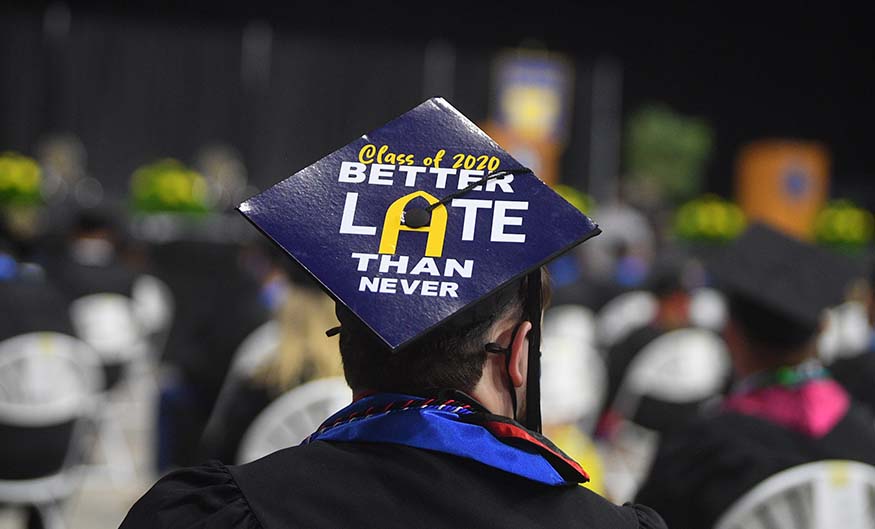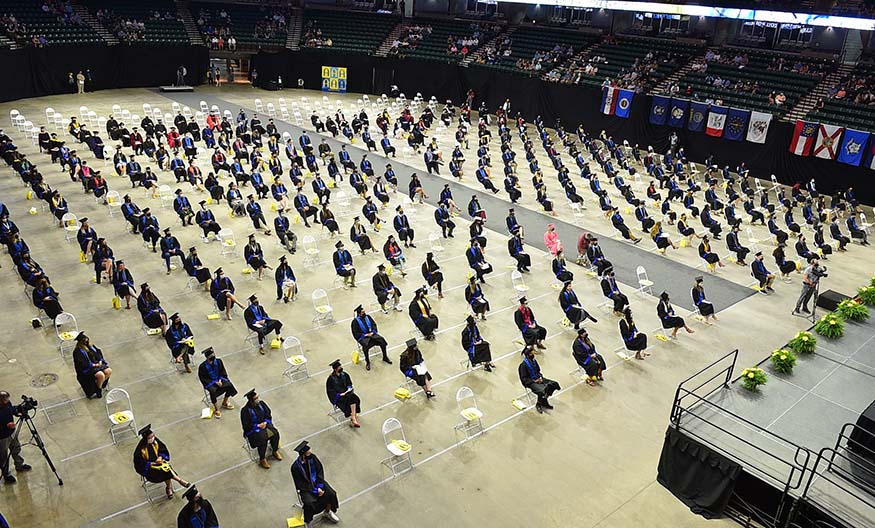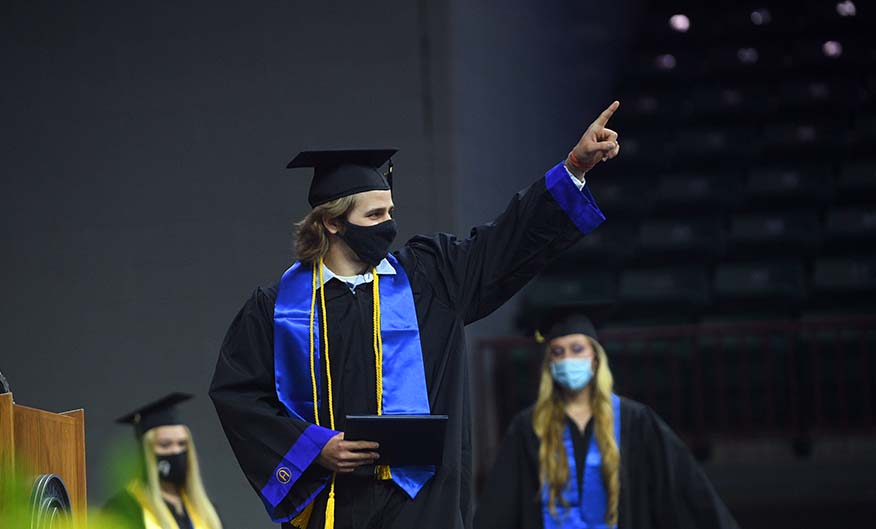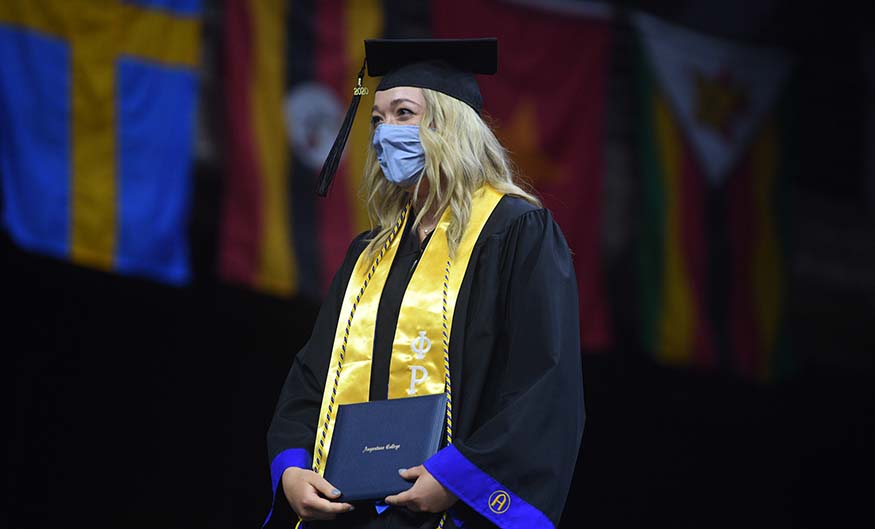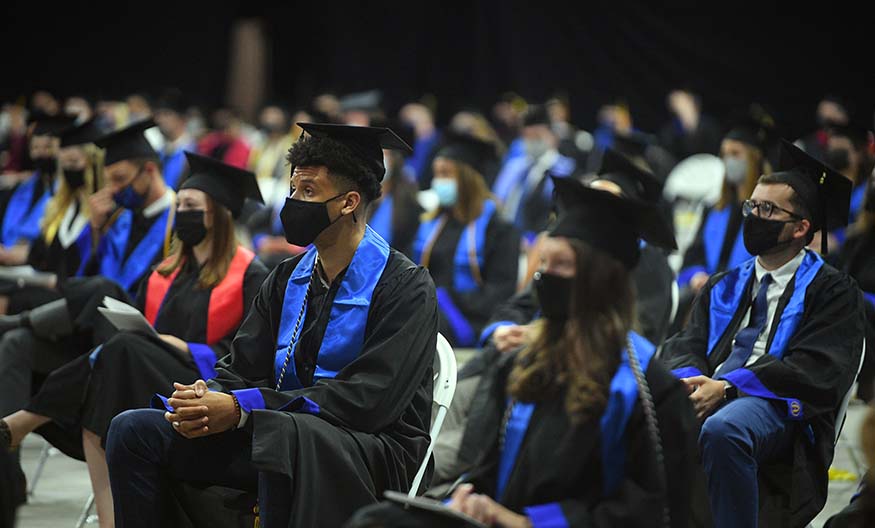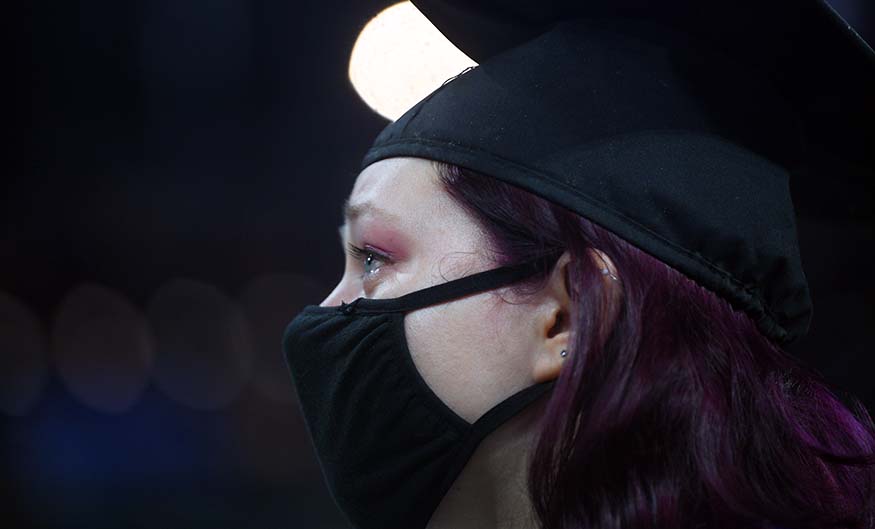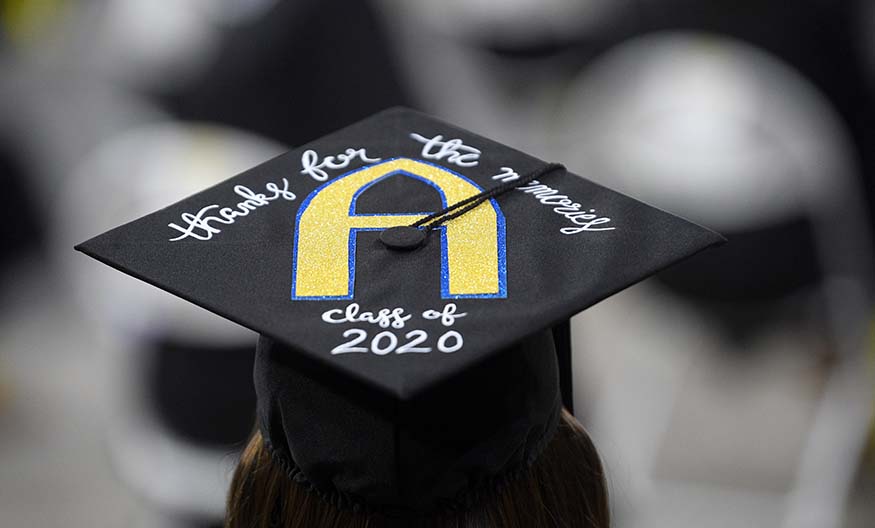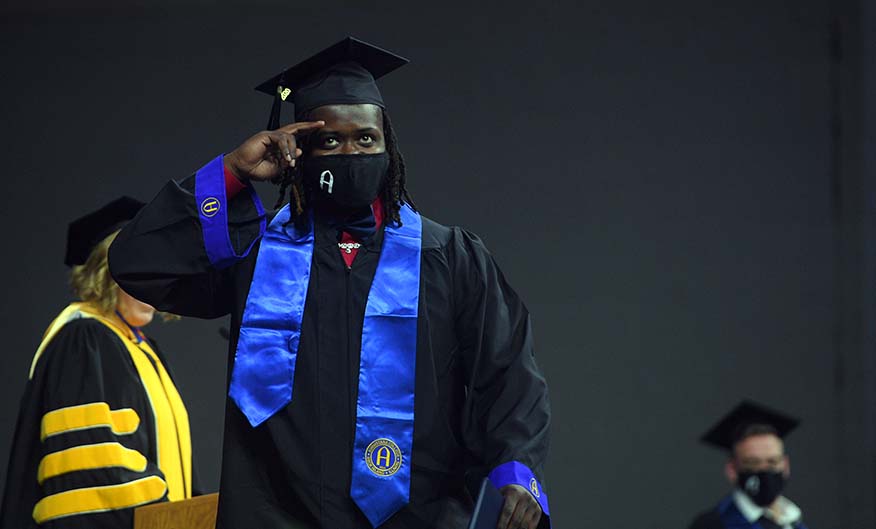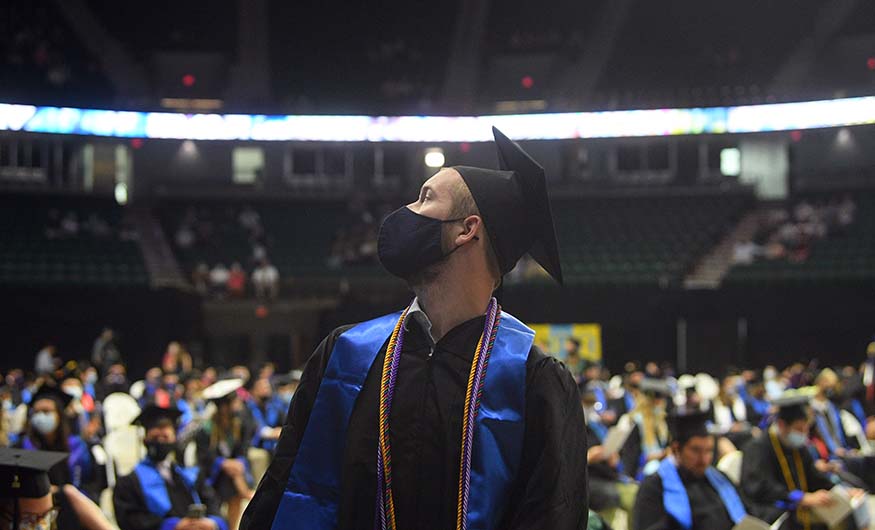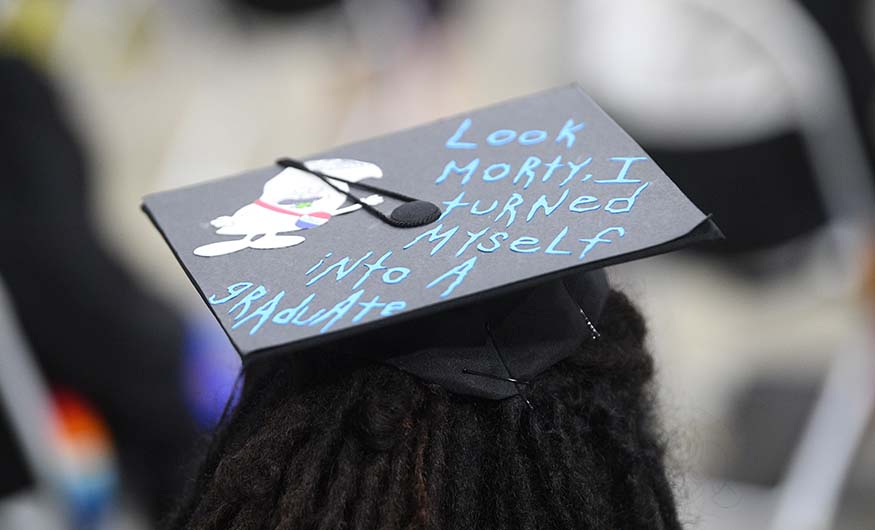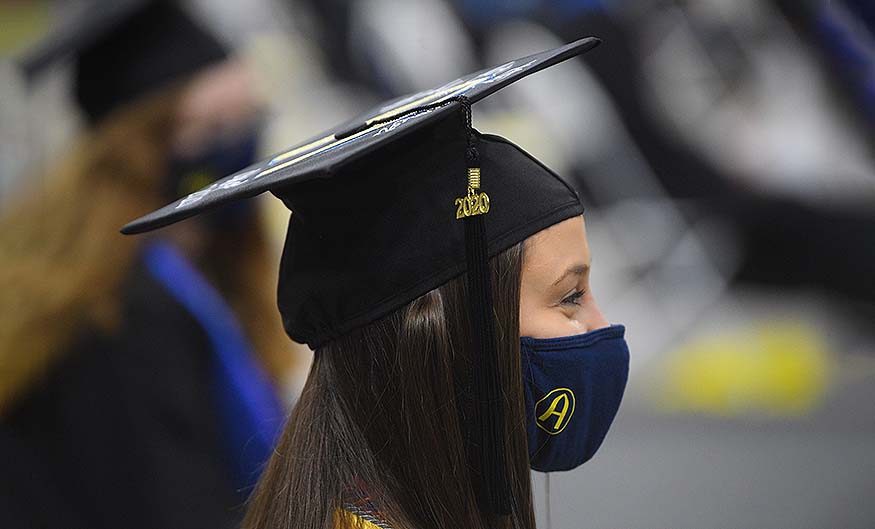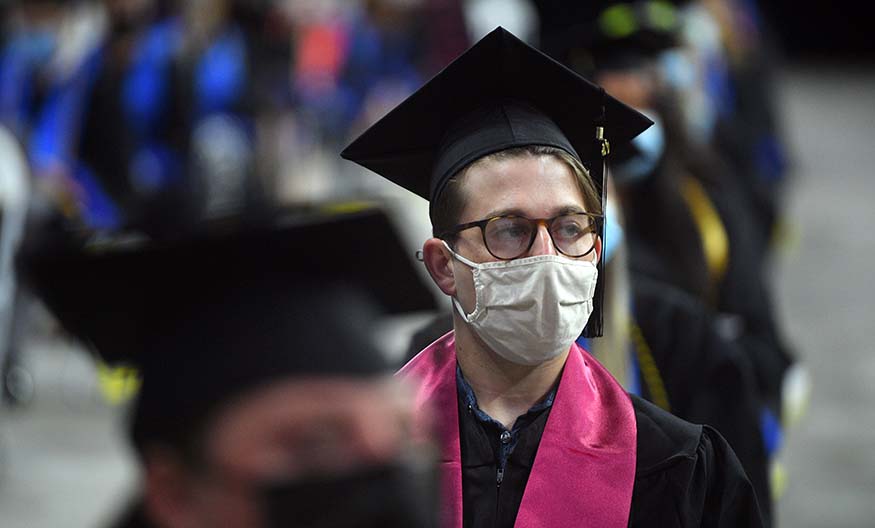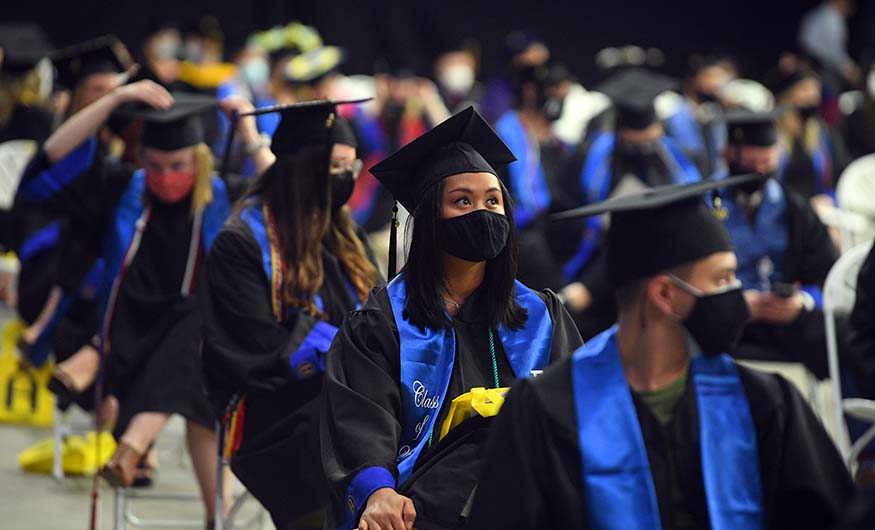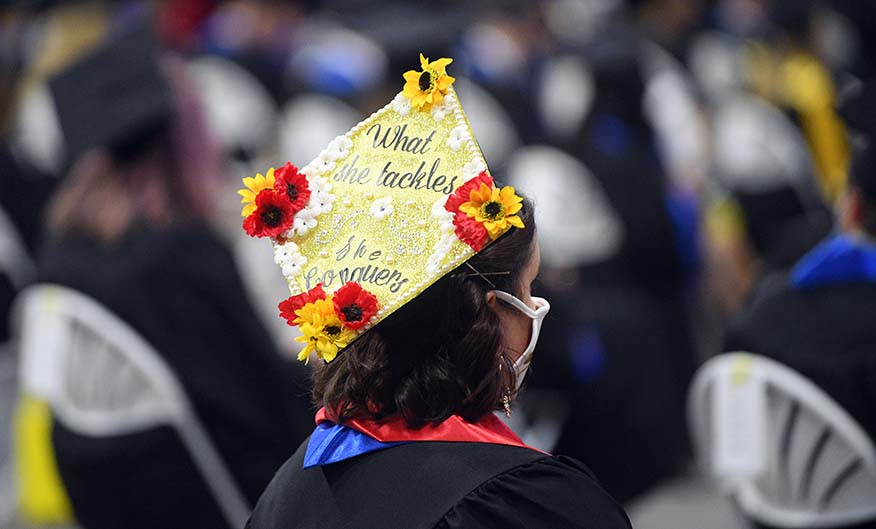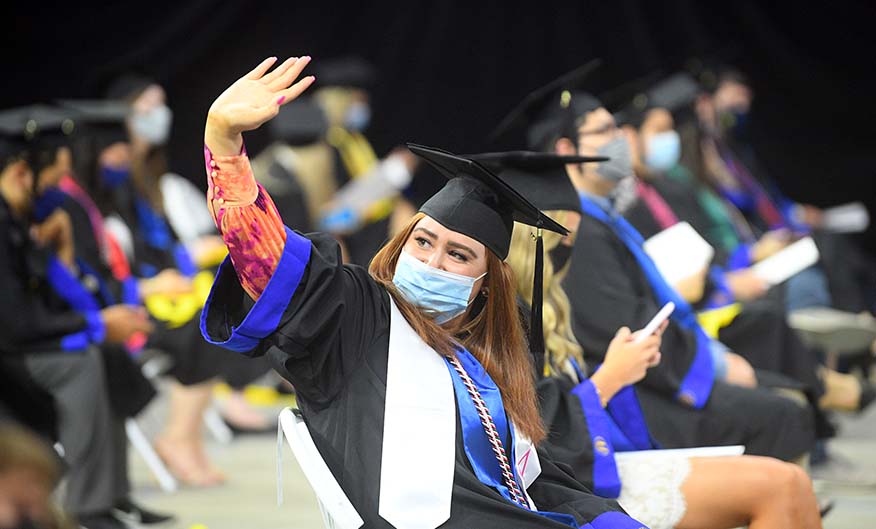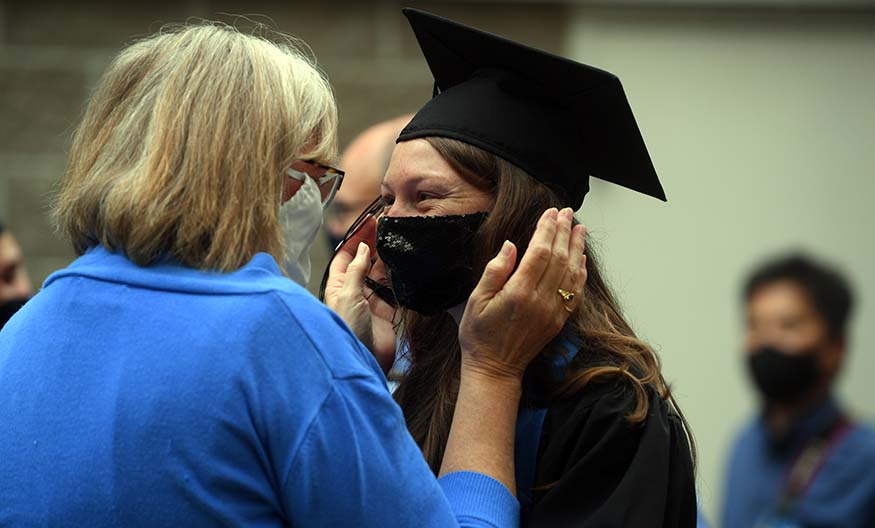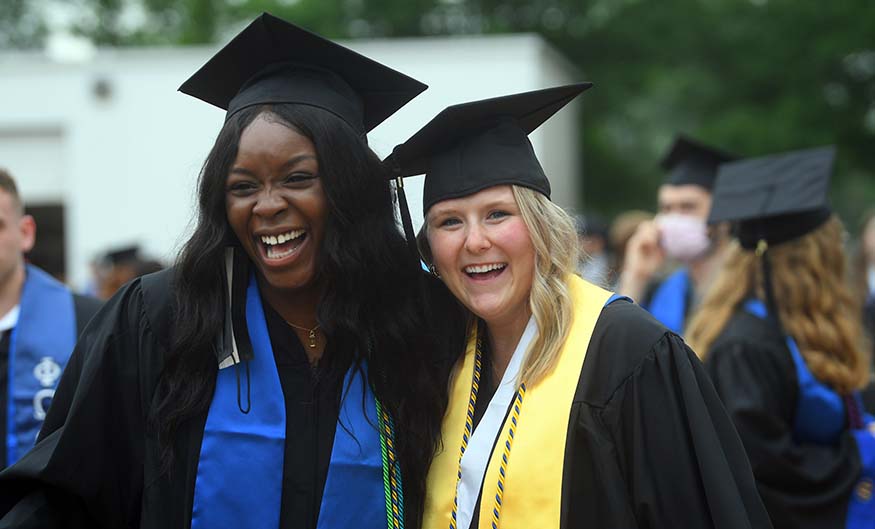 The smiles were bright, the tears bittersweet and the applause loud and long as nearly 300 members of the Augustana College Class of 2020 returned for the graduation ceremony they missed last year.
Although adapted for COVID precautions at the Taxslayer Center with masking and distanced seatings, hallmarks of the traditional ceremony remained. 
The Augustana Symphonic Band played the finale from "Crown Imperial," livestreamed from Centennial Hall. The Augustana Choir sang the "By the Mighty Mississippi" from outdoors at the Anderson Pavillion against the lush green campus background.
And President Steve Bahls greeted the graduates for the 18th year in a row.
"On behalf of the Augustana College Board of Trustees and faculty, I hereby call this 160th annual, but delayed, Commencement Convocation to order," he said. "Congratulations to the Augustana Class of 2020. We are so very proud of you!
"Thank you for returning this weekend, showing your love of your alma mater and thanks to those participating online, for keeping your connection to Augustana College. You have reaffirmed the importance of those years at Augustana.
"I join the faculty in telling you, it was an honor to share those years with you, albeit difficult years."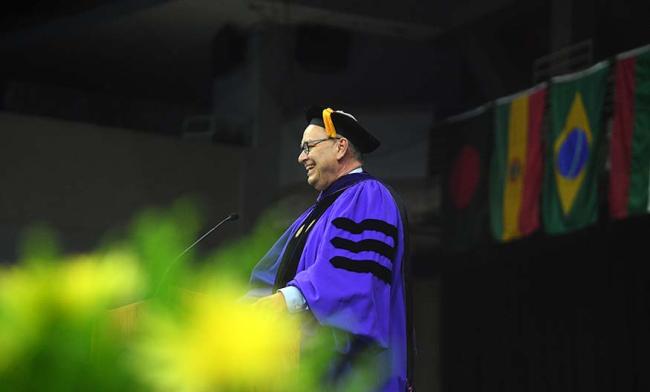 He recalled how a year ago, college leaders first thought an in-person commencement could simply be held a little later, and when that wasn't possible, then perhaps at homecoming. But the pandemic continued and plans changed again.
"COVID really doesn't have any respect for optimists like me," President Bahls said.
Augustana held a online degree conferral ceremony in May 2020, but still planned the in-person ceremony held today.
President Bahls said he struggled a little bit with this commencement talk, and changed his mind about discussing adversity and building character. Instead, he focused on how students dealt with the interruptions to their academic career of their last year.
"It is important to reflect upon and celebrate how you responded to those challenges," he said. "For many, last spring may be remembered as an unexpected gift of forming relationships with your close friends, spending more precious time with your family, and with the hustle and bustle of the last months of your senior year largely gone, you had more time to reflect, to take stock, and to think about your purpose in life."
He said the resilience of the Class of 2020 allowed it to achieve the highest job placement rate and graduate school placement rate in the recent history the college.
"Happy one-year class reunion"
Maggie Elizabeth Jokinen '20 represented her class at commencement, having just finished her first year at Northwestern University School of Law.
"We have endured trauma and experiences that have changed our lives and changed the way we look at the world," she said. "Many of us have lost family members. The pandemic robbed us of so many memories.
"It's easy to be sad and to be angry, but that's not how we make the most of our lives.
"Instead of thinking about everything we've lost, let's think about everything we still have... After all, we are here right now. How incredible is that? I never thought that this would actually happen.
"Let's not be the class that people pity," she said. "Let's be the class that learned to be thankful for everything we still have."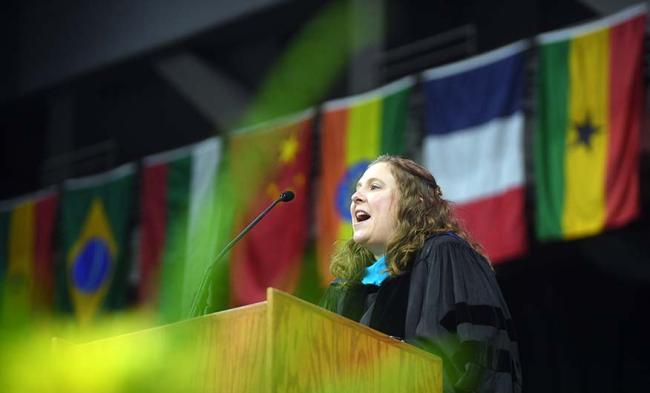 Memories that cannot be taken away
Commencement speaker Dr. Emily Landon '99 served as an advisor to Illinois Gov. J.B. Pritzker and was a primary architect of the state's response to the COVID-19 pandemic. She is the chief infectious disease epidemiologist at University of Chicago Medicine. 
She is the fifth generation of her family to have gone to Augustana
"This is a special place, and leaving it is bittersweet," she told the class. "You did so too early. And unexpectedly. But you won't ever leave it completely."
Dr. Landon spoke of her memories of classes, friends, and trying to study at the library instead of staring out at the beautiful snow falling on the Quad.
"Those memories are inside you right now, and no one and no disease can take them away," she said. "They're waiting to be discovered again when you need them most."
She acknowledged that the Class of 2020 has had to make many life-changing decisions, with more to come.
"My best advice to you is to let your goals and your ambitions narrow the choices, but always make the final decision with your heart and with your gut. Then you'll own the choices you've made."
Dr. Landon urged the graduates to cal upon their roots and their memories of Augustana when faced with setbacks.
"My time at Augustana planted in me the understanding that sacrifice and hardship are part of life, but just part of it. But not all of it. Some days are meant for celebrating. And today is one of those days!"
Dr. Landon was conferred an honorary doctorate of human letters at the ceremony.