News
City of Rock Island, Augustana launch water service lines survey
The city of Rock Island and Augustana College are seeking to engage Rock Island residents in an inventory of water service lines in the city. Rock Island residents, both homeowners and renters, are asked to complete an online survey by the end of July.
The website, www.rigov.org/lead, includes the survey and information on how residents can determine if their service line is copper, galvanized or lead. Water service lines are underground pipes that connect a building's internal plumbing to a source of drinking water, such as a city water main.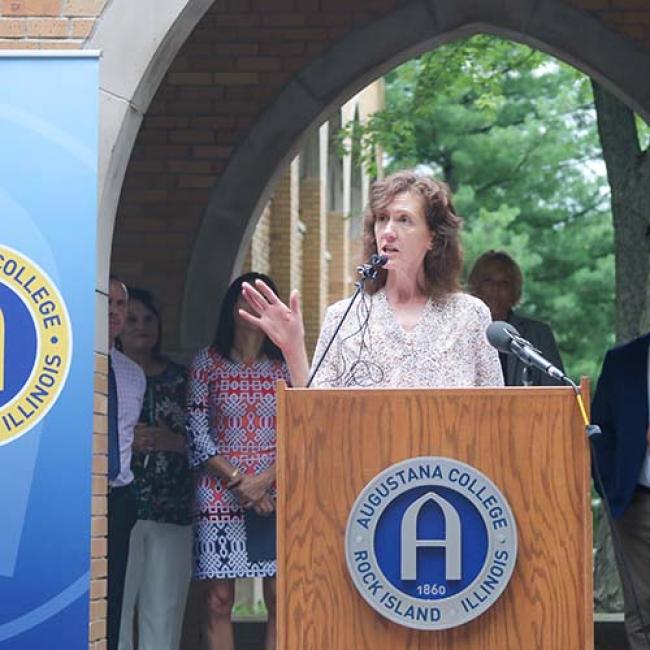 Residents are asked to do the "scratch test" on the area of the water service line pipe between the point where the line comes into the residence and the inlet valve. A guide for completing the test is available at www.rigov.org/lead; additionally, representatives from Augustana College are available to assist with this step.
The inventory project is in compliance with Illinois' Lead Service Line Replacement and Notification Act. The 2021 law requires cities to inventory lead service lines, implement replacements and coordinate financing strategies to fund this work. 
Augustana's Dr. Kimberly Murphy, associate professor of biology and director of the Center for the Advancement of Community Health and Wellness, said completion of the survey is beneficial to individual residents and the entire Rock Island community. 
"The law requires property owners and operators of the community water supplies to build a comprehensive water service line material inventory and then work towards a replacement plan that is in the community's best interest," Dr. Murphy said. "Augustana students will be instrumental in helping the city gather the required data and information for this multi-year initiative."
Augustana's Center for the Advancement of Community Health and Wellness and Upper Mississippi Center engage Augustana students in tackling real-world problems close to campus. Dr. Murphy said the inventory is an interdisciplinary project that will bring students and faculty from all majors together. 
Rock Island Public Works Director Mike Bartels said the drinking water supplied to residents and businesses in the community is safe and rigorously tested on an ongoing basis. Rock Island's water supply meets all Illinois Environmental Protection Agency standards and has met these standards for years.
Bartels said it is also important for businesses to take part in this initiative by completing the survey.
"The participation of both residents and businesses is needed in order to assess if any lead water service lines remain, and if so, where those are located so that they can be replaced," Bartels said.