Notices received as of Dec. 10, 2018.
1952
Michas Ohnstad published his second book, Pilgrim in Process.
1956
Carol Rausch Albright and her husband, John Albright, edited a book, Interactive World, Interactive God, which examines parallel changes across the sciences, and their interaction with developments in theology. It was recently the subject of an all-day conference of the American Theological Society–Midwest, and currently is featured in The Clergy Letter Project, an online publication.
1957  
Budd G. Webb wrote a book, Dreams, Wishes, and Fantasies of Common Folk.
1965
Richard Edwards retired as chancellor of Rutgers University, New Brunswick, after five years. Prior to that, he served as executive vice president for academic affairs and as a dean. He continues to teach at Rutgers as a University Distinguished Professor. He lives in New York City.
Mark Younggren was designated a Realtor Emeritus by the Capital Area Board of Realtors for more 30 years of service.
1966
Judith Salmon Kaur received a Distinguished Alumni Award for "exceptional contributions in the field of medicine, including medical practice, research, education and administration," by the Mayo Clinic Alumni Association, on Oct. 8, 2018.
1969 
Jill Dragoo Ames served 21 years on the Coal City Public Library District Board of Trustees. Her granddaughter, Katelyn, will graduate from Augustana in May 2019, exactly 50 years after her own graduation.
1972
Kurt Anderson will retire in January 2019, after 30 seasons as the men's head soccer coach at St. Olaf. He started his career at Augustana, recording a 61-38-10 (.606) record with the Vikings.
1975
Bruce Hamming retired from private practice and currently works at James Lovell Federal Health Care Center (a combined VA and Navy hospital) in North Chicago, Ill.
1978
John Misner was elected executive vice president of external affairs at Charlotte SCORE, a national volunteer organization consisting of active, retired or semi-retired business executives and business owners.
1979 
Kimberly Eggert was chosen to help decorate the White House for Christmas in 2017.  
Julie Markello Negley retired from Graham Hospital Laboratory after 38 years as a medical technologist.
Ron Seib is retired, after serving as the CFO and then COO of KleinBank in Chaska, Minn.
1980
Kathy Patterson received the Mountain View Whisman School District Teacher of the Year award and was honored at a ceremony with 31 other teachers in Santa Clara County at Heritage Theatre in Campbell, Calif.
1981
David Dahl summited Granite Peak in Montana; he has now been to the highest point in each of the lower 48 states.
1982
Julie Hamann married Ken Elliott on Dec. 1, 2018, in Omaha, Neb.
1984
David Nord is the city administrator in Lake Geneva, Wis.
1985
Daniel Landbo married Lisa Kleya on June 23, 2018.
Tom Tallman's orchestrations of music were performed by James Reese Europe and Reginald Robinson on Nov. 2, 2018, as part of the 25th anniversary of Chicago's Symphony Center Presents Jazz series. Tallman plans to retire in June 2019 after 29 years as professor of music at College of DuPage, Glen Ellyn, Ill.
1986
Kenneth Harris was re-elected to the Will County Board on Nov. 6, 2018.
1988
Annie Oswald Leyden is ABF North America finance manager with ACH Food Companies. She is responsible for treasury and insurance functions between U.S. companies and their parent company in London.
Angie Hoppes Normoyle was elected to the Rock Island County Board on Nov. 6, 2018.
1994
Kajsa Voss married Mark Han on June 23, 2017.
1997
Angela Bauer Williams received a fellowship in the Academy of General Dentistry.
1998
Allison Quadhamer earned her diploma in neurology from the International Academy of Chiropractic Neurology in May 2018.
1999
Paul Allen had his second book The Hopefuls: Chasing a Rock 'n' Roll Dream in the Minnesota Music Scene published by McFarland & Company.
Sasha Fach Schrunk and her husband had a daughter, Sonya, on May 6, 2018.
2000
Nate Nickel was promoted to business manager in the Bloomington, Indiana, Public Works Department.
Pamela Wehrheim Podolner is teaching theatre at Lincoln Middle School in Berwyn, Ill.
2001
Danielle Ricci Moran completed her Ed.S. (Education Specialist) degree in educational leadership with superintendent endorsement from Northern Illinois University in 2018. She is an elementary school principal in Community Unit School District 200, DuPage County, Ill.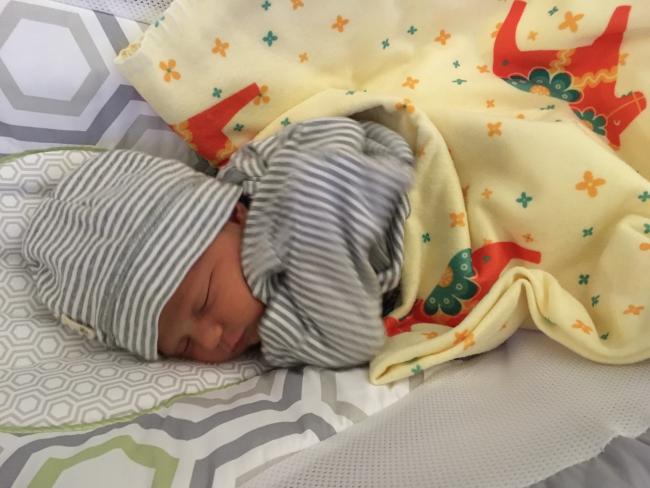 2002
Maranda Meyer Amons had a son, Hayden Robert, on Dec. 1, 2017.
Philip and Lindsay Schrand Kiraly had a daughter, Katherine Grace on July 31, 2018.
Holly Johnson Pettersson had a daughter, Hanna Linnea Pettersson, on Oct. 19, 2018 (Börje Jimmy Pettersson).
2003
Heather Slagell is the executive director of service and operations at Louisiana State University in Baton Rouge.
2004 
Robert Britton was elected to the partnership of Paul, Weiss, Rifkind, Wharton & Garrison LLP. He is a partner in the bankruptcy and corporate reorganization department.
Stephanie Allewalt Hacker had a daughter, Marin Joy Allewalt Hacker, on Nov. 3, 2018 (Mike).
Julia Selzer Nalewajka had a son, Owen, on Oct. 15, 2018 (Roger; Amelia, 7; Jude, 5; and Tessa, 4).
Kelly Thompson is the vice president of grantmaking and community initiative at the Quad Cities Community Foundation.
Andy and Sarah Cunningham Ziemer had a daughter, Elise Joy, on Feb. 8, 2018.
2007
Megan Koepnick Clapp had a son, Milo Thomas Clapp, on Oct. 8, 2018 (Eric; Lillian, 4).
Kim Cieniawa Karwacki had a son, Wyatt John Karwacki, on April 11, 2018 (Jonathan).
2008
Jessica Feinman had a daughter, Esther Hawk, on June 6, 2018 (Mitch).
Antoinette Golden married Harold Blake in November 2016. She is the associate program director for the emergency medicine residency at Kendall Regional Medical Center in Miami, Fla.
Kate Lukowicz Houghton and Andrew Houghton '06 had a son, Conor Kent Houghton, in February 2018.
Emily Johnson married Ian Cawley on Sept. 14, 2018.
Ryan Mackey began the M.Div. program at Wartburg Theological Seminary in Dubuque, Iowa, in September, and entered candidacy to become an ordained pastor in the ELCA.
2009
Kiley Peters Gilbert had a son, Joel Edward, on Oct. 26, 2018 (Chris).
Jackie Fox Klaisner had a son, James Alan Klaisner, in August 2018 (Kyle).
Joseph and Alyssa Nikides Papuga had a son, Layton Walter Papuga, in October 2018.
Danielle Oester Petersen and Max Petersen '10 had a son, Everett James Petersen, in February 2018.
Bryan Schmid and Stephanie Dilling '10 Schmid had a daughter, Marion Joy Schmid, on Sept. 18, 2018.
Ashley (A-Tay) Taylor is the director of marketing for EP!C, a non-profit in Peoria, Ill., that enriches the lives of adults with disabilities. In April 2018, she married her high school sweetheart Ryan Schreck on their 13th anniversary. Several Augie alumni attended.
2010
Austin DePorter and Laura Simmons '11 DePorter opened a dental practice in September 2018.
Megan Hoerner Irey is a band teacher (fifth and sixth grades) in West Des Moines Community Schools.
Max Petersen and Danielle Oester '09 Petersen had a son, Everett James Petersen, in February 2018. Max graduated from the M.D.-Ph.D. program at Yale School of Medicine, and began his residency in internal medicine at Massachusetts General Hospital.
Austin and Megan Ferris Reynolds had a daughter, Millicent (Millie) Eileen Reynolds, in May 2018.
Stephanie Dilling Schmid and Bryan Schmid '09 had a daughter, Marion Joy Schmid, on Sept. 18, 2018.
Chelsey Svela Stolte had a son, Oliver, in September 2018.
2011
Cassandra Baker and Jacob Gottlieb were married on Aug. 6, 2016. They had a son, Sylas, on May 8, 2018.
Laura Simmons DePorter and Austin DePorter '10 opened a dental practice in September 2018.
James Hallene married Morgan Gale '12 on Sept. 15, 2018.
Amanda Lindoo graduated from the University of Alaska Fairbanks with a Ph.D. in geology/volcanology in 2017. She currently is conducting postdoctoral research at the Carnegie Institute for Science in Washington, D.C.
Kristy Klouda Smith graduated from nursing school at Ursuline College and currently works as an ICU trauma nurse in Cleveland, Ohio.
2012
Megan Butzke graduated from Rosalind Franklin University in June 2018 with a master's in physician assistant studies.
Morgan Gale married James Hallene '11 on Sept. 15, 2018.
Kathy Yep married Erik Andon in 2017.
2013  
April Kathe married David Steele on Oct. 20, 2018.
Gianna Pecora and Alex Lawson were married on Sept. 22, 2018.
Megan Vandersee married Stuart Bildner on July 27, 2018. She completed her Masters of Science Education from the University of Northern Iowa in December 2017.
2014
Paul Kleinhans-Schulz is the assistant general manager of sales for the Fort Myers Miracle baseball team, Class A Advanced Affiliate and spring training home of the Minnesota Twins.
Cameron Onumah is manager, public policy, with Amazon Studios in Los Angeles, Calif.
Kristin Ribando graduated with a doctorate in chiropractic medicine from National University of Health Sciences in Lombard, Ill., and plans to open a practice in Palatine, Ill., with her husband, Zachary Serven.
Chaney Tambling received a Doctorate of Veterinary Medicine in May 2018 and started working as an associate veterinarian at the practice that she plans to buy when the current owner retires.
2015 
Michelle Bautista received her master's in applied economics from Illinois State University.
Leslie Carranza completed two terms of service with Amate House in Chicago, and currently is the office manager/administrator for Taller de José, a community resource center on the southwest side of Chicago.
Rob McNeil's feature screenplay "No Return" was selected at the 2018 Beverly Hills Film Festival and the 2018 Oaxaca Film Fest, in addition to being nominated for Best Thriller and Best Overall Script and winning the Grand Jury Award at the 2017 Cannes Screenplay Competition.
Adam Pfluger married Madison Mortenson '18 on Nov. 24, 2018.
2016
Sarah Dantino graduated from Western Michigan University's master's program for industrial organizational behavior management in April 2018. She is a learning and development specialist with Orbus Exhibit and Display.
2018
Gustav Benson is an analyst and graphics specialist with Bi-State Regional Commission in Rock Island.
Nicolette Geddeis is an associate regulatory submission specialist at Fresenius Kabi, a global health care company that specializes in lifesaving medicines and technologies for infusion, transfusion and clinical nutrition.
Madison Mortenson married Adam Pfluger '15 on Nov. 24, 2018.
Natlie Weust is the activity director for a children's swim school, and also a data entry specialist and fundraiser at Animal House Shelter in Huntley, Ill.
Deaths
Notices received as of Dec. 10, 2018
1946
Catharine Nelson Edlen on Nov. 2, 2018.
1949
Everett Stevens on Oct. 29, 2018.
1950
Donald Devona on Dec. 7, 2018.
David Reinertsen on Nov. 30, 2018.
1951
Arthur Whalen on Nov. 9, 2018.
1952
Carl Beckman on Nov. 30, 2018.
Herbert Carlmark on Sept. 18, 2018.
1953
Arleen Plambeck Hedberg on Nov. 20, 2012.
1954
David Pearson on Nov. 16, 2014.
1957
Edwin Gunlock on Nov. 20, 2018.
1959
Donald Kell on Dec. 20, 2016.
Lois Wennerberg Williams on Oct. 2, 2018.
1960
W. Jack Anderson on April 30, 2015.
1961
Mona Goranson Carpenter on Oct. 23, 2018.
Jon Oakleaf on Nov. 15, 2018.
1962
William Meyer on Aug. 3, 2018.
1967
Donald Pryber on Nov. 6, 2018.
1971
Russell Munch on Nov. 15, 2018.
1972
Pamela Sharp Robinson on Nov. 26, 2018.
1973
Karen Kirchoefer Taber on Nov. 17, 2018.
1974
Valerie Puntney on Nov. 16, 2018.