Notices received as of June 4, 2019
1962
A new track at the University of Illinois is being named after Gary Wieneke. The track is part of the Demirjian Park Stadium, set to open in 2021. He was a coach for 36 years, retiring from the University of Illinois in 2003.
1969
George Drost received the President's Award from the National Czech & Slovak Museum & Library, Cedar Rapids, Iowa.
1974
Elizabeth Ebinger Boesen will retire from active clinical and parish ministry on June 30, 2019, after 37 years in the LCA/ELCA.
Kathy Anderson Janicek is one of the conductors of RiverChoir, community singers from Iowa and Illinois, featured in concerts with the Clinton Symphony Orchestra and other area venues.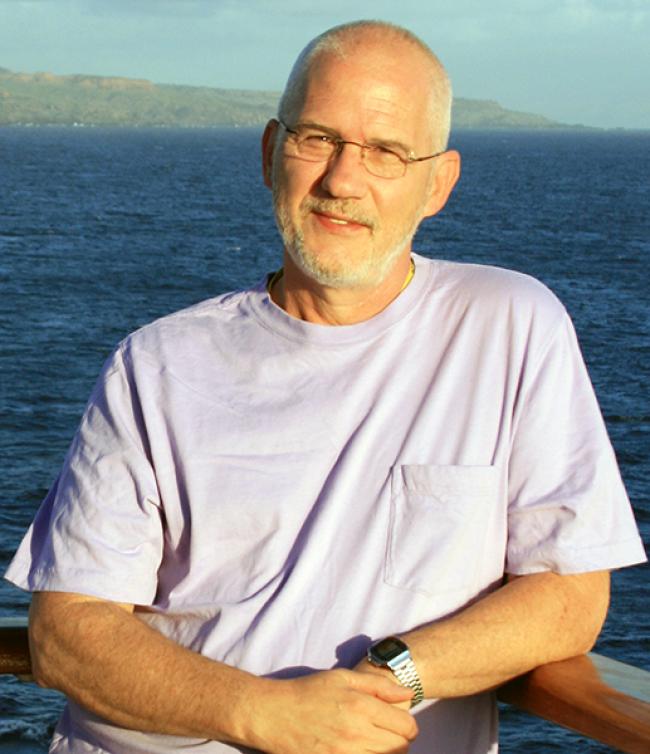 1975
Rob Pfaff has started a professional genealogy service, Chasing the Past Genealogical Services, LLC. He was a college chemistry professor for 36 years.
1976
Garth Gardner is executive vice president of Operations for Optum International, working from the company's Sao Paulo, Brazil, headquarters.
1977
Nora Gottschalk Sale retired in May after more than 30 years in development and non-profit management. Most recently, she served as senior director of development and campaign for the Zoological Society of Milwaukee.
1980
Stephen Kowalsky is pursuing a Doctor of Philosophy in Music Composition at the University of Chicago.
1981
Kenneth Paulus was named president and CEO of Prime Therapeutics, Egan, Minn.
1983
John McGehee was appointed by the Illinois Supreme Court as a resident circuit judge for Rock Island County. He has served as state's attorney for six years.
1984
Brent Gwaltney is the chief executive officer of Consolidated Energy Ltd. in Wollerau, Switzerland. He and his wife, Linda Mezger '84 Gwaltney, live in Richterswil, Switzerland.
Rick Milbourn retired from United Technologies in 2017 after 33 1/2 years of service.
1986
Jeffrey Frick was selected by Washington and Jefferson College as the new vice president for Academic Affairs and dean of the college.
Julie Sena Hoffman is the director of development at The Center for Violence Free Relationships.
1988
Collis Jones was named to the Thurgood Marshall College Fund Board of Directors. He is vice president, U.S Public Affairs Policy & Strategy for Deere and Company.
1989
Douglas Holtz was called as lead pastor to Calvary Lutheran Church (ELCA) in Oshkosh, Wis., in 2018.
1990
Paul Johnson was hired to serve as associate state director of the Wyoming Small Business Development Center Network.
1991
Tom Jessee was inducted into the inaugural class of the A STEP UP Assistant Coaches Hall of Fame. It is the first Hall of Fame of its kind that specifically recognizes NCAA Division I, II and III men's and women's assistant basketball coaches. He has been an assistant coach for Augustana men's basketball for 26 years.
1993
Patricia Gomez Castro is the acting state's attorney for Rock Island (Ill.) County.
Eric Rowell, Augustana's assistant director for admissions and diversity outreach, was honored by the YWCA Quad-Cities Race Against Racism.
1994
James Toppert was re-elected to the Riverdale, Ill., School Board.
1996
Kimberly Bath married Ryan Daufeldt on Sept. 23, 2017.
1997
Audrey Wheeler Adamson received the Governor's Volunteer Service Award for her work with the Girl Scouts. She is the assistant director of student affairs at Western Illinois University-Quad Cities and a member of the Moline School Board.
2001
Elizabeth Oakdale Davis had a son, Carter Christian Davis, on April 4, 2019 (Christian).
2003
William Dwyer is principal of West Chicago Community High School.
2004
Woody Loverude is the director of the Writing Center at Grace Church School in New York, N.Y., where he also teaches literature classes and coaches the boys JV basketball team.
2005
Jessica Baumgartner Harms had a son, Ezra, in January 2018 (Zoe, 7). She is a licensed clinical social worker and therapist with the University of Illinois.
Colleen Wynne Nagy had twin daughters, Genevieve Faye and Grace Caroline, on Feb. 7, 2019.
2007
Sarah Konfirst Mayer had a daughter, Emily, on April 7, 2019 (Nathaniel).
2009
Jeff Becker and his father, Brian, published a book, Tender Lions – Building the Vital Relationship Between Father and Son.
Brent Boyens was promoted to senior product manager at DocuSign in Chicago.
Matt Mencarini is a reporter at the Courier Journal in Louisville, Ky.
David Sally was appointed assistant athletic director for West Aurora High School.
2010
Christopher Schilf graduated from his Northwestern Anesthesiology residency in June 2018, and currently is pursuing advanced subspecialty training in cardiothoracic anesthesiology at Duke University Hospital, Durham, N.C.
2012
Hilmir Kristinsson and Samantha Bazely '13 had a daughter, Vala, in June 2018.
2013
Samantha Bazely and Hilmir Kristinsson '12 had a daughter, Vala, in June 2018.
Rylee Hall is pursuing his post-bachelors paralegal certification at the College of Saint Mary beginning in August 2019.
Samantha Lach received her unrestricted mental health counseling license, LCPC, in March 2019.
Alexander Lawson and Gianna Pecora were married on Sept. 22, 2018.
2014
Lydia Boyle is an occupational therapist at the Mayo Clinic in Jacksonville, Fla.
2015
Rachel Vandermyde graduated from the University of Illinois College of Veterinary Medicine with a Doctor of Veterinary Medicine. She is an associate veterinarian at Coyne Veterinary Center in St. John, Ind.
2017
Robert Rosene is a graduate student in agricultural economics and agribusiness in the University of Arkansas College of Agricultural, Food and Life Sciences. He successfully defended his thesis titled "Producer Preferences for Alternative Irrigation Practices in the Arkansas Delta." Upon graduation, Robert will be a data analyst at H.C. Schmieding Produce LLC in Springdale, Ark.
Christopher Saladin is a graduate RA at the University of Minnesota.
2018
Ryan Powers joined Park City Investments as a financial consultant.
Deaths
Notices as of June 4, 2019
Geraldine Peterson '39 Turner on March 11, 2019.
Marlowe Tillberg '45 Nordlander on Feb. 26, 2019.
Lois Anderson '46 Roby on April 10, 2019.
Mary Buck '47 Lindquist on March 30, 2019.
C. Jean Dunbar '48 Arndt on April 13, 2019.
Calvin Peterson '48 on April 9, 2019.
Harry Peterson '50 on Oct. 15, 2018.
Ferris Noble '50 Schrock on March 4, 2019.
Robert Taube '50 on April 8, 2019.
William Johnson '51 on March 9, 2019.
Shirley Briere '51 Parker on Feb. 8, 2017.
Mardell Parker '52 on March 17, 2019.
Beatrice Swanson '53 Beyerheim on March 27, 2019.
Curt Pierson '53 on Aug. 4, 2017.
Annabell Larose '54 Brunell on March 31, 2019.
Phyllis Hult '54 on Nov. 20, 2018.
Joann Larkin '56 Zelm on March 15, 2019.
Richard Hosking '57 on March 27, 2019.
Roy Larson '57 on Jan. 31, 2019.
Henry Power '57 on Feb. 4, 2019.
A. John Robinson '58 on April 3, 2019.
Jack Smith '59 on April 17, 2019.
E. Robert Greenway '61 on March 8, 2019.
Donald Kain '61 on March 31, 2019.
Sulah Seward '61 Robinson on May 27, 2019.
Katherine Knanishu '62 McCutcheon on March 26, 2019.
Robert Mindock '62 on May 21, 2019.
Mary Johnson '62 Savely on May 11, 2019.
James Anderson '65 on April 29, 2019.
Kathryn Peterson '65 Becker on April 12, 2019.
Rolf Larson '66 on March 11, 2019.
Julie Lindley '66 Rodell on May 13, 2019.
Robert McKinley '70 on May 25, 2019.
Paul Bown '71 on March 3, 2019.
Kathlyn Johnson '72 Hall on May 13, 2019.
Michael Hemmingson '74 on May 21, 2019.
Edward Millet '80 on April 18, 2019.
Ross Campbell '83 on April 8, 2019.
Jennifer Albert '05 Gavlin on March 16, 2019.