Notices received as of Sept. 5, 2019
1965
Jeanette Steelandt Sorensen retired in 2017, after more than 32 years as a speech pathologist in public schools.
1968
Scott Petersen is in his 15th year of performing in the Chicago theatrical production "Pleading for the Future," which is a distillation of the closing arguments in the 1924 murder trial of Richard Loeb and Nathan Leopold in Chicago. He plays the role of the states attorney who argues for the death penalty—while Clarence Darrow, played by another actor—pleads for life in prison.
1970
Kresten (Kris) Riber retired from international school teaching in 2015.
1971
Wendy Wegner Riber retired from international school teaching in 2015.
1975
Rod Johnson retired from Deere and Company in Moline, Ill., after 41 years of service. He was involved in international logistics for most of his career.
1982
Trudy Pollard Bennorth retired from teaching and coaching in District 204 in Naperville, Ill., after 24 years.
Maholon Erickson is the 9th grade physical science/conceptual physics teacher at Cristo Rey OKC Catholic High School in Oklahoma City, Okla.
1984
Grant Koeller retired from the United States Air Force Band, which includes six performing ensembles, in 2011 after 23 years of service. Currently he is a private music teacher and performer in Dayton, Ohio.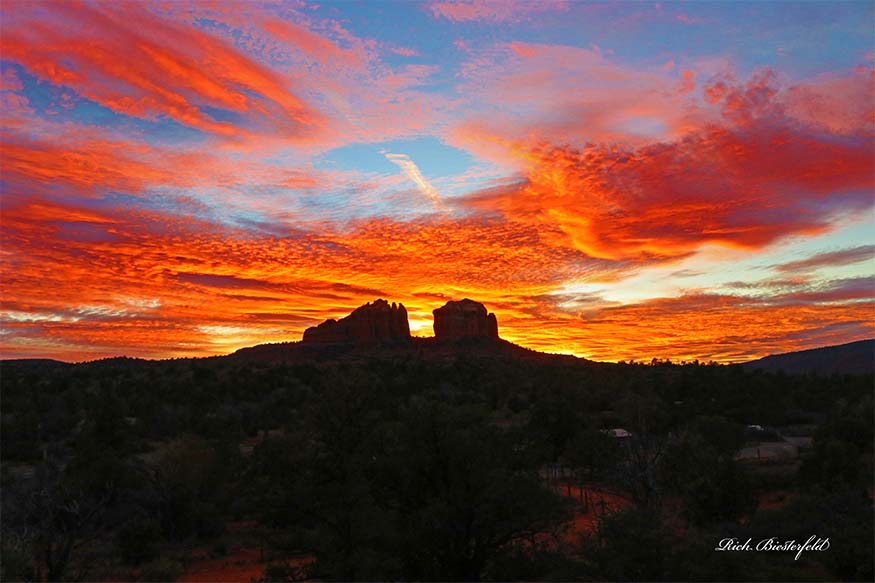 1985
Rich Biesterfeld retired from State Farm Insurance in April 2018 after a 32+ year career in IT. He currently is pursuing his interest in photography; he recently was awarded the top prize in the 2019 Amazing Arizona Photo Contest.
1992
Laura Freeman Knoke earned her master's of education in learning & technology from Western Governors University. She works as an itinerant teacher of students who are blind or have low vision and recently was promoted to department chair for the Fort Wayne, Ind., school district.
1997
LaVette Allen was promoted to vice president, internal controls at Bluefin, a payments technology company in Atlanta, Ga.
1999
Heather Dowding Tipton earned an master's in nursing education.
2005
Annie White Ladnier is the pastor of Hope Lutheran Church in River Falls, Wisc.
2006
Ashley Poust earned a Ph.D. in integrative biology from the University of California Berkeley. He currently is working at the San Diego Natural History Museum.
Andrew Quain is the head football coach at Prairie Central High School in Fairbury, Ill.
2007
Kristen Ufheil Lawson and her husband had a son, Kaine Thomas Lawson, on Feb. 22, 2019 (JoliAnne, 5; Ella, 4; and Scarlett, 2).
Rebecca Richardson was made a partner in the law firm of O'Donoghue & O'Donoghue in 2019. She has two daughters, Isla (born 2015) and Aoife (born 2018).
2009
Rachel Gahn married Paul Scott on Aug. 11, 2018, in Augustana's Ascension Chapel.
Matthew Pruitt is chief experience officer with VSBLTY, a leading retail software and technology company.
2011
Anna Knepler married Nick Chumbley on July 6, 2019.
2013
Bailey Eilering Yeager received her doctorate of dental medicine from Southern Illinois University on June 1, 2019.
2014
Jesse Alexander was named the men's track and field coach for McPherson College in McPherson, Kan.
2016
Madeline Ruzek married Maxwell McCarty on July 20, 2019.
2017
Debo Balogun was named one of The Chicago Tribune's "Hot New Faces 2019: 10 new Chicago actors you should know." He has appeared at the Oak Park Festival Theatre, Definition Theatre and the Steep Theatre. Next he'll be in the Lookingglass Theatre's production of "Mary Shelley's Frankenstein" at the McCarter Theatre in Princeton, N.J.
Rashaun DeBord earned a master's in history from the University of Illinois-Springfield in May, and currently is employed at Washington University in St. Louis.
2019
Joe Flynn is a production assistant on the NBC show "Chicago Fire."
Deaths
Richard Peterson '42 on June 2, 2012.
Mildred Larson '43 on Aug. 10, 2019.
Betty Fridlund '44 on March 23, 2018.
H. June Freitag '47 Engstrom on Aug. 25, 2019.
Marilyn Wicker '51 Cavanaugh on May 12, 2012.
Donna Rein '52 Swanson on Jan. 9, 2014.
Gloria Morgan '54 Paulsen on July 30, 2019.
Mary Iverson '54 Peterson on July 24, 2019.
Jeanette Swanson '55 Miller on Aug. 10, 2019.
John Guthrey '56 on June 14, 2019.
Othelia Johnson '56 Dillbeck on Aug. 27, 2019.
Willard Hedberg '58 on March 26, 2019.
Norman Lefstein '59 on Aug. 29, 2019.
C. Darlene Wilcox '62 Durkee on Aug. 22, 2013.
Raymond Peterson '65 on Feb. 10, 2019.
Linda Wilson '70 Swenson on June 17, 2019.
Barbara Jacobs '73 Fackel on Aug. 22, 2019.
Dean Cady '74 on Aug. 8, 2019.
 
Professor Emerita of English Nancy Huse on Aug. 31, 2019.
Sister Marilyn Ring, O.S.B., on Sept. 15, 2019.