(notices received as of May 8, 2020)
1968    
Richard Vantrease is a part-time licensed marriage and family therapist at Samaritan Counseling Services of the Gulf Coast in Sarasota, Fla.
1969    
Tom Christ, his son Nick, and daughter in-law Mary, have purchased the Pine View Campground in Linesville, Pa.
1971    
Steven Christensen received an American Physical Society Fellow Award in April 2020.
1975
Carl (Marty) Lindquist retired in January 2020, after 29 years as an infectious disease specialist, internist and flight surgeon in the Air Force, and most recently after seven years as a civil service internist and then occupational medicine physician. While on active duty, he held multiple positions, including teaching internal medicine and infectious diseases to medical students, residents and fellows; working in the hemorrhagic fever research program at the Army's Infectious Disease Research Institute; and with his last position as the chief of clinical operations for the Air Force, District of Washington.
1978    
Linda Griffith Ditchkus published her first two novels in 2020: Crimes of the Sasquatch and Mission of the Sasquatch. A third book in the series, Legacy of the Sasquatch, will be released in the fall.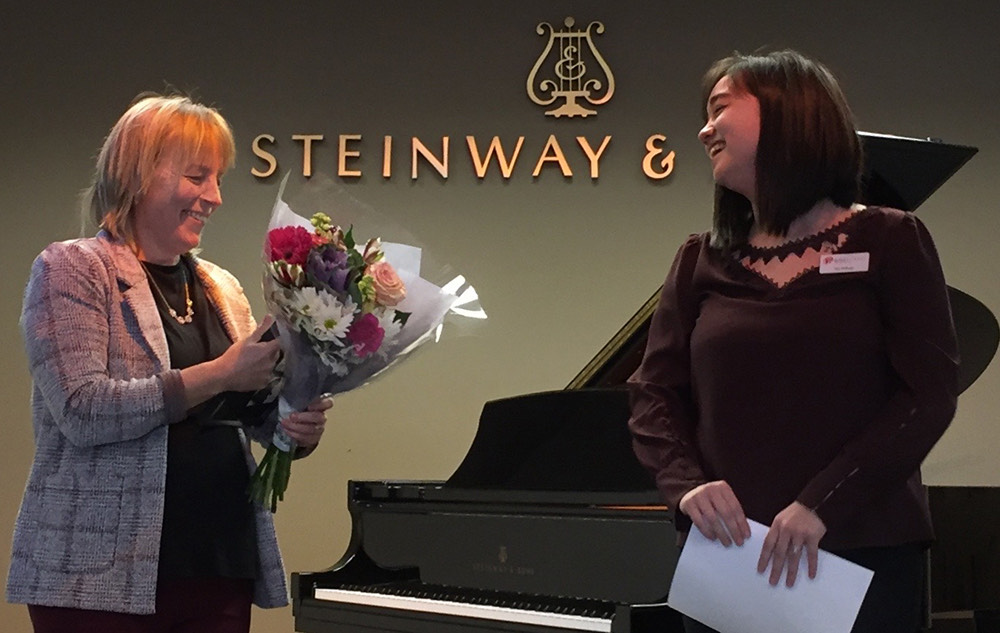 1989    
Laura Baumbach Crumbleholme received the 2019 Top Teacher Award by Steinway & Sons and West Music.
1991    
Matt Johnson is the CEO of the Cancer Research Foundation in Chicago.
1995    
Kristina Olson Sjogren and her husband, Michael, will be taking over the leadership of the Salvation Army Quincy Area Command in July 2020.
1995    
Elin Ulrich is a first-line supervisor for the U.S. EPA in March 2020. She has been employed as a chemist at the EPA since 2002.
1997    
Malik Khaliq was promoted to senior director–investments at Wells Fargo. He has been recognized as one of the Top 4 financial advisors in Iowa by Forbes Magazine, three years in a row.
2000    
Ryan Casey was ordained a Catholic priest in May 2018. He serves as associate pastor at Saint Paul the Apostle Catholic Community in Los Angeles, Calif. Alvin Portis is a Cook County Assistant State's Attorney in Chicago.
2001    
Chad Johansen is a PGA professional and general manager at Blackberry Oaks Golf Course in Bristol, Ill.  
2002    
Jim Earel was recognized as the 2019 Iowa Physician Assistant of the Year by the Iowa Physician Assistant Society.
2004    
Katie Bohr Swiniuch had a son, Dylan Daniel, on March 19, 2020 (Bill; Liam and Connor).
2005    
Joyce Meier earned a master's in mathematics education from National Louis University in June 2019.
Dan Rooney had a son, Jack, on July 10, 2018 (Melissa). Dan works at the U.S. Securities and Exchange Commission.
2007    
Meredith Wachholz Hodge is the development director for Refuge for Women Chicago, a non-profit organization providing aftercare for survivors of sex trafficking and exploitation.
2008    
Kristin Maki Burns graduated with an MSN from Vanderbilt University School of Nursing in 2019. She is a family nurse practitioner in suburban Seattle.
2010    
Maria Ford is director of the Tremont District Library in Tremont, Ill.
2018    
Kris Kizer is a business leadership intern at Leo Burnett in Chicago.
Deaths
Faith Hanson '42 Conrad on Nov. 21, 2017.        
Dolores Ohland '48 Stuhr on Dec. 26, 2019.        
Eugene Brodeen '50 on April 11, 2020.
Marjorie Anderson '52 Harrell on April 9, 2020.    
Dale Baraks '53 on April 22, 2020.
Samuel Collins '53 on April 20, 2020.
Giles Ekola '53 on March 27, 2020.    
Hagard Johnson '54 on April 16, 2020.    
Joan Dixon '55 Lehmann on April 11, 2020.        
Robert Miljus '55 on April 4, 2020.    
Theodore Larimer '57 on April 12, 2020.    
Helen Voukidou '58 Volan on April 20, 2020.        
Barbara Arnstedt '60 Decker on April 21, 2020.
Patricia Jenkins '60 Zygmun on April 17, 2020.    
Roger Armstrong '68 on April 23, 2020.  
Harlene Kimble '72 Johnson on April 15, 2020.    
Bruce Davis '73 on April 22, 2020. 
Paul Nedde '74 on April 21, 2020.