Notices received as of Sept. 5, 2021
1971
Karl Zobrist received the Missouri Lawyers Weekly's 2021 ICON Award. The ICON awards are presented to distinguished lawyers age 60 and older in recognition of their exemplary careers and longstanding commitment to the Missouri legal community.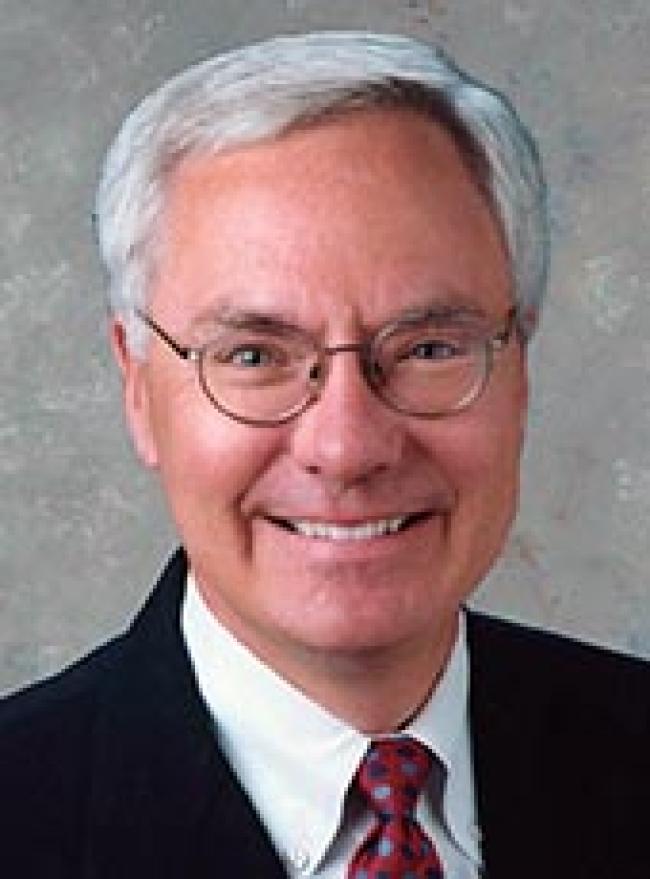 Zobrist is a partner with the Dentons US law firm; many of his most significant accomplishments involved renewable energy, electricity infrastructure, police reform and equity for the disadvantaged. He currently is Missouri counsel for the proposed Grain Belt Express transmission project to move wind-generated power east from Kansas.
1975
John McEvoy retired on Feb. 26, 2021, from Quad City Bank & Trust, after more than 45 years in banking.
1976
Dennis Kelly retired on July 1, 2020, after serving 38 years as a Minister of Word and Sacrament in the Evangelical Lutheran Church in America, Metropolitan Chicago Synod.
Mary Salemi Kelly retired on July 1, 2018, from teaching in the Special Education Department at Antioch (Ill.) Community High School, District #117.
1982
Ron Oren leads the cardiology program at Horizon Health at Paris, Ill. 
1983
Lance Hofer was inducted into the Geneseo (Ill.) High School Hall of Fame on Sept. 3, 2021.
Theodore "Ted" Schafer is a gastroenterologist at Mount Auburn Hospital in Cambridge, Mass., and an instructor in the Department of Medicine, Harvard Medical School.
Joseph "Ted" Spratt married James Hall on Nov. 13, 2019. Joseph's last name is now Spratt-Hall.
1985
Mary Weidlich Wolf retired as an American Airlines flight attendant after 32 years. She owns a furniture refinishing business called Plane2Pretty and has a space at The Vintage Marketplace Co. in North Aurora, Ill.
1986
Kristy Wethington Ordoña is an art teacher at Dallas City Elementary School in Dallas City, Ill.
1990
Emily Benson is director of communications at Indian Mountain School, a junior boarding and day school in Lakeville, Conn.
Anne Burswold Calder, vice president of development at the Quad Cities Community Foundation, has been awarded the Chartered Advisor in Philanthropy® (CAP®) designation from the Richard D. Irwin Graduate School of the American College of Financial Services.
1992
Melinda Pavek has assumed charge as the Consul General of the United States of America for the Kolkata Consular District. She is responsible for advancing U.S.-India relations in the consular jurisdiction covering West Bengal, Bihar, Jharkhand, Sikkim and the seven northeastern states.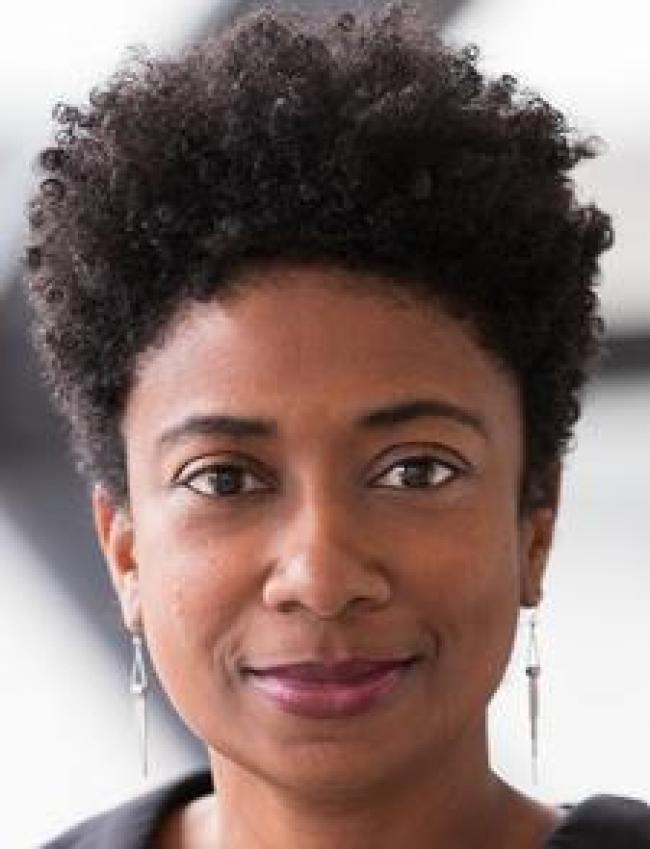 1995
Natasha Chandler Flowers was named assistant dean for anti-racism, equity and inclusion at Southern Illinois University Edwardsville.
1997
Jennifer Sherlock Johnson was named assistant dean of the College of Arts and Sciences at Roosevelt University.
2002
Sarah Rabe is executive director of elementary schools for Elgin Area School District U-46. 
RoxAnne Thomas earned her M.S. in supply chain management from Michigan State University in August 2021.
2003
Rachel Hirsch Hern had a son in August 2021.
2005
Cara Kinnally was promoted to associate professor of Spanish at Purdue University and published a book, Forgotten Futures, Colonized Pasts: Transnational Collaboration in Nineteenth-century Greater Mexico, with Bucknell University Press in 2019. She and Greg Simpson '03 have two daughters: Zinnia, born in 2018, and Ramona, born in 2021.
2009
Amy Hultquist Carter and Andrew Carter had a daughter, Charlotte Grace, on July 30, 2012 (Henry).
Joseph Papuga owns Wheaton (Ill.) Healthcare Chiropractic Center.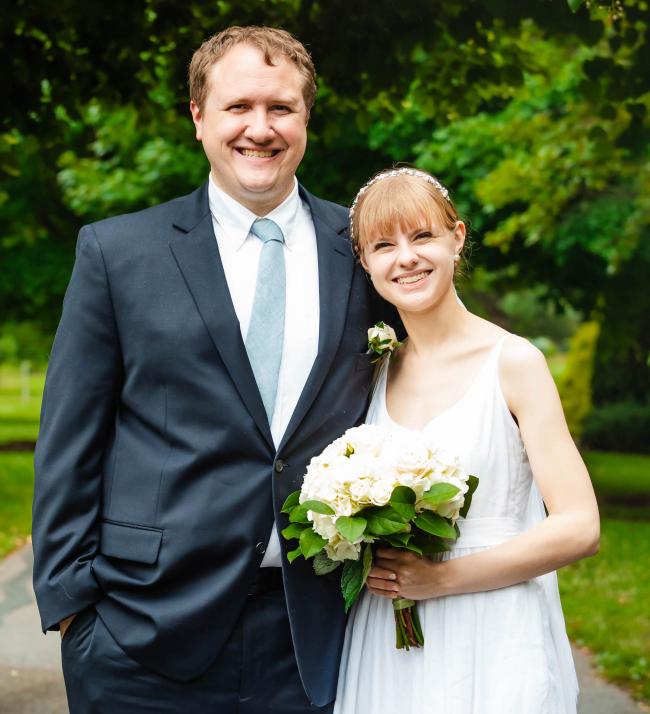 2012
Kevin and Amy Moon Pettit had a daughter, Julia Madison, on June 12, 2021.
Margaret Stadtwald married Tyler Hurlbert on June 26, 2021. She is the editor of Discover Muscatine Newspaper.
2013
Asta Gustafson and Dawson Reed had a daughter, Ivory Noelle, on Aug. 4, 2021 (Roman, 2).
Cassandra Nelson became a board-certified orthopedic clinical specialist through the American Board of Physical Therapy Specialties in July 2021. She married Daniel Pitts on May 1, 2021.
2014
Jessica Raines had a son, Connor, in February 2021.
2015
Haley Fox is a member of the St. Ambrose University Sports Information Office, which was named the Chicagoland Collegiate Athletic Conference Sports Information Department of the Year for 2020-21.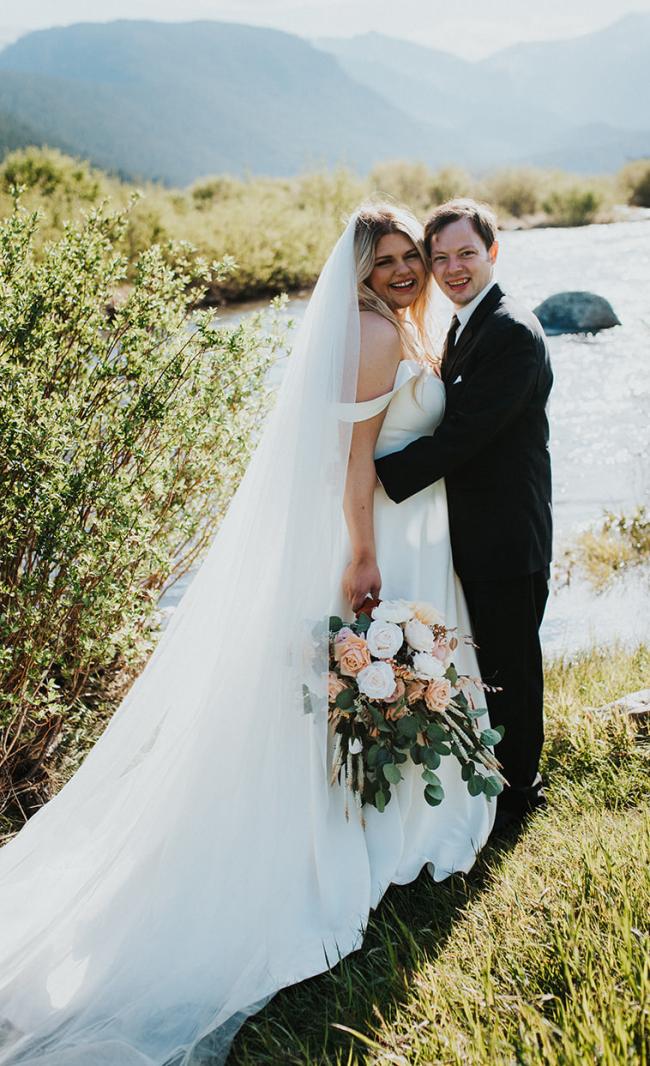 2016
Hilary Steiger married Christopher Lampo on June 12, 2021.
2017
Jessica Estes earned an M.S. in college student personnel administration and a graduate certificate in women, gender, and sexuality studies from Illinois State University in 2021. She is a career coach at Augustana.
Miachel Kerschieter graduated with a second bachelor's degree — this one in elementary education from Western Illinois University in May 2021 — and is now teaching first grade at Hillcrest Elementary School in East Moline, Ill.
Cait Slone is a public affairs and communications account executive with ROKK Solutions, a bipartisan public affairs firm in Washington, D.C.
2018
Natalie Wuest is the intake and foster coordinator at Save-A-Pet in Grayslake, Ill.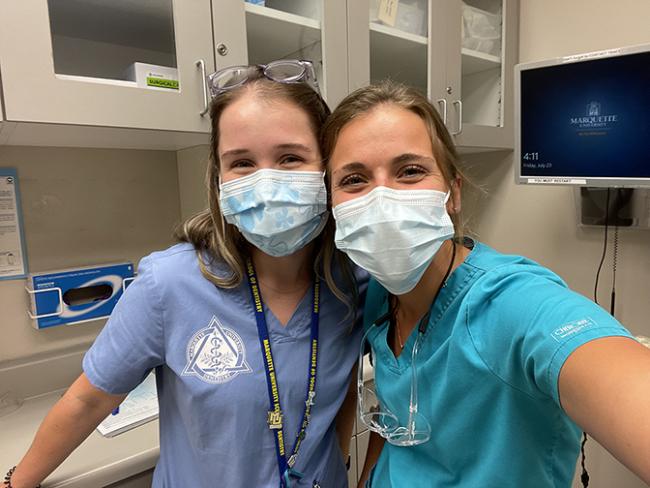 2019
Patrick Crompton is in the Master of Engineering program at the Milwaukee School of Engineering.
Tyler (Duy) Pham is in the Ph.D. program in the College of Communication Arts and Sciences at Michigan State University, where he is specializing in quantitative research methods, computational communication, and entertainment media research.
Daniel Williams is an advocate specialist for the Rock Island County Child Abuse Council CASA (Court Appointed Special Advocates) Program.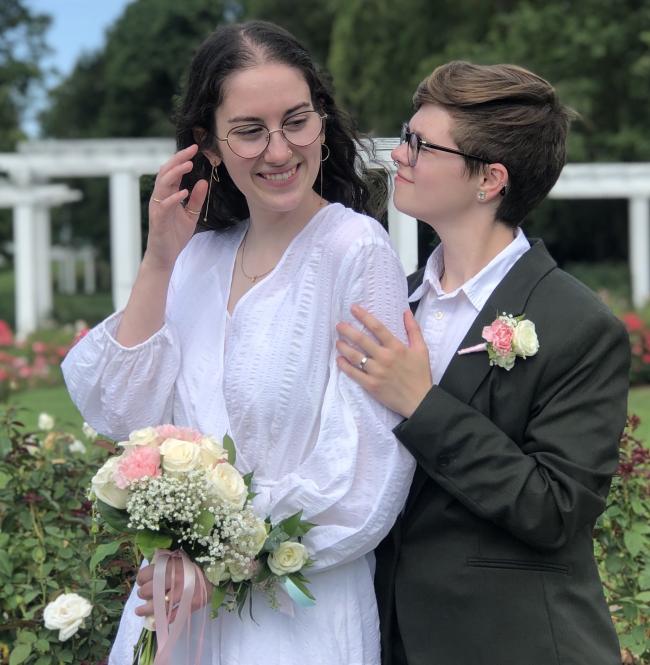 2020
Rebecca Achilli and Sophie Nevel were married on Aug. 23, 2021. They are preparing to move to Japan in October, where Sophie will be teaching English to elementary and junior high students, through the JET (Japan Exchange and Teaching) Program.
Brittany Pospishil is pursuing a master's in speech-language pathology at Eastern Illinois University.
Tom Simon is an office engineer at Kiewit construction and engineering, Elwood, Ill.
John Tworek earned a master's in biochemistry and molecular biology from the University of Iowa and is currently a scientist at Integrated DNA Technologies in Coralville, Iowa.
2021
Alex McLean will be pursuing a D.O./M.P.H. degree at the Idaho College of Osteopathic Medicine.
Natalie McMillan is a news producer at WHBF-TV, Rock Island.
Mackenzie Peterson married Isaiah Willingham on June 5, 2021.
Deaths
Notices received as of Sept. 5, 2021
Ruth Ziffren '42 Learner on Aug. 9, 2021.     
Marie Nordstrom '48 Norlen on July 19, 2021.     
Bruce Pieper '50 on Aug. 8, 2021.     
Marilyn Anderson '51 Thiel on July 11, 2021.      
J. Edmund Nelson '55 on March 21, 2021.     
Diana Graham '55 Olmsted on Sept. 12, 2017.    
Kay Johnson '56 Boyd on Dec. 12, 2020.
David Krans '56 on April 8, 2020. 
Peter Martin '56 on April 19, 2021.
James Meyers '56 on May 19, 2017.   
Lois Andrews '56 Sorensen on April 1, 2019.
Marlene Johnson '57 Miljus on April 17, 2021.    
Wendell Danielson '58 on Aug. 18, 2020.    
John Sutherland '58 on Aug. 10, 2021.    
Herman Lange '60 on Nov. 13, 2020.
Mark Gustafson '61 on Aug. 19, 2021.   
James Humphreys '61 on Oct. 11, 2018.
Brady Jackson '61 on Feb. 17, 2018.    
Mary Anderson '61 Jackson on June 18, 2020.
Eloise Stead '61 Rohrbach on Aug. 24, 2021.
Osie Rostick '61 on Sept. 10, 2018.
Pamala Scriber '68 Childress on Aug. 25, 2021.
Joy Behrens '71 on Aug. 17, 2021. 
Paul Ogren '73 on July 30, 2021.
Marjorie Glaspell '75 Mason on Sept. 3, 2021.
Walter Verdooren '83 on Aug. 26, 2021. 
Jeffrey Hermann '97 on Sept. 6, 2018.