News
Class Notes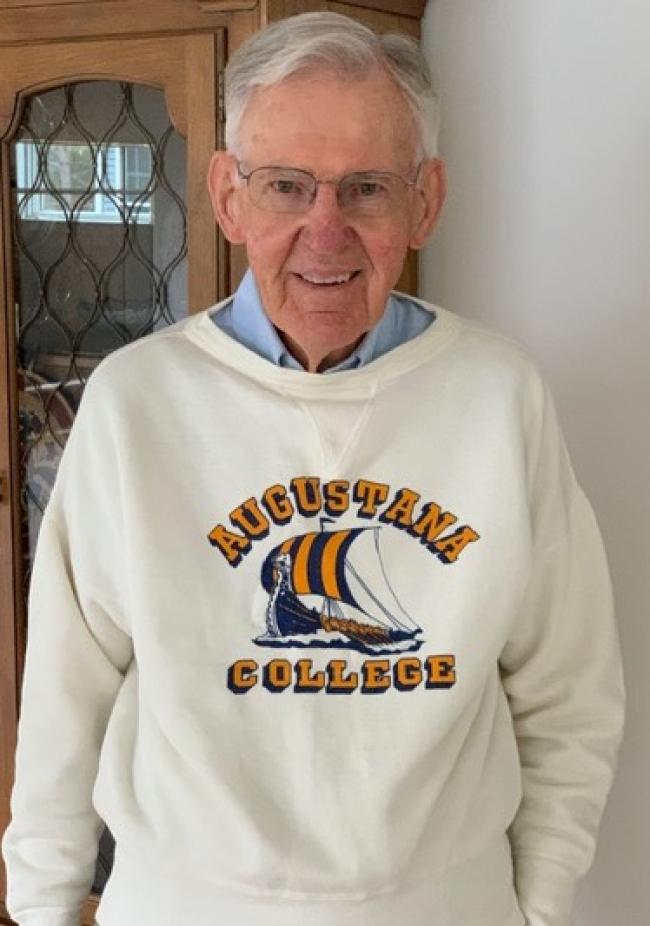 Notices received as of Sept. 30, 2021
1971
Ken Anderson was inducted into the inaugural Cincinnati Bengals Ring of Honor class on September 30.
1974
In September 2021, Ric Abben, Bill Gamble, Rick Spencer, Randy Ytterberg, Frank West, Stu Weider, Fred Burnham, Dennis Allen '76 (brother of Tom Allen '74) and Don Surges traveled to Ocean Isle, N.C., for their 51st annual reunion. Pat Bradley '76 Spencer, Linda Burklund '76 Ytterberg and Martha Benson '74 Burnham joined them.
1976
Paul Jakse is vice president at AeroGo Inc. in Seattle, Wash.
1977
Miles Canada retired from Apple in November 2018.
Theresa Lundgren Harrop retired from Nufarm Americas Inc. in July 2020.
1978
Linda Griffith Ditchkus won first place in the sci-fi category in the 2021 Colorado Authors League Book Awards for her first three novels, The Sasquatch Series (pen name is L.V. Ditchkus).
1979
Nanette Calmark Dahlke was appointed to the Libertyville District 70 Board of Education.
1983
Craig Vogel retired from IBM after 36 years.
1985
Charity DiLiberti is a dual-language teacher for sixth grade in the Elgin School District U-46.
1996
Beth Grassi is a science communication specialist for the Alaska Earthquake Center at the University of Alaska Fairbanks.
2003
Jaclyn Smith Jensen was promoted to senior client services consultant at MetLife.
Nicole White-Luder teaches Lower School music at Metairie Park Country Day School in Metairie, La.
Elisa Roth opened a pediatric dental practice, Smalltown Dental Kids, in her hometown of Morton, Ill.
2008
Elizabeth Reynolds had a son, Will in January 2021 (Taylor Johnson; Myla, 6, and Emily, 4).
2009
Jesus (Junior) Almanza was promoted to territory sales manager for Sub-Zero, Wolf & Cove.
Jenna Didier Cairo and her husband, Sam, had a daughter, Ava Jean, on Aug. 18, 2021. Jenna is a speech-language pathologist at Oak Park and River Forest High School.
2013
Anna Lundine is pursuing her master's in social work at Loyola University-Chicago.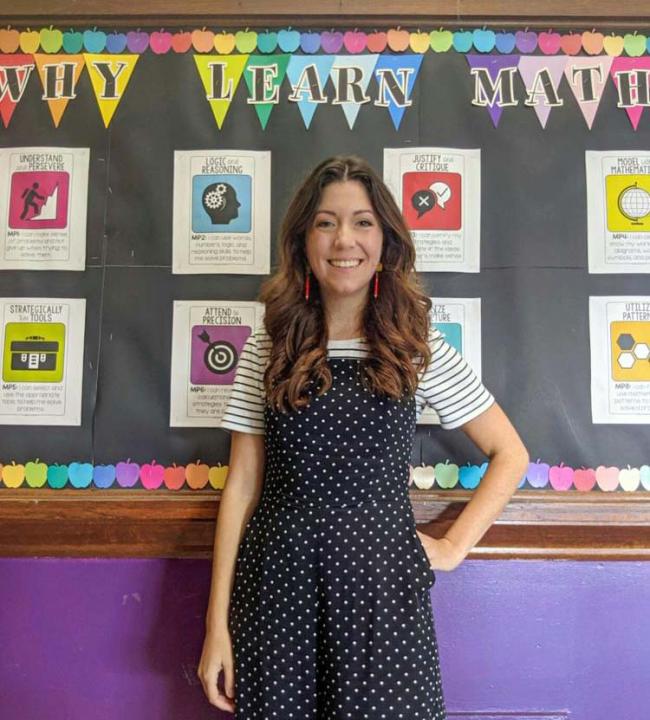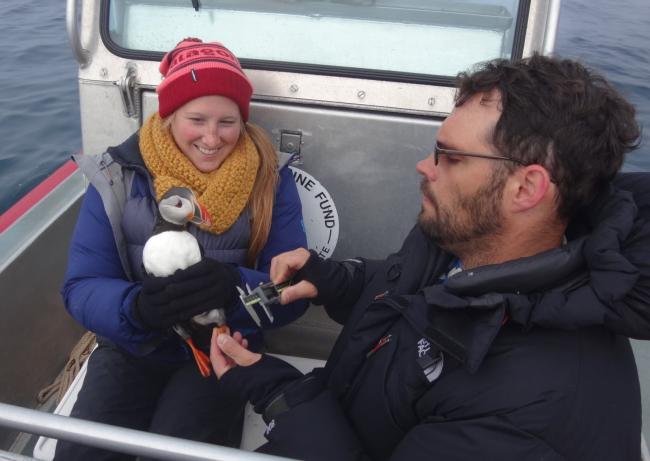 Jennifer Stille earned a master's in social work in May 2021, and is now employed as a school social worker.
Anna Tunnicliff married Dan Holland in June 2021.
2015
Jessica Launius, math teacher at Arcola High School, was recognized as Teacher of the Week in The News-Gazette (Champaign, Ill.).
Fallon Meyer is co-author of a recently published article with Augustana's Dr. Jennifer Horwath '97 Burnham and Dr. Kurt Burnham of the High Arctic Institute, with whom she traveled to Greenland in 2014. The article, featured in the peer-reviewed scientific journal Polar Biology, is based partially on her geology Senior Inquiry studying mercury contamination in seabird eggs from High Arctic Greenland.
Kelly Sullivan is employed at Abbott, and helped develop COVID-19 testing.
2017
Katrina Friedrich and Chris Saladin were married on Aug. 14, 2021. The wedding was officiated by retired Campus Chaplain Richard Priggie '74. Chris is in the fifth year of his Ph.D. program at the University of Minnesota, and Katrina is a clinical research coordinator at the Minneapolis VA Medical Center.
2018
Janice Wu took the next step in her career at Microsoft and is helping lead public relations for Azure.
2019
Abby Benson is lead analytical chemist for Alto Ingredients (formerly Pacific Ethanol) in Peoria, Ill.
Abby Huffman contributed to the GIS analysis of the migratory movements of Atlantic puffins from the High Arctic of northwest Greenland for an article in the peer-reviewed scientific journal PLOS ONE. Augustana's Dr. Jennifer Horwath '97 Burnham and Dr. Kurt Burnham of the High Arctic Institute were co-authors. Abby is pursuing a master's at the University of Missouri.
2020
Christian Elliott is pursuing a master's in science and environmental journalism at Northwestern University. He produced a podcast about how the Meskwaki Nation grows food using different techniques that may help farmers looking for a more resilient and sustainable agricultural system in light of increasingly severe climatic changes. His podcast was picked up by Deutsche Welle, a German international broadcaster of content in 30 languages.
Kirsten Parr is a social services coordinator at William Temple House in Portland, Ore.
2021
Kyle James is pursuing his master's in clinical mental health counseling.
Deaths
Notices received as of Sept. 30, 2021
Polly Fehlman '46 on Aug. 28, 2021.
Walter Chellberg '49 on July 23, 2021.
Vernon Nelson '49 on Aug. 23, 2021.     
Louis Zimmer '50 on April 6, 2021.     
Yvonne Larson '51 Dearing on Sept. 19, 2018.
Don Dresser '51 on July 21, 2021.    
Lois Willson '51 Jackson on Aug. 28, 2020.
Victor Jackson '51 on June 18, 2021.     
Elizabeth Holmquist '51 Martz on Aug. 25, 2021.    
Virginia Toohey '51 Nelson on Sept. 12, 2021.    
Robert Weissmann '51 on May 4, 2021.     
Paul Mueller '54 on April 25, 2021.    
William Hoag '55 on March 25, 2021.    
Joanne Anderzon '57 Conger on Sept. 20, 2021. 
Helen Jannes '57 Stiegel on Sept. 17, 2021.     
Carl Tillinghast '58 on Feb. 21, 2021.        
James Littig '60 on Feb. 22, 2018.    
Robert Scott '60 on Jan. 4, 2021.    
Nancy Kurtz '63 Cochran on Feb. 7, 2017.
C. Richard Edgar '63 on Aug. 29, 2021.
Arlene Hultgren '63 Hayward on Dec. 30, 2015.
I. Lynne Schacht '63 Irving on Feb. 27, 2020.         
Barbara Amosson '64 Carlson on Sept. 10, 2020.     
Linnea Carlson '64 Chase on Jun 25, 2021.
Bruce Liljegren '64 on Sept. 29, 2020.    
Martha Asplund '64 Schultz on May 21, 2021. 
Joy Davis Baker '65 on Sept. 18, 2021.    
Brian McMaster '68 on Aug. 31, 2021.    
Christina Ellenberger '70 Jackson on Aug. 22, 2021.
Constance Briggs '73 Hatfield on Aug. 30, 2021.    
Marjorie Glaspell '75 Mason on Sept. 3, 2021.    
Brandt Turner '78 on April 9, 2016.