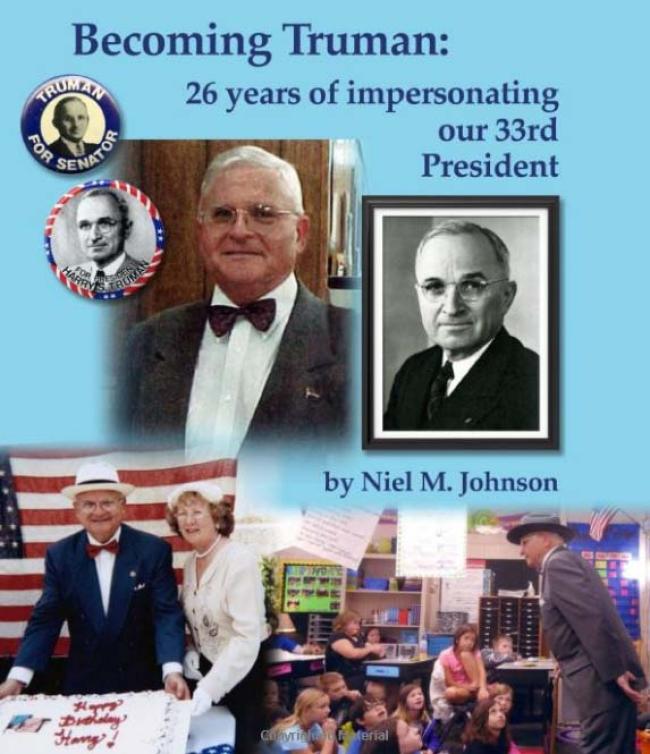 Notices received as of Oct. 29, 2021
1953
Niel Johnson has written and published a book titled "Becoming Truman: 26 Years Impersonating our 33rd President." 
1963
Stephen Berley, who retired after a 47-year career in city management, published his first book, titled "Niketa." He is writing a second book about his father, Niketa.
1976
Paul Jakse is vice president at AeroGo Inc. in Seattle, Wash.
1977
Dennis DeDecker married Kelly Nelson on May 22, 2021.
1979
Steven Clark retired in 2019 from his role as IT division lead, Deere and Co. Marketing and Dealer Services.
Debra Erhart is in her 10th year working in the Fort Bend Independent School District in human resources as a talent acquisition consultant. She wrote and obtained a "Grow Your Own" grant to support employees with a bachelor's degree to earn their teaching certificate.
1984
Michele Zimmerman McGrath is the auxiliary program director at Daycroft School in Ann Arbor, Mich.
1985
Rich Biesterfeld had one of his photos selected for a baseball card for the 2021 release of Onyx Authenticated cards.
Diane Simonet Kenney is vice president of sales and market development for the Goodman Group, based in Chaska, Minn.
1991
Amy Rector is principal and SVP, Content Strategy at PGI Partners, Inc. in Indianapolis, Ind.
1992
Greg Stolze is the director of admissions at Beloit College.
1993
Michael Ricaurte joined Vantage Specialty Chemicals in Deerfield, Ill., as the global director of human resources information system (HRIS), payroll and the Total Rewards program.
1999
Melissa Stagg Haak is the director of development and marketing for the School of St. Mary and the Church of St. Mary in Lake Forest, Ill.
2002
Colleen Coppersmith Irvin was promoted to executive director, Cedarbrook Senior Living in Northville, Mich.
Kathryn Schmitt McCain recently accepted a new position with the U.S. Army Corps of Engineers Institute for Water Resources.
Adam Michels adopted a son, Joseph Wright Michels, on Sept. 9, 2021 (Courtney Hill; Josephine, 8; Violet, 7; and Cameron, 3).
Angela Raisbeck Snyder is the chief strategy officer at the United Way Quad Cities.
RoxAnne Richer Thomas graduated in September 2021 from Michigan State University's Eli Broad School of Business with an M.S. in supply chain management. She is the U.S. transportation manager for Gerber Plumbing Fixtures LLC, and was featured in Businessweek on Sept. 16, 2021.
2003
Sandra Schleicher had a son, Sawyer Glenn Wienen, on April 18, 2021.
2006
Benjamin McCready and Brittany Hildebrand '07 McCready had a son, Edison Rhys, on Oct. 7, 2021.
Matt Schref is the managing director at Investor RelationsChicago Atlantic Advisers, LLC.
Erika Brown Thomas is the choir director for the Upper and Lower Schools at Lake Forest Country Day School in Lake Forest, Ill.
2007
Eric Grimes is a partner/chief financial officer at Midwest IT Solutions.
Brittany Hildebrand McCready and Benjamin McCready '06 had a son, Edison Rhys, on Oct. 7, 2021.
Cathy Fryer Schopf had a daughter, Claire Faye Schopf, on Dec. 5, 2019 (Andy; Carter and Grayson). 
2008
Jimmy (James) Dicken and his wife Kari had a son, Jakob, on Dec. 20, 2020. Jimmy is a sports manager for the Shreveport Bossier Sports Commission and commissioner for the Louisiana High School Lacrosse League.
Max Petersen and Danielle Oester '09 Petersen had a son, Brooks, in December 2020. Max is completing a fellowship in endocrinology at Washington University School of Medicine in St. Louis, Mo.
2009
Danielle Oester Petersen and Max Petersen '08 had a son, Brooks, in December 2020.
Alex Washington and his wife Julia had a son, Elijah Robert Washington, on Oct. 17, 2021.
2010
River Stanford Fisher is an adjunct voice instructor, teaching freshman/sophomore music education students at Iowa Western Community College. He also will assist the college when it launches a musical theatre program in the fall of 2022.
Molly Jackson-Schultz was married (in Iceland!) on June 5, 2019, and had a son named Jes on April 14, 2021.
2012
Amy Malmstead married Michael Piff on Oct. 15, 2021.
2013
Tempris Daniels started a wedding and event planning business called Glowing Moments. She is also the assistant director of the Evening Masters Program at the University of Chicago.
Amelia Garza was accepted into the Baumhart Scholars MBA Program at Loyola University Chicago. The program focuses on social enterprise and responsibility.
Kim Johnson Painter had a son, Lincoln Painter, in May 2020. Kim is a licensed physical therapist in Champaign, Ill.
2016
Rachel Auton Deutsch teaches middle school general music and choir at a new classical academy in Oconomowoc, Wis.
2017
Kayleen Prins had a daughter, Melody Aline Prins, in February 2021. Kayleen is the service superintendent at KONE Elevators and Escalators in St. Louis, Mo.
2018
Caitlin Lebel graduated from University of Florida with a M.S. in geology (climate science focus) in August 2020. 
2019
Madeleine Causay married Sean Cavanaugh '20 on Oct. 3, 2020.
Mallory Cook earned a master's in mental health counseling from Northwestern University in December 2020, and is now working as a therapist.
Colleen Prosek graduated from Truman State University with a master's in speech-language pathology. She is a speech-language pathologist at an elementary school.
2020
Sean Cavanaugh married Madeleine Causay '19 on Oct. 3, 2020.
Katherine Hogan is serving with AmeriCorps VISTA for a year at Hesed House in Aurora, Ill.
Amber Summers is working at Risius Family Veterinary Service in Eldridge, Iowa.
Deceased
Notices received as of Oct. 27, 2021
Clyde Meier '49 on Oct. 9, 2021.
George Anderson '56 on Oct. 8, 2021.
Donna Forstrom '56 on Oct. 17, 2021.
Shirley Bundy '58 Decker on Oct. 7, 2021.
John Lowitz '58 on Oct. 10, 2021.
Marcia La Marca '59 Dooly on Dec. 1, 2016.
Carolyn Sebelius '67 Hoglund on Aug. 21, 2021. 
Thomas Hagaman '18 on Oct. 8, 2021.