Notices received as of July 5, 2022
1962
George Kutsunis and his family celebrated 60 years in business in Geneseo, opening his first store in 1962.
1964
Donna Ash Eisenstat and her husband Mike own Toboggan Hill Farm in New York, which was recently featured in the Jamestown, N.Y. Post-Journal.     
1969
Dick Mosher retired from private law practice after 50 years. He was senior counsel at Denton's LLP in Hawaii. He has relocated to Nevada and plans to keep busy with mediation-arbitration, IP work, helping entrepreneurs and teaching-lecturing.
1974
Lisa Hermann was named vice president of carrier relations at Inszone Insurance Services, a national provider of benefits, personal and commercial lines insurance.
1977
Nancy Reed Hultquist was named the Junior Board of Rock Island Mardi Gras Queen for 2022.
Janis Machala is a Professional Certified Coach-level ICF-certified executive coach. 
1984
Diane Carpenter Pullara retired in June 2022, after 38 years of teaching/directing middle school and junior high choirs in Homer Community Consolidated School District 33C in Illinois.
1987
Elizabeth Barnes Hess completed an ABA-approved paralegal studies program, with honors, in December 2021. In February 2022, she joined Shannon Law Group in Woodridge, Ill., as a paralegal, working in the area of vaccine injuries.
1991
James Donahue published his first book, "Words Matter," in March 2022.
Stacie Fidlar was elected to serve a six-year term as bishop of the Northern Illinois Synod of the Evangelical Lutheran Church in America.
Michael Gapen is managing director and head of U.S. economics at Bank of America.
1992
Jennifer Woodruff published the co-edited book "The Cambridge Companion to American Protestantism."
1995
Erica Taylor, medical director for congregate settings for the Chicago Department of Public Health, will host a new Instagram Live talk program to discuss health topics within the Black community. "Dr. Taylor's Table" will be produced @ChiPublicHealth.
Ed Wolf is a vice president and senior loan officer at Central Bank Illinois.
1997
Ryan Moeller is vice president for custody solutions at Axos Advisor Services.
1998
Mindy Matthews is the varsity volleyball coach at Galesburg (Ill.) High School. She played three varsity seasons at Augustana.
1999
Jamey Fah, school resource officer at Pleasant Valley (Iowa) High School, received a citation for outstanding achievement from the Scott County Sheriff's Department.
2000
Jennifer Kryszak is the director of strategic planning for the Franciscan Peace Center, a ministry of the Clinton Franciscans, whose mission is living and promoting active nonviolence and peacemaking. She recently taught religion for a semester at Augustana.
2001
Danielle Ricci Moran graduated from Northern Illinois University in May 2022, earning a Ed.D. in educational leadership and policy studies. She is the director of elementary instruction for Wheaton Warrenville CUSD 200 in Wheaton, Ill.  
2003
Jake Polancich has served as director of bands at Arrowhead High School in Hartland, Wis., since 2008. Under his direction, the school's Wind Ensemble performed at Carnegie Hall in March. He is a 2022 South Arts Jazz Road Tour grant recipient for his jazz trio Sincerely, Linus. The grant funded a four-city performance tour through Minneapolis, Madison, South Bend, and Cleveland in June. The Herb Kohl Educational Foundation named Polancich as a 2021 Teacher Fellowship recipient. The award recognizes excellence and innovation in teaching.
Kinsey Olson Sovern is a research and development test engineer for advanced mobility at the Transportation Research Center, an independent automotive test facility and proving grounds in East Liberty, Ohio.
2006
Kate Goier Boyens and Brent Boyens '09 had a son, Augie, on May 18, 2022.    
2007
Eric Junco is the first director for equity for the NIU College of Education.
2009
Brent Boyens and Kate Goier '06 Boyens had a son, Augie, on May 18, 2022.
2010
Lisa Huntsha was promoted from archivist/librarian to assistant director and head of collections for the Swenson Swedish Immigration Research Center at Augustana College.    
Amy Becker Karl published an essay in "Christianity Today" titled "Need Some
Guidance? Use These Seven Tools in God's Toolbox for Discernment."
2013
Hannah Busching left her position as a Spanish teacher at Rochelle (Ill.) Township High School to teach at the Mercy Ships Academy aboard the hospital ship Global Mercy.
Elizabeth Starck Coughlin is a senior manager at Intercom customer services in San Francisco.   
Alexander and Gianna Pecora Lawson had a daughter, Elianna Grace, on March 12, 2022.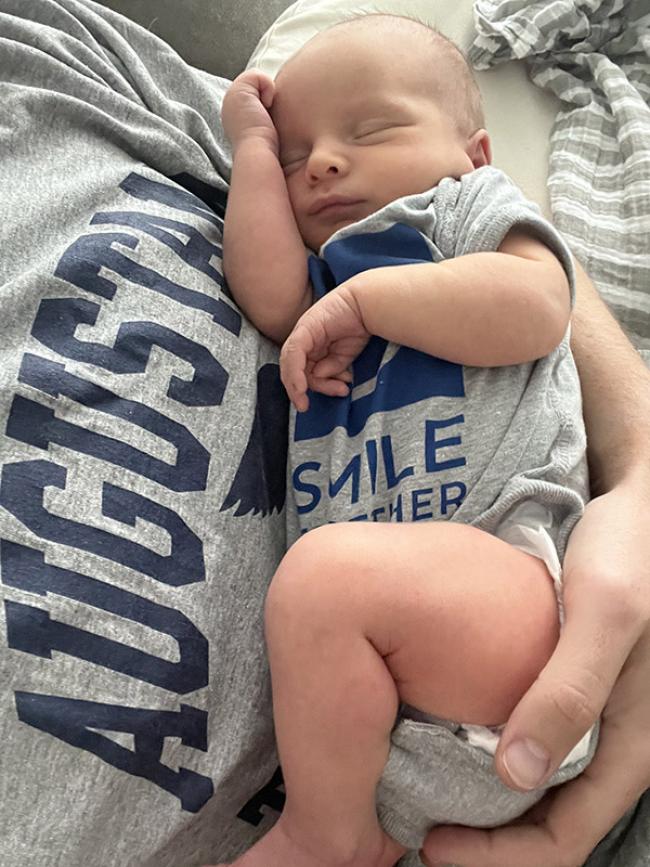 Jacob and Jane Nagle O'Rourke had a son, James Jeffry O'Rourke, on June 17, 2022.
Mark VanNatta is the athletic director at Alleman High School, Rock Island.
2014
Perry Alekna is a product owner/enterprise risk at John Deere.
Annelisse Tovar is a clinic administrator at Mia Aesthetics cosmetic surgery clinics.
2015
Mariah Benson Bryner is a community health consultant for Scott County, Iowa.
Anna Moorehead has joined The University of Chicago Booth School of Business as the associate director for alumni engagement, West Coast.
Hannah Sundwall is a publicist for the Chicago Symphony Orchestra Association.
2016
Stefan Nguyen is a data science consultant for JPMorgan Chase & Co.
Robert Scott is a demand generation marketing manager at Gain Servicing, a health care service support company in Atlanta.
2017
Marvin Agyeben accepted a PGY-1 (first year) pharmacy residency with Advocate Lutheran General in Park Ridge, Ill.
2018
Grace Iaquinta graduated from Washington University's Law School with a master's of legal studies, concentration in regulatory compliance.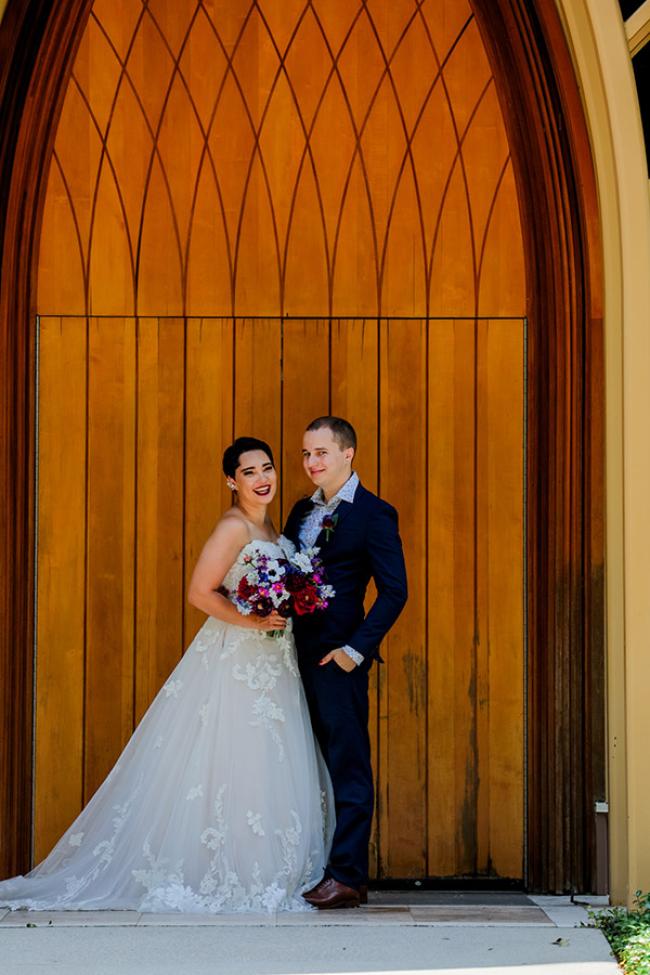 Caitlin Lebel and Joey Gonsiorek eloped on June 19, 2022. The arches of the venue reminded them of some of the prettiest windows at Augustana and "felt perfect." 
Alyssa McGray is a speech-language pathology intern at WellSpire, a partnership of WesleyLife and Genesis Health System.
Tanner Osing received the American Planning Association's 2022 Outstanding Planning Student Award from the University of Iowa School of Planning and Public Affairs. He earned an M.S. in urban and regional planning from Iowa in May 2022.
2019
Sierra Kindley is a staff geologist at The Riley Group, Bothell, Wash.
Shelby Kuepker is the program coordinator overseeing Kesem chapters in the Northern California region.
Guadalupe Martinez graduated with an MBA from DeVry University's Keller Graduate School of Management.
2020
Kirsten Biefeld is an Urban Forestry Council liaison and outreach specialist with the Wisconsin Department of Natural Resources.
Joseph Corcoran graduated from the University of Miami Herbert Business School with a M.S. in sustainable business. He is with CEMAsys.com in Boston as a sustainability consultant.
Isabel Dawson is the executive director of Genesius Guild, a Rock Island community group that offers free summer outdoor theatre.
Jesse Ditzler will enter the University of Illinois Masters of Health Care Administration program this fall.
Ghita El Mendri is a people and culture apprentice at Total Media planning agency in London.
Lauren Endress earned a master's in chemical and biomolecular engineering from the University of Illinois Urbana-Champaign.
Jenna Hartman is a publicity and content specialist with Mindvalley, an e-learning provider.
Nicholas Metrou is an associate wealth advisor with PrairieView Wealth Partners, Orland Park, Ill.
Matthew Simpson was promoted to audit senior at Deloitte's Davenport office.
Emily Weeks graduated with an M.S. in recreation and leisure services from Texas State University. She is a senior coordinator of facility operations at the University of Kansas.
Pierson Wofford is an executive recruiter for Smith Hanley Associates, Chicago.
Ntita Mabanza Yav is pursuing a master's in integrated marketing at New York University this fall.
2021
Christine Albers is an intern for the Maternal Infant Health Program at the Nebraska Department of Health and Human Services to improve breastfeeding outcomes.
Abhib Lal Amatya is an intern at Buddha Air in Nepal.
Troy Faley is a life sciences career trainee with the Illinois Environmental Protection Agency in its site remediation program.
Nicholas Metrou is an associate wealth advisor with PrairieView Wealth Partners, Orland Park, Ill.
Minh Duc Pham is a software engineer at Twilio.
Darlington Sehgbean is a mentor in the Upward Bound program at Minnesota State University, Mankato.
Taylor Sodaro is a project coordinator at Iconic Energy, a solar company in Rockford, Ill.
Juejue Wai Hin Thaw is pursuing a Master of Landscape Architecture and a graduate minor in urban planning at OSU.
2022
Alexander Anderson is participating in the Vibrant Credit Union's professional development program.    
Lilliana Andujar is a speech-language pathologist for Scholastic children's publishing, education and media.
Carissa Boerboom is an audit associate with Baker Tilly accounting in Minneapolis.
Kyndall Carter is a legal assistant at Taft Stettinius & Hollister in Cincinnati.    
Maya Chavez is participating in Vibrant Credit Union's professional development program.
Robert Christel is a social media and marketing manager at Ala Carte Entertainment, Schaumberg, Ill.
Abby Clark is pursuing a master's in geology and natural hazards at McMaster University.
Shannon Conniff is a retail analytics analyst for the Ace Hardware Corporation.    
Megan Crawford is a member of the audit and assurance staff at Ernst & Young LLP in Chicago.
Noelle Dela Cruz is a marketing assistant at More Canvas Consulting, New York City.    
Jack Curry is an assurance associate in the Price Waterhouse Coopers St. Louis office.    
Ashley Dehmlow is working with the Mile High Youth Corps Generation Wild program in Denver this summer before attending the University of Colorado Anschutz Medical Center for a master's in public health.
Jordan Dryfhout is an insights associate at Behaviorally (formerly PRS), which provides shopper marketing data.    
Ben Ford is a UAS flight operations intern at Sentera, an agriculture data company.
Anna Foreman is a speech-language pathology assistant at GiGi's Playhouse Down Syndrome Achievement Centers in Hoffman Estates, Ill.
Stacie Gill is a program manager at iMentor, which organizes volunteers to mentor high school students.
Sophia Gilmore is in the accelerated nursing program at Trinity College of Nursing and Health Sciences, Moline.
Bridget Grimm is a junior researcher and account manager at SocialDeviant marketing in Chicago.
Olivia Hagerty is a marketing assistant at Executive Construction in Chicago.
Erin Hettinger is a behavior therapist at Little Friends, Inc., a nonprofit organization in Warrenville, Ill., which serves people with autism.    
Izan Khan accepted a position with Von Maur in application support.    
Kidus Olana is a software engineer at BlackRock, a financial planning firm.    
Saurabh Patwal is a cyber associate at Aon data and analytic services.
Matthew Pierson is a client insight analyst for IR market research in Chicago.
Abigail Redlinger is a staff accountant at Honkamp Krueger & Co., P.C., Dubuque, Iowa.
Triston Richardson is a contract specialist intern with U.S. Army Contracting Command.
Kendall Schmidt is a forecast analyst for US Foods, a food service distributor in Rosemont, Ill.
Ryan Sorensen will attend medical school at Rosalind Franklin University in North Chicago this fall.
Marc Stasinski is a pension specialist at Aon, an economic advising firm.
Mark Teschke is working for Baxter & Woodman consulting engineers as a GIS technician this summer.    
Claire Weeks is working in data analytics with Centene Health Services in St. Louis.
Mark Wroblewski is a zone monitor at HBO.
Deceased
Notices received as of July 5, 2022
John Maurer '47 on June 20, 2022.    
George Anderson '48 on April 7, 2022.
Corliss Holmes '55 on May 24, 2022.    
Louette Danner '56 Bartol on June 25, 2022.        
Lawrence Stoneburner '56 on May 5, 2022.    
John Seedoff '58 on June 27, 2022.
Donald Swensson '58 on May 24, 2022.
Helen Olson '59 Bengston on June 24, 2022.        
Lois Parnell '59 Frels on May 14, 2022.    
Amanda Rios '67 Keller on March 31, 2020.
Larry Milash '68 on June 20, 2020.
Neil Jaquet '69 on June 7, 2022.    
Faith Crampton '73 on Oct. 7, 2021.    
Janis Novak '75 on June 14, 2022.    
Gregg Oak '79 on Dec. 29, 2020.    
Glen Brown '86 on June 11, 2022.    
Virgil Penick '93 on Oct. 19, 2020.    
Pedro Cervantes '00 on May 26, 2022.