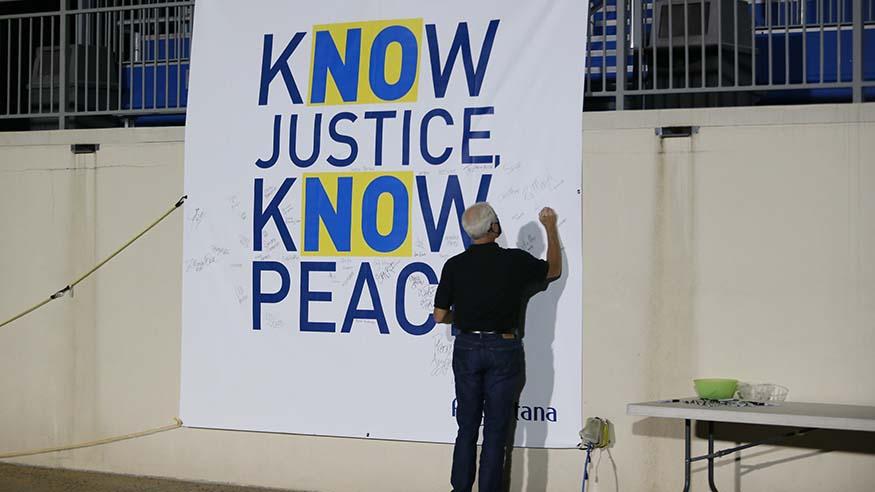 News
College announces new Justice and Social Change Microscholarship
Augustana College announced today that it will offer a new Justice and Social Change Microscholarship of $1,000 a year, renewable for four years.
The scholarship is in recognition of the need for discussion and understanding of justice of all kinds in order to influence change. It will become available Nov. 2 to prospective first-year and transfer students who complete an online four-part series of programs.
"We want students to be prepared from Day One to talk about challenges and engage in constructive dialogue, and to welcome that participation," said Dr. Monica Smith, Augustana vice president for diversity, equity and inclusion. "We think, by offering this program to applicants, we can get a jump-start on the important work we are doing here."
Presenters will include Dr. Smith and Dr. Jason Mahn, professor of religion and director of the Presidential Center for Faith and Leadership at Augustana. Alumni who are engaged in social change and seeking justice for others also will participate.
"We are especially interested in helping our prospective students learn about the many movements for justice and social change, including criminal justice reform, marriage equality, the Poor People's Campaign, food and housing security, climate justice and economic security," said W. Kent Barnds, executive vice president for external relations.
"Justice movements are universal, but not always fully understood. At Augustana College, we want to do a little sense-making and connect this sense-making to a rigorous liberal arts education and a life lived with purpose."
The programming will include the following sessions:
• "Know Justice, Know Peace: The Theory and Contemporary Movements for Justice," with Dr. Smith.
• "Seeing Color: How to Identify Racial Bias and Move Forward Together," with Dr. Smith.
• "Deep Down in My Heart: Answering the Call for Justice and Change with the Liberal Arts," with Dr. Jason Mahn, professor of religion and director of the Presidential Center for Faith and Leadership at Augustana.
• "Do More Than March: Leading Social Change and Seeking Justice," with alumni Lydia Ruelas Duran, educator; Colleen Kilbride, immigration attorney; Dr. Jeremy Hoffman, climate scientist; and Cameron Onumah, Amazon employee and former aide to California Sen. Diane Feinstein.
The sessions include a brief reading, video and a quiz.
Applicants successfully completing each of the four sessions will be awarded $1,000, renewable each year at Augustana for up to four years and a total of $4,000. To be eligible, students must complete all segments by Dec. 10, 2020. 
"We are so excited about this opportunity for our applicants to begin thinking about difficult issues and learning how a place like Augustana is inviting the rigorous debate and discussion that our world needs right now," said Karen Dahlstrom, executive director of admissions.
She said the alumni speakers who are participating show how Augustana propels graduates into careers that allow them to make a difference in the world.
Opportunity for donors
Barnds said the new scholarship presents an opportunity for donors as well as students.
"We know alumni, parents, corporate partners and other friends of the college have deep interests in matters of civility, justice and social change, so we will invite them to consider sponsoring one or more of these microscholarships," he said.
Donors can make a multi-year commitment of $1,000, for the four years a specific student is enrolled at Augustana.
Those interested in donating to the scholarship or learning more may contact W. Kent Barnds at 309-794-7662 or wkentbarnds@augustana.edu.