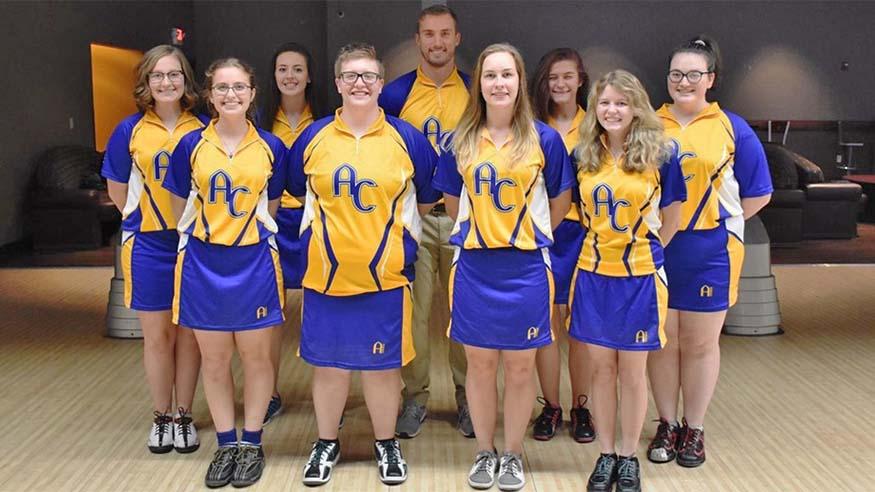 News
College to join new NCAA bowling conference
The National Collegiate Athletic Association has approved the creation of the Central Intercollegiate Bowling Conference (CIBC) as an active NCAA Division III single-sport member conference effective Sept. 1, 2019.
Augustana women bowlers will join the CIBC after spending their first two years of varsity intercollegiate competition as an independent. The CIBC is the ninth official intercollegiate bowling conference in the NCAA.
The six teams locked in for the inaugural season, which will begin in October, include the Vikings, Aurora University (Aurora, Ill.), Elmhurst College (Elmhurst, Ill.), Marian University (Fond du Lac, Wis.), North Central College (Naperville, Ill.) and the University of Wisconsin-Whitewater (Whitewater, Wis.).
The winner of the CIBC conference tournament will receive an automatic bid to the NCAA championship starting in 2021-22. The annual conference tournament will be held in March and will be hosted by member schools on a rotational basis.
Last season, Augustana's best finishes included a 36th place finish out of 61 teams at the Midwest Classic, a 26th place finish out of 37 teams at the Leatherneck Classic, and a sixth place finish out of 10 teams at the Crusader Classic.
Taylor Kies played 40 games, knocked down 7,144 pins, averaged a score of 178.6 per game and recorded a high score of 218.
Sky Stoutt played 39 games, knocked down 6,744 pins, averaged a score of 172.9 per game and recorded a team best 229.
Abigail Clark bowled 30 games, knocked down 4,989 pins, averaged a score of 163.3 per game and recorded the second highest score on the team last season, a 228.