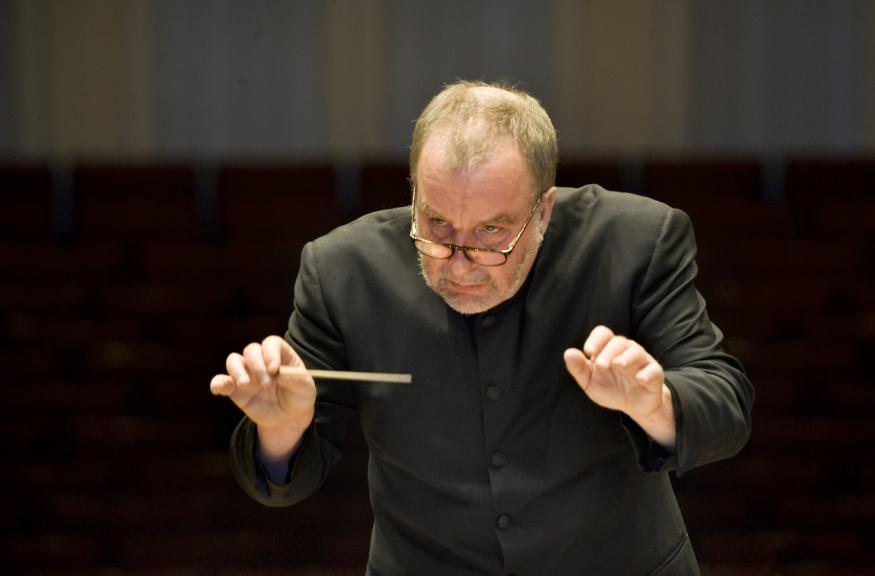 News
Culver farewell concert with orchestra April 30
Faculty to premiere new work by Dr. Jacob Bancks for the occasion
The Augustana Department of Music welcomed Dr. Daniel Culver to campus in 1974.
Forty-two years later, Augustana will celebrate Dr. Culver's impact on thousands of students with a spring concert and reception. The concert is free and the public is welcome to join the celebration at 8 p.m. April 30 in Centennial Hall.
Dr. Culver is the 15th and by far the longest-standing conductor for the Augustana Symphony Orchestra, which was established in 1893.
Throughout Dr. Culver's time at Augustana, he has had an immense impact on orchestral studies at the college, in the Quad-Cities community and in the region. For 25 years he served in several roles with the Quad City Youth Symphony Orchestra, including music director and conductor. Dr. Culver also has conducted for All-State and high school festivals throughout the country.
The April 30 performance will feature the premiere of a new piece by Dr. Jacob Bancks of Augustana's music department. Dr. Bancks considers the piece one of the most collaborative on which he has worked.
"I wrote the piece, Dr. Culver is conducting, the Augustana Symphony Orchestra is playing, the Jenny Lind Vocal Ensemble is singing, Dr. Michael Zemek prepared the chorus, Dr. Sangeetha Rayapati and Dr. Aaron Humble are singing solos, and Dr. Jason Peters from the English department wrote the accompanying essay," Dr. Bancks said.
"Collaboration is one of the great things about a liberal arts college like Augustana," he continued, "and the number of people involved in this concert is truly spectacular."
The piece was first conceptualized when Dr. Culver approached Dr. Bancks about setting a particular text, "A Song for St. Cecilia's Day" by 17th century English poet John Dryden, for an orchestra.
Dryden's poem spoke to both about the power of music as a force that has moved and transformed emotions and actions throughout human history. The thematic depth and breadth of the text, set to music by his Augustana colleagues, will create a suitable and memorable tribute to Dr. Culver.