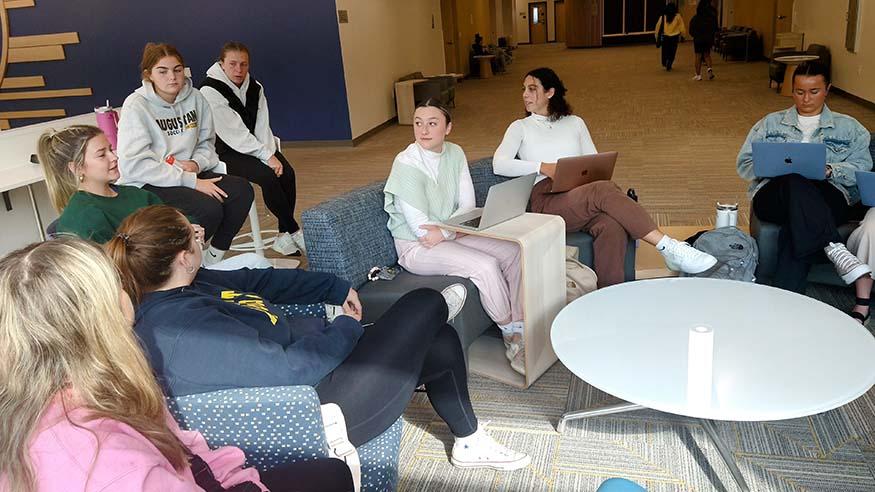 News
A day of transformation at Symposium Day
Students, faculty and the public gathered at this fall's Symposium Day to attend sessions on the theme of transformation. From looking at the criminal justice system to changes in how Augustana's campus functions to changing tides of scholarship, the day served as an exchange of ideas of how transformative experiences impact us near and far.
This year's event was organized by Dr. Jason Mahn, professor of religion, with keynote speakers the Rev. Dr. Jenny McBride, Dr. Christine Harb and Lauren Kaeseberg. The complete list of 20 sessions is available at Fall Symposium Day: Transformation.
Collecting data on public health issues on campus
In a morning session, more than 50 students gathered at Lindberg Center to take part in one of seven public health focus groups led by students in Assistant Professor Rebecca Arnold's Health Behavior and Promotion class, PUBH350. 
Topics included student access to health care, men's health, access to food resources, and campus sexual assault awareness and resources. Seniors Grace Vranicar, a biology major, and Rachel Galluzzo, a kinesiology and psychology double major, led a group about disability inclusion at Augustana and what barriers students with disabilities or injuries face on campus. 
"What are your experiences with Augustana in terms of being able to traverse campus and access academic and dorm buildings?," prompted Vranicar. "So, what have you seen on campus?" 
Feedback highlighted Augustana's abundant hills and stairs on campus, and pointed out buildings without elevators or less than ideal access. Students also shared how the college's discontinuation of the campus medical shuttle has impacted themselves or their classmates.
Arnold said students will use the qualitative data gathered at these sessions, combined with research, to gain clarity on their chosen topics. By the end of the semester, students will propose a solution to the public health issue they've identified to on- and off-campus stakeholders.
"It's not just what do we think is important and needs change — what does our audience we are working to affect think, and what do they want," she said.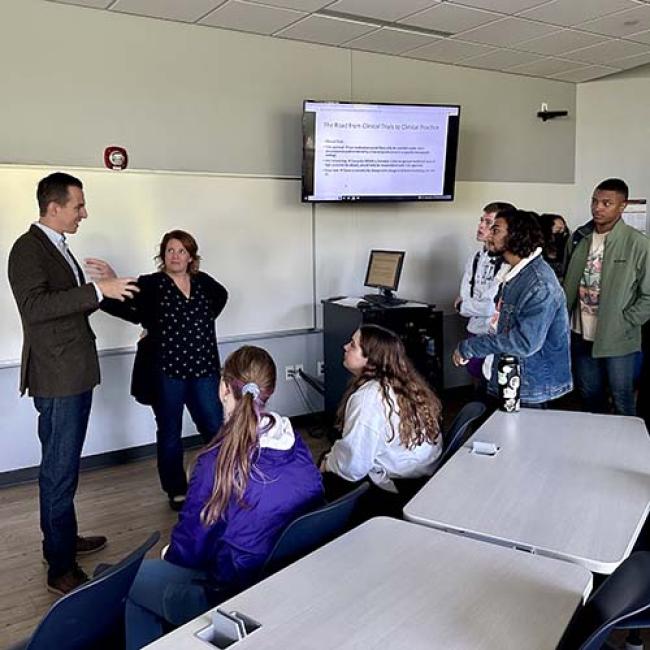 Using psychedelic drugs to treat mental health disorders
A standing-room-only hot topic discussion explored much thinking on the use of psychedelic drugs to treat mental health disorders. What may seem a radical idea to some can transform the lives of many struggling individuals.
Led by Augustana's Dr. Shara Stough and Dr. Austin Williamson, associate professors of psychology and neuroscience, the presentation delved into unconventional therapies to treat mental health disorders. Traditional therapies like psychotherapy and psychiatric medications offer assistance to numerous individuals dealing with mental health issues, yet there are many other people who do not respond.
Dr. Stough and Dr. Williamson shared insights from recent studies, revealing the use of psychedelic drugs like ketamine, psilocybin and MDMA have been shown to improve symptoms of various mental health disorders including anxiety, depression, post-traumatic stress disorder (PTSD) and substance abuse disorders.
So how can psychedelics enhance the therapeutic process?
Psychedelics act on the serotonin receptors in the brain that help enhance growth of dendrites and enhance neuroplasticity. This allows the individual to explore their thoughts, emotions and memories in a deeply introspective and sometimes even spiritual manner. It often enhances self-awareness that leads to breakthroughs and insights that may have been challenging to achieve through conventional therapy alone.
Dr. Stough and Dr. Williamson stated that psychedelic treatments have the potential to transform the lives of people struggling with their mental health, but they also come with some unique risks and limitations that still need researched.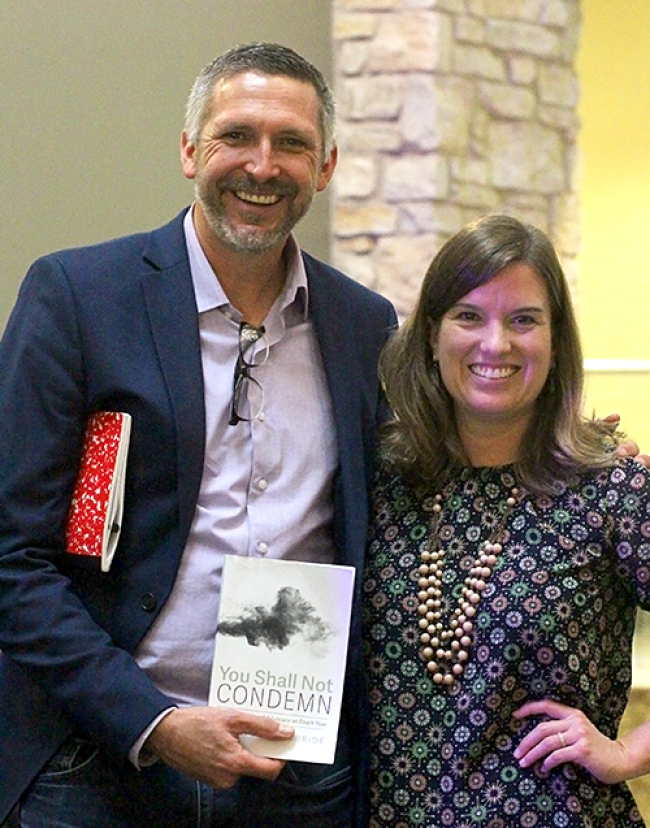 How one person's transformation can lead to greater change
The first conversation the Rev. Dr. Jenny McBride, a public theologian and Episcopal priest, had with Kelly Gissendaner was through the bars of Gissendaner's cell in 2010. 
Little did the Rev. Dr. McBride know then how much their relationship would steer her life, and continue to do so today, nearly 10 years after Gissendaner was executed by the State of Georgia for orchestrating the murder of her husband.
In keeping with Symposium Day's theme of transformation, keynote speaker McBride presented Gissendaner's emotional journey from being convicted and sentenced to death to a life of hope for herself and others, ignited by a theology studies program at the prison.
After reading the work of Jürgen Moltmann in a course taught by the Rev. Dr. McBride at the prison, Gissendaner began a five-year correspondence with him. In prison, Gissendaner ministered to other women in lockdown through air vents and plumbing systems. They later shared how Gissendaner's words convinced them that there was hope and to not harm themselves, and to try to turn their lives around instead.
When Gissendaner was denied clemency for her crime, a local and international advocacy movement arose that was rooted in her theological studies and friendship with Moltmann.
The Rev. Dr. McBride pointed out that the story of Gissendaner's personal transformation changed people's thinking not only about her case but also about the death penalty and prison system as a whole. The advocacy campaign for Gissendaner challenged Christians who supported the death penalty to re-examine basic truths of Christian faith, including that radical transformation is possible even for people who have done great harm.
Making space for vulnerability, accountability without shame, and transformation … and how we do prison are at odds with each other, said the Rev. Dr. McBride, adding if we really want people to transform, it has to be in a supportive environment, not one in dehumanizing conditions where they are stripped of so much and must focus on defending themselves and surviving.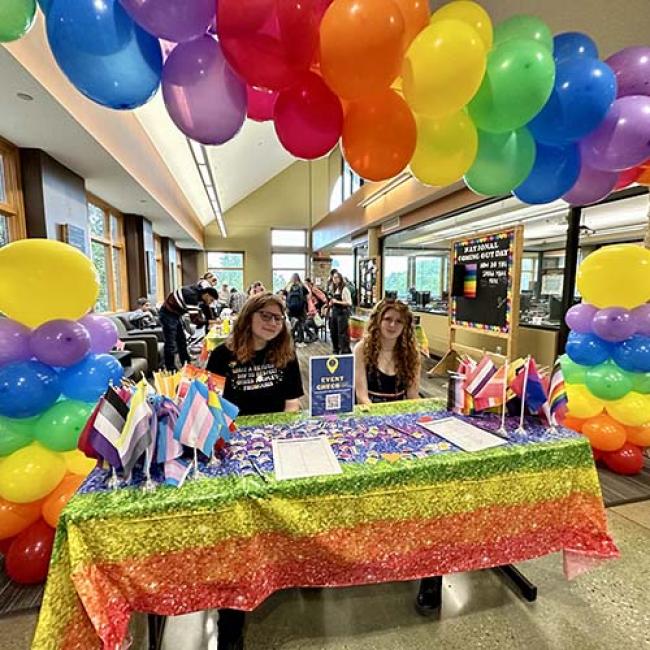 Recognizing National Coming Out Day
During Symposium Day, students celebrated National Coming Out Day with the Office of Student Inclusion and Diversity and the Gender and Sexuality Alliance at the Gerber Center for Student Life. 
The event honors this day to recognize and celebrate those who "come out" about their identity. It's a day of openness, community and embracing authentic selves.
Students had the opportunity to express their personal meanings of pride, create Phrig artworks to demonstrate unity, and craft their unique pride flags to showcase what they are proud of.
"When we have pride, we have pride for other things as well," said Garza '26, vice president of GSA. "When we are honest with ourselves and our identity, it creates space for everyone to feel comfortable."