News
Economics major sees Asia in different way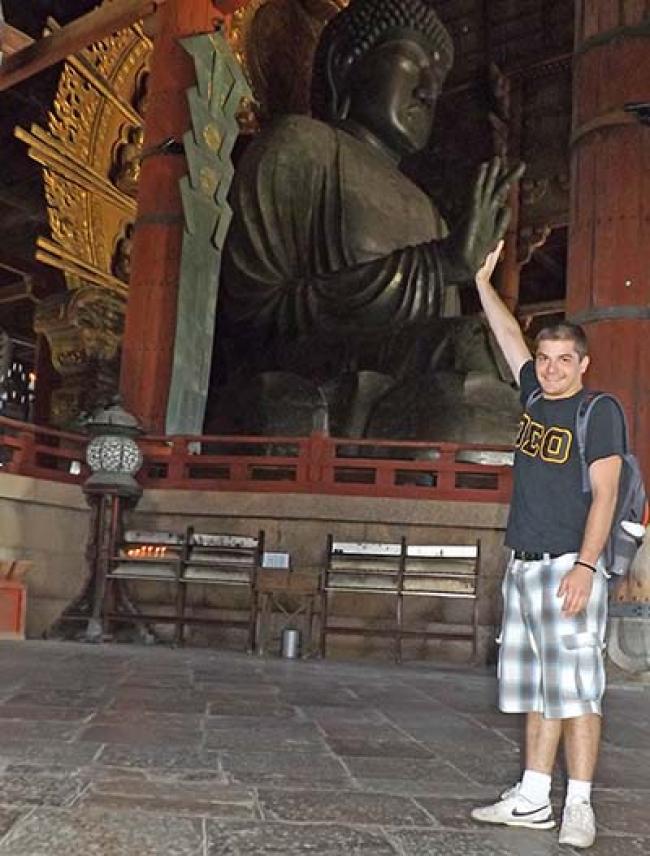 (Editor's note: In 2016, Vuk Bojovic was an account manager at jones knowles ritchie in Singapore.)
Each year, many Augustana students study abroad and return with a memorable experience and a new world view. But how does study abroad could affect a student's understanding of the world economy?
Economics graduate Vuk Bojovic '14 traveled on East Asia term in the fall of 2013. He said the journey opened his eyes to the societies that will play a major role in foreign affairs in decades to come.
"My favorite thing about the East Asia quarter is that we got to change locations every few days," said Bojovic, a native of Belgrade, Serbia. "It was fascinating to see differences in the living standard in bigger and smaller cities in both China and Japan. One of the most interesting places in that aspect is Hong Kong, which has an independent monetary policy from the Chinese Central Bank.
"From an economics point of view, I wanted to see how Japan and China fit in the picture of a global economy as the world's third- and second-biggest economies. I was very surprised to see two completely different societies, which I did not expect.
"Japan is a developed country with huge part of their economy being supported by markets for technology and engineering. On the other hand, China is the fastest-developing economy in the history, but most of that growth is based on exports, not household or business expenditures.
"Chinese yuan a very specific currency due to policies of the Chinese Central Bank, which is a huge topic in international finance and how it relates to oscillations of foreign currencies.
Bojovic said that the relationship between the U.S. economy and trade balance with Japan and China was emphasized in his economics classes.
"Chinese communism is very specific in its socio-economic characteristics, and differs from that of the Soviets. The whole time in China I felt like being there in year 2013 is something that I will tell my grandchildren about.
"On the other hand, I was mesmerized by Japanese language and culture, so I decided to take a full year of 100-level Japanese classes. All the places that I got to see are the ones that I would love to come back and visit sometime in the future."