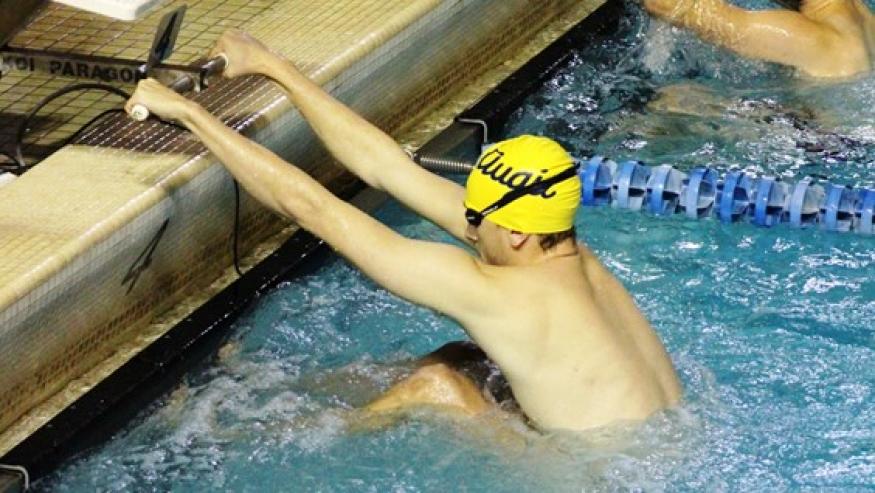 News
Eight Vikings compete for national championships
Augustana athletes from four teams battled for national championships this month at competitions around the country.
The Augustana men's track & field team was represented in three events at the NCAA DIII Indoor Track & Field Championships March 8-9 in Boston, Mass. This was 2006 graduate Jake Shaver's first national competition as the head coach of his alma mater.
Ryan Thornton '21 from Mapleton, Ill., placed fourth in the high jump. Michael Johnson '19 from Owensboro, Ky., came in 19th in the 60 meter dash, and Cody Wheeler '19 from East Moline, Ill., placed 14th in the weight throw.
Three members of the women's track & field team also traveled to Boston for the NCAA DIII Indoor Track & Field Championships.
Katie Eastburn '20 from Geneseo, Ill., placed fourth in the nation in both the 200 meter and 400 meter races. Hannah Willhite '20 from Rock Island, Ill., was 10th in the 200 meter and 15th in the 60 meter. Mackenzie Butcher '19 from Colorado Springs, Colo., came in 18th in the pole vault.
Wrestler Adarios Jones '20 from Moline, Ill., took his 24-0 record to the NCAA DIII Wrestling Championships March 8-9 in Roanoke, Va. Jones placed second in the nation in the 285-pound competition.
On March 21-23, Jared Ekberg '19 from Rockford, Ill., competed in the NCAA DIII Swimming Championships in Greensboro, N.C. Ekberg set a school record in the 100 butterfly, one of three events in which he competed. In preliminaries, Ekberg turned in a :49.97 performance that bettered David Sommers' school record of :50.46 set in 2014. Ekberg placed 37th overall.
Ekberg placed 21st in the 100 backstroke prelims and 38th in the 100 freestyle preliminaries. He is the Vikings' school record holder in both events.
The first CCIW swimmer ever to go under 50 seconds in the 100-yard freestyle, butterfly and backstroke, Ekberg was named the 2018-19 CCIW Male Swimmer of the Year. He is only the second Viking since 1970 to earn the award.