News
Examination of drones wins Ethics Contest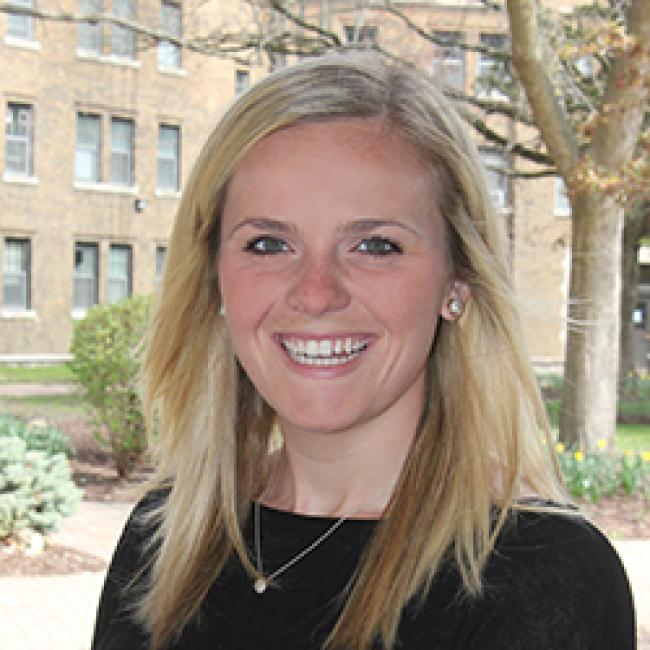 Anne Hopkins, a senior majoring in business administration, is the winner of this year's Ethics Essay Content. Her essay is entitled "Ethical Debate on Drones." 
"Drone surveillance can be seen as an impartial practice serving the interests of all or catering to some at the expense of others. There is not one exact answer to this issue," she writes.
Dr. Dan Lee of the Augustana Center for the Study of Ethics announced the winners of the 11th annual Ethics Essay Contest.
Other winners and the titles of their essays:
• Second place, John Tworek, "Police Brutality." Tworek is a sophomore from Mount Prospect, Ill., majoring in biochemistry and pre-med.
• Third place, Bailey Bradford, "Social Media and the Workforce." Bradford is a junior from Riverwoods, Ill., majoring in business administration/management.
• Honorable mention: Wade Smith, "The Ethical and Economic Concerns of Physician Assisted Suicide."& Smith is a senior from Bensenville, Ill., majoring in biochemistry.
• Honorable mention: Anna Pfalzgraf, "Truth and Validity in Conversation with Starbucks' Claim to Ethical Sourcing." Pfalzgraf is a sophomore from Oro Valley, Ariz., majoring in Communication Studies and Multimedia Journalism.
•    Honorable mention: Cameron MacKenzie, "An Ethical President-Elect?" MacKenzie is a junior from St. Charles, Ill., majoring in political science.
First-, second- and third-place winners were award $100, $50, and $25, respectively. The winners were recognized at the Celebration of Learning May 3.
Entries were judged by an outside evaluator who teaches ethics at another college.  As in previous years, he was very impressed with the quality of the essays and found very difficult  the task of selecting essays for recognition.
Essays were judged on the basis of clarity, appropriate use of ethical ideas, theories and principles in addressing and clarifying the topic; depth, insight and creativity of analysis; thoughtfulness and plausibility of supporting arguments for position taken.
The winning essays will be made available on Augustana Digital Commons, a service of the Thomas J. Tredway Library at Augustana College.
Augustana offers a minor in ethics.