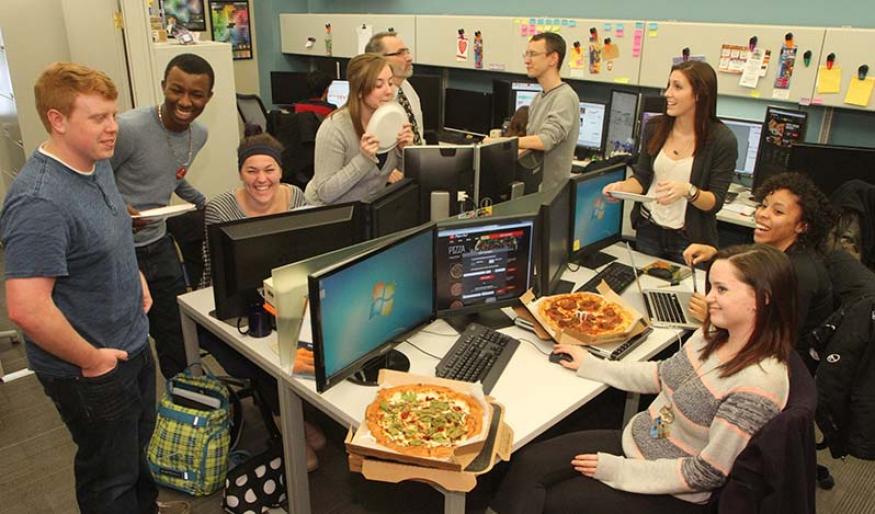 News
How a Pizza Hut problem calls on the liberal arts
A group of Augustana students is thinking a lot about pizza, but not about how tasty it is. They're trying to figure out how to get more people to order it online instead of calling on the phone.
They're the Advertising Developers (ADs) group, which every year competes in the National Student Advertising Competition. A corporate sponsor presents the students with a real problem the company wants to solve. Students research the company and the competition, then come up with an integrated marketing campaign for the client, just as a marketing company would do.
This year it's Pizza Hut tapping the brains of about 2,000 college students, while delivering a lesson in how to apply what they've learned in the classroom. Augustana has 38 students in a variety of majors working on its entry. They started work the first week of class last fall and will meet twice weekly until it's time to present their marketing plan in April at the district competition.
The competition is time-consuming, but so engrossing that many students keep coming back, including senior Amber Dalgaard who is working on her fourth competition.
"You just feel like you're doing real-world things. This is actually getting to do it," she said.
It's about the research
Students who have participated in ADs before have learned the value of research, and lots of it. So this year's group first ran a survey about consumer pizza-ordering habits. The results are a trade secret, but ADs co-president Andy Shearouse disclosed that 35 percent of respondents said they eat pizza at least once a week.
"I think the results may be a little skewed because so many of the people we surveyed are college students," he said with a grin.
Dalgaard, ADs vice president, said she was surprised at first to learn how much research plays a role when the group tries to judge which ideas will work. A communication studies and psychology major, she plans to go into advertising and marketing.
"I learned the actual terms that I will need to learn out in the field in ADs," she said. "Each year is different and it shows a different balance of ways of marketing. It makes you get a lot of research on a lot of things and learn how to target different people."
After several months of research the group begins brainstorming ideas. Junior Holly Scholl, ADs co-president now working on her second competition, said some ideas are obviously "golden." The hard part for the group is deciding what other ideas to include and how to connect them into a plan, she said.
Different strengths and talents are needed. After all else is done, there's the design, layout and writing of the "plan book" the judges will see. The group also needs a star presenter, because a lot hinges on how well students deliver their plan in the 20 minutes they get in front of judges. They also have to withstand some often "withering" questions, said advisor Doug Tschopp.
Classroom connection
Shearouse, a business administration and computer science major, is in his second ADs competition. Last year he helped prepare a campaign for Mary Kay Cosmetics.
"I was always the guy who sat in the back and didn't say anything," he said. "But I was so hooked there was no way I could not come back again. I realized I liked this whole marketing and advertising deal. "
He said that when he started his first marketing class he already knew about half the terms used. "It almost gives you an unfair advantage in classes," he said.
"One of the class projects was to build a survey about consumer preferences. I ended up being the group member who built the survey, and one of the group members said to me, 'This is everything that the professor talked about.' ADs takes it to a whole new level. You're looking at putting together a six-month or whole year plan for a national company."
Scholl, a graphic design major, was drawn to ADs because she wanted to learn something about business. "The plan book is what hooked me," she said, "and learning all these strategies I wouldn't normally learn.
"I took typography and it's just funny because the things I needed to learn ended up in the plan book. I thought, 'Now I understand and now I can do better. Oh, OK, now I can use this typeface together with this one.'"
Each student team first will compete in one of the American Advertising Federation's 15 districts in April. After the semifinals in May, the top eight teams will pitch their campaigns in Las Vegas in June.
Although Augustana has never advanced to the semifinals, Tschopp said students are not discouraged. "It's about the journey," he said.