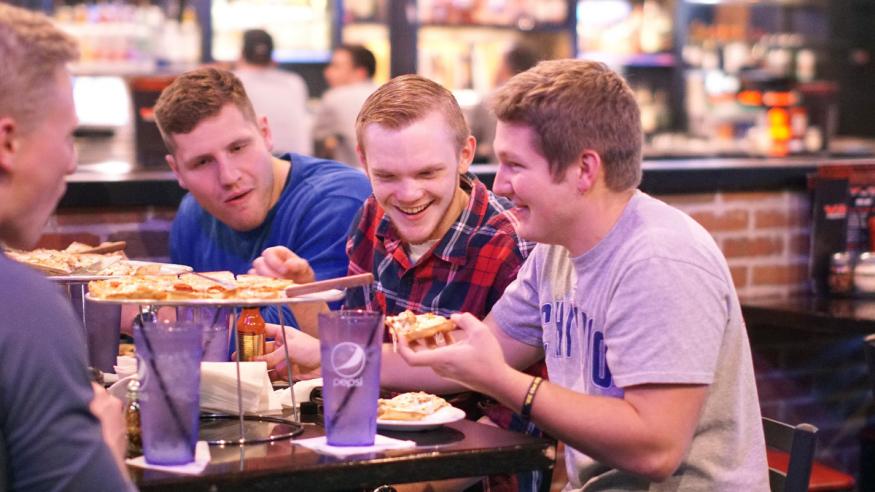 News
How to spend a Saturday in the Quad Cities
If you've found yourself with a day to kill in the Quad Cities, you might be tempted to wait it out in the hotel or a nearby Starbucks. After all, what could this little community covering two states really have to offer? A lot more than you might expect, actually.
The Quad Cities is made up of cities bordering the Mississippi River, Davenport and Bettendorf in Iowa, and Rock Island, Moline and East Moline in Illinois. Depending on whom you ask, it may also include Silvis or Milan, Ill. Regardless of which cities you consider official, there's something here for everyone. If you're looking for a way to fill a day, here's your guide to living like a Quad Citizen.
Early morning: breakfast at the QC Coffee and Pancake House (1831 3rd Ave Rock Island, IL) or Redband Coffee Company (329 E. 4th Street, Davenport IA)
They say breakfast is the most important meal of the day, and we have plenty of options on both sides of the river to start your day right. 
If you're in the mood for a sit-down breakfast, don't miss QC Coffee and Pancake House. They're known for great service generous portions and cinnamon roll pancakes. Yes, you read that right -- pancakes made from homemade cinnamon rolls, drizzled in cream cheese frosting. But locals also rave about the corned beef has and burgers.
Not ready for a big breakfast first thing in the morning? Swing by Redband Coffee Company in downtown Davenport. It's hard to go wrong with anything on this small but mighty menu, but we suggest you indulge a little with a chorizo and egg sandwich and a New Orleans style iced coffee.
Late morning and afternoon: Shopping in downtown Davenport and museum hopping on both sides of the river
After you've been fed and fully caffeinated, head to downtown Davenport for some shopping and sightseeing. Start your stroll on E. 2nd Street near the base of the Arsenal Bridge. Street parking is free, or grab a spot in the city-run RiverCenter parking ramp ($.75/hour).
Start by browsing great vintage finds at Trash Can Annie's, or find your new favorite vinyl at Ragged Records (both located at 418 E. 2nd Street). Cross the street to Abernathy's (315 E. 2nd Street) for all things vintage, unconventional and eclectic, then head down the block for locally made, handcrafted merchandise at Crafted QC (217 E. 2nd Street).
When you've gotten your fill of vintage and local goods, head northwest to the 300 block of N. Main Street, where you'll find The Full Kit (312 N. Main Street), a men's fashion and sneaker boutique, and Endless Brews (310 N. Main Street), a specialty beer shop with more than 200 bottles and cans for carry out. 
After all that shopping, you'll need an energy boost. Stop in next door at Oh So Sweet by Tiphanie (314 Main Street) for a light lunch, cupcake cookie or other treat. 
Next, head back toward the river and finish the morning in the Figge Art Museum (225 W. 2nd Street). Their permanent collection features many nationally and internationally known pieces spanning from the 15th century to the present. Visit their website to learn more about the permanent collection and traveling exhibits. 
Take the Arsenal Bridge back to Rock Island and stop by the Quad Cities Botanical Center (2525 4th Avenue, Rock Island) if you're a plant lover or just want to feel transported to a tropical island. Explore the indoor atrium and outdoor gardens (depending on the season).
Finish your afternoon at Augustana College's Fryxell Geology Museum (820 28th St., Rock Island), one of the largest and finest collections of rocks, minerals and fossils in the midwest. Here you can see the complete 22-foot long skeleton of Cryolophosaurus, a large crested carnivorous dinosaur, plus other dinosaur skulls (including Tyrannosaurus rex).
Bonus stop: visit the Augustana Teaching Museum of Art (3703 7th Ave, Rock Island) between noon - 4 p.m.. The exhibit represents major eras, artists, techniques and concepts of cultural or scholarly importance.
Evening: Quad Cities-style pizza or famous noodles (founded by alumni) and Whitey's ice cream (also founded by alumni)
No trip to the Quad Cities is complete without enjoying our famous Quad Cities-style pizza. Grab dinner before you head out of town at any of these pizza institutions: Harris Pizza (3903 14th Ave, Rock Island), Frank's Pizza (711 1st Ave, Silvis) or Wise Guy's Pizza (2408 E. 53rd St., Davenport). Or, if you're on 53rd in Davenport, swing by the famous Noodles & Co, founded by Augie graduates Aaron Kennedy and Tom Weigand. 
For dessert, stop by Whitey's Ice Cream—also founded by Augustana graduates—for their world-famous ice cream, shakes and malts. There's a location in every city in the Quad Cities. If you happen to be traveling with a cooler, you can even grab a couple chippers (a handmade chocolate-chip cookie ice cream sandwich) to take home.