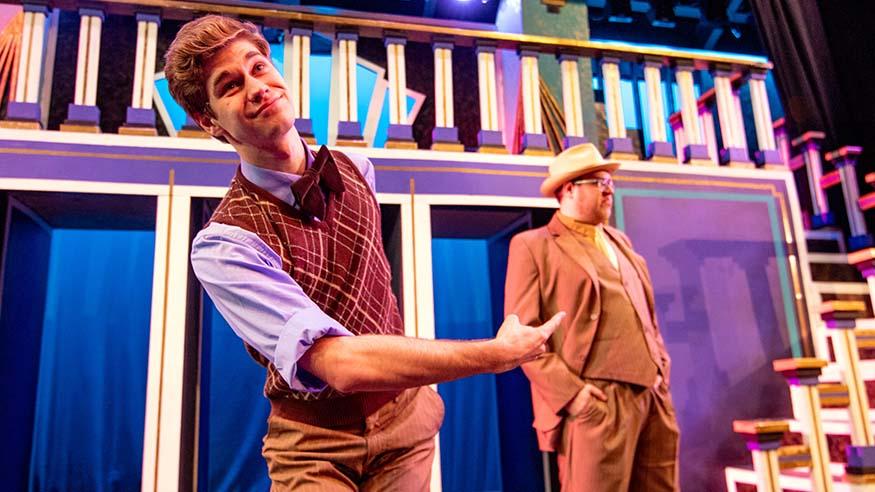 News
'How to Succeed in Business Without Really Trying' April 26-28, May 3-5
Augustana College will present the musical "How to Succeed in Business Without Really Trying" in the Brunner Main Stage Theatre at 7:30 p.m. April 26-28 and at May 3-4, and at 1:30 p.m. May 5.
A satire of big business and all it holds sacred, the musical follows the rise of J. Pierrepont Finch, who uses a little handbook named "How to Succeed in Business without Really Trying" to climb the corporate ladder from lowly window washer to high-powered executive. He tackles such familiar but potent dangers as the aggressively compliant "company man," the office party, backstabbing coworkers, caffeine addiction and, of course, true love.
According to director Shelley Cooper, the cast and production crew of over 65 Augustana students are "exploring the fact that there is truth in comedy, uncomfortable/awkward life moments, 3-D characters with interesting relationships, and an in-your-face, fast-paced, episodic structure; the show does not stop moving! We have been grappling with serious issues such as toxic masculinity in the work force, but how there is slight hope for change."
Tickets are $15; or $12 for senior citizens and Augustana faculty/staff; $10 for students and children; and free for Augustana students with ID. Tickets can be purchased online or through the Augustana Ticket Office at 309-794-7306.
"How to Succeed in Business without Really" Trying is a tune-filled comedy that won a Tony Award for Best Musical and a Pulitzer Prize.
The cast includes Augustana students Rami Halbi '19 as J. Pierrepont Finch, Lauren Larson '22 as Rosemary, Drew Gilson '19 as J.B. Biggley, Daniel Williams as Bert Bratt '19, Muriel Melgoza '20 as Smitty, Brycen Witt '22 as Bud Frump, Cheyenne Powell '20 as Miss Jones, and Abby Overman '21 as Hedy.
Augustana students Alexis Downey '19 and Kascia Olechno '21 serve as assistant director and stage manager, respectively. Rae Ellen Walker serves as scenic and lighting designer, Emma Brutman as technical director and Ellen Dixon is the costume designer. The production is directed and choreographed by assistant professor Shelley Cooper with music direction by Dr. Michelle Crouch.