News
The International Dinner: one stew's story
Augustana's annual International Dinner at the Gerber Center was created to give students a taste of foods from around the world. This year, two of those students stepped up to help realize that vision in a more authentic way.
"It was just to help out," said sophomore Nadia Ayensah, who wanted to make sure the recipe from her home country, Ghana, was represented in the best way possible. "It's difficult to cook foods you're not familiar with."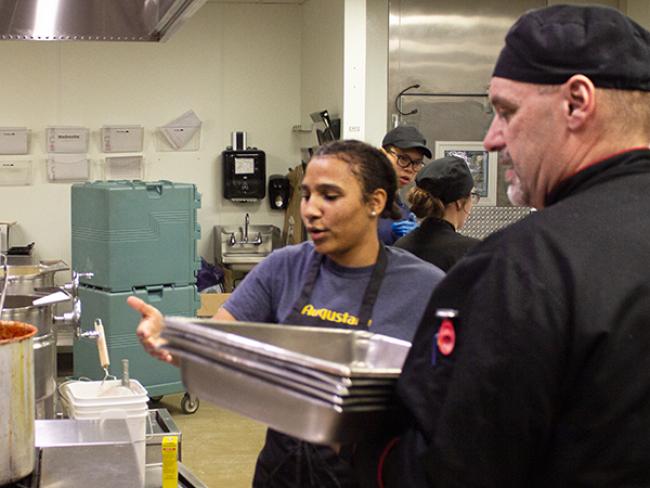 Together with her friend Caroline Siaw, Ayensah reached out to Managing Chef Martin Fleetwood for help. He was happy to oblige. Students, Fleetwood said, have expressed interest in cooking dishes from their home country before, but this was one of the first times he had seen it accomplished. 
For the two friends, it wasn't work; it was helping others to experience their culture in an authentic way. During a Student Government Association meeting about meal plans, Ayensah came up with the idea. "So I asked Amy [in dining services], and Amy reached out later, and yeah—here we are!"
"We didn't let her get away," said Amy Roehrs, the dining services accounts coordinator at the Gerber Center. She was thrilled to see students wanting to participate in the international dinner, which she remembers starting around 15 years ago as a small ticketed event. 
With Chef Martin's assistance in finding ingredients (he highly recommends a West African store in East Moline), they made use of Gerber Center kitchens to cook Jollof rice and bean stew. Siaw described the recipe as beginning as a kind of tomato paste one makes for a base. From there, rice is added to the paste, and what's left over in the pot becomes sauce for the bean stew.
Today, the International Dinner has grown into an annual campus-wide sensation open to any student with a meal plan. The dining center kitchens, on the other hand, are open any day of the year for students who want to get involved—whether their favorite dishes are from Milan, Italy, or tiny neighboring Milan, Illinois.
– Jack Harris '20, Writers Bureau