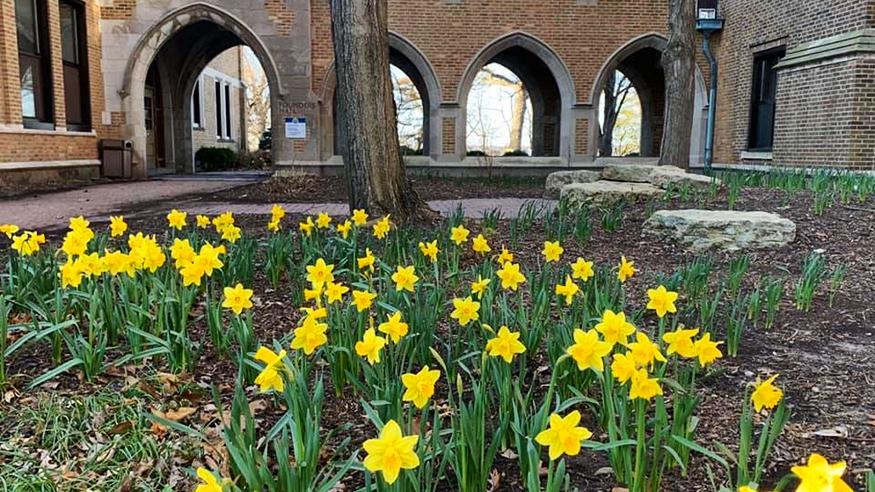 News
It's a virtual spring at Augustana College
It all started on Friday, March 13. Augustana made the announcement of an extended spring break due to the COVID-19 pandemic, directing almost all students to return home and most employees to telecommute. 
On March 18, President Steve Bahls sent students this message, explaining that classes would resume on March 30 via distance learning through the rest of the semester. It was a hard decision to make (and take!), for a community that relies on active, shared experiences and hands-on learning. 
But President Bahls' message was reassuring and resolved. "Our plans have been broken, but we'll put those plans back together… with bonds that make us stronger than ever. We must do so because the world needs Augustana graduates. The world needs you."
Teaching and learning are happening
That same day, March 18, more than 100 faculty members attended the first of several training sessions on teaching through distance learning, hosted by the Office of Academic Affairs. All professors now use a distance-learning Moodle site as the primary medium for tracking, documenting and sharing student learning. 
Augustana's provost, Dr. Wendy Hilton-Morrow, directed faculty to transform courses, revise syllabi, and post on Moodle by March 20. Above all, she asked them to communicate to students a primary message: We are going to be OK, and here's how.
'The liberal arts are more important now than ever. They give us the breadth of perspective that allows us to address unexpected challenges in unexpected ways…. We have taught it. And now we shall live it. There is no group I would rather stand with at such a time than you.'­
Augustana professors responded. Those unfamiliar with distance-learning software quickly learned. Just as quickly, they improved on what they learned and got creative. 
Many are creating videos for their students and advisees. These range from wise reassurance and historical thinking to continuation of a "mug-of-the-day" and other short documentaries. 
And for clarinetists who thought they might get out of their drills, here's F major.
And so much more is happening
On Monday, March 30, Augustana College began its second, virtual half of the spring semester—or as IT director Chris Vaughn called it "the beginning of the great adventure." Here's a glance at how it's going.
Institutional technology rolled out Virtual Viking, providing remote access to the college network for all users. IT now is busy supporting students with technology needs, providing laptops and Chromebooks to students who need them, and sharing tips on the IT student support site.
In the Office of Student Inclusion and Diversity, Michael Rogers and Ashley Allen provided advice on preparing for success through the rest of the semester, including one very important tip: READ YOUR EMAILS.
An Outreach Team of 11 members—Augie staff who can't easily work their usual job from home—is busy contacting students. They check on how students are doing, ask if they need help with tech issues, and more.
When Director of Residential Life Chris Beyer needed help quickly contacting 149 individual students in the res halls, who did he call? The Outreach Team. (The orderly move-out of students from the res halls occurred two days before the governor issued a stay-at-home order. Currently 176 students, mostly international students who couldn't return home, are living in their on-campus residence. A crew of staff members in facilities, dining, residential life, and safety and security remains on campus to help.)
Student Counseling introduced TAO Connect, confidential mental health services available to all students, faculty, staff and alumni. Director of Counseling Services Bill Iavarone thinks that, once the pandemic has passed, virtual strategies could help students more difficult to reach, such as those studying abroad.­­
Campus recreation and intramurals are happening, with virtual classes, National College Trivia Night, and more to come. 
Librarians at the Thomas Tredway Library are available for research and resource help, and have provided a Distance Learning Guide.
Career development staff members in CORE are hosting virtual drop-in sessions. Students needing career-related advice can meet with career coaches for a ZOOM conversation. 
Subject drop-in tutoring and faculty tutor appointments are available in the Virtual Reading Writing Center, featuring faculty tutors Susie Méndez, Jacob Romaniello and Lucas Street.
On April 1, Campus Chaplain Richard Priggie hosted the first virtual Wednesday Night Chapel Service. Every Wednesday, as always, students can take a few minutes after a hectic day for inspiring music and spiritual reflection. 
And every day, the Office of Communication and Marketing sends the Augustana community these Daily Campus Updates, keeping us all together while staying apart.
Looking to the future
Meanwhile, the Office of Admissions is busy thinking about the Class of 2024. At this time of year, many students want to visit campus once more before choosing a college. And who can resist springtime at Augustana? 
This spring, admissions and communication and marketing have designed a Virtual Viking Visit to Augustana. Prospective students can tour campus online, attend an online info session, or talk with a counselor or current student. (Also check out these Tiny Tours, created earlier in March and featuring Social Media and PR Specialist Kirby Stockwell '17.)
So, things are buzzing along. But what about graduation? 
The hope is to have a real, physical graduation celebration this summer, or even in the fall, if necessary.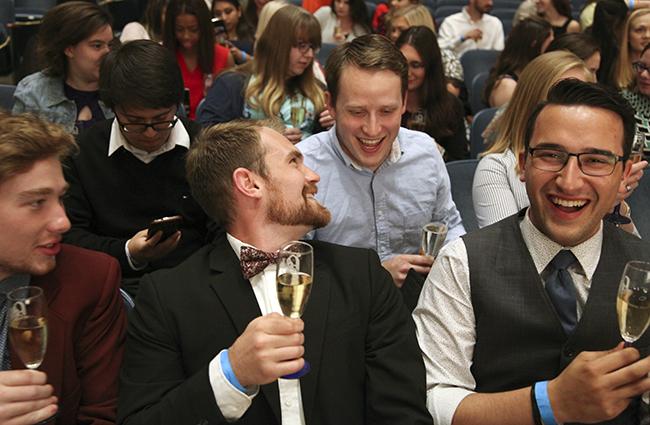 Other senior milestones are still happening virtually. One of these is the Last Lecture: Every year, seniors vote on a favorite professor to deliver a last lecture, especially for them. Afterwards, President Bahls asks them all to raise a glass for a champagne toast. 
This year seniors will vote online, as usual. And in May they'll hear the words of a beloved professor or two, delivered virtually. Then they will raise a glass and toast their future, using the special champagne flute (minus champagne) that arrived by mail. 
'I just want to thank every single person that works at Augustana! You have all been so wonderful thru this whole process. I am so thankful that my son is a student at Augie. Augie has kept us so informed and up to date with everything. You handled all this so well and it has all gone so smoothly for students and parents both. I can't thank you enough. Awesome school – Awesome staff! Stay safe and healthy!'