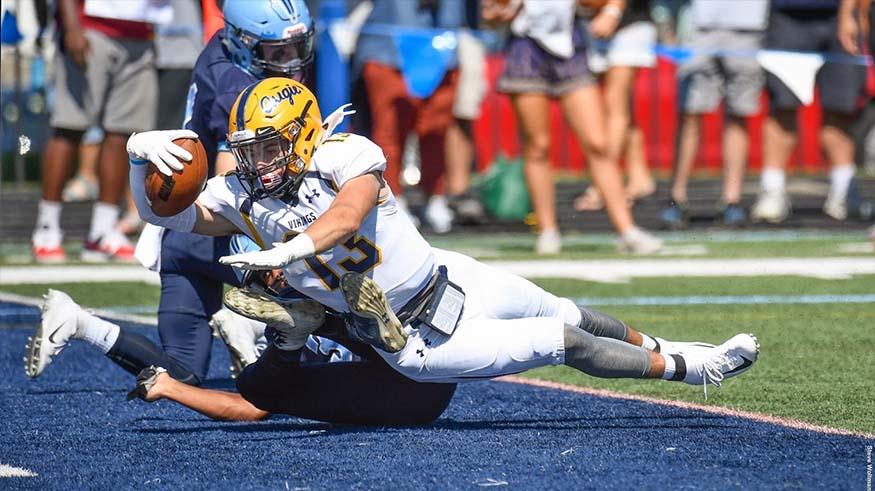 News
Jacobs wins $10,000 NCAA Postgraduate Scholarship
Augustana senior Alek Jacobs, a quarterback on the Vikings football team, has won a $10,000 postgraduate scholarship from National Collegiate Athletic Association.
He is the 42nd Viking and 13th Augustana football player to earn the NCAA award.
The scholarship is for part-time or full-time graduate study at a university or professional school.
The grants are awarded to student-athletes who excel academically and athletically and who are at least in their final year of intercollegiate athletics competition.
A native of Rock Island, Jacobs is an economics and political science major who carries a 3.95 grade point average. He plans on attending law school after graduation this May.
He twice has captured Academic All-District honors from the College Sports Information Directors of America and is a nominee for this year's National Football Foundation William V. Campbell Trophy.
The versatile 5' 11", 195-pound Jacobs has played all over the field in his first three seasons at Augustana. He's seen action at quarterback, running back and wide receiver, while also serving as the Vikings' primary kick returner.
He was a first team All-CCIW selection as a kick returner in 2018 after setting school records for kickoff returns (30) and yardage (733) and leading the conference with an average of 24.6 yards per return. He is also Augustana's career record holder for kickoff returns (52) and yardage (1193).
Jacobs has rushed for 1,261 yards and 15 touchdowns in three seasons, averaging 4.8 yards per carry. He's completed 65 of 122 passes for 543 yards and three touchdowns and caught 15 passes for 69 yards and another score. He ranks sixth in school history in career kickoff return average (22.94), eighth in completion percentage (53.3) and ninth in all-purpose yards per game (85.1).
Contact: