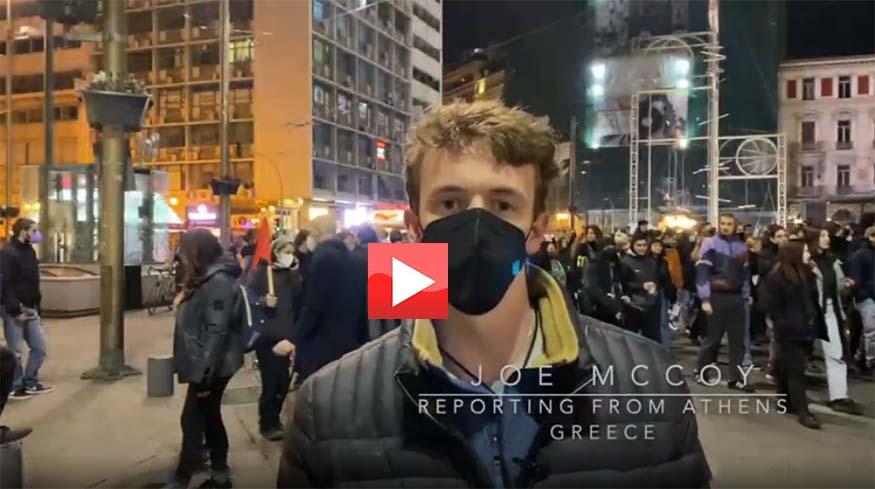 News
Journalism major builds portfolio in Greece
A historic snowstorm, a massive political protest, and a sensitive interview with a beleaguered baker: Augustana junior Joe McCoy is using a semester in Greece to reach his goal of of becoming a nationally known TV reporter.
McCoy is spending the semester in Greece through Augustana's study abroad program and College Year in Athens (CYA).
He is a double major in multimedia journalism and economics, and in between classes, he's building his reporting portfolio.
"I film, write, edit, and publish everything by myself. I set my phone up on a tripod that also has a light on top of it, and then I have a lavalier mic that I use when doing my stand-up and interviewing people," he said. "Once I shoot everything, I edit it on iMovie and then upload it to YouTube."
Viewers will see McCoy standing in a snowstorm that looks more like Rock Island than sunny Athens in one report. In another, he speaks as marchers go behind him in protest in solidarity with a rape victim. And in a third report, McCoy listens to a generous cafe owner who struggled to stay open during the pandemic.
"I have fallen in love with Greece within my first month of being here," McCoy said.
"I don't have a particular reason why I choose Greece. I was just looking at the various study abroad programs that Augustana offered, and once I came across CYA, I immediately knew that it had everything I was looking for."
He also has an internship at Insider Magazine in Athens.
Contact: