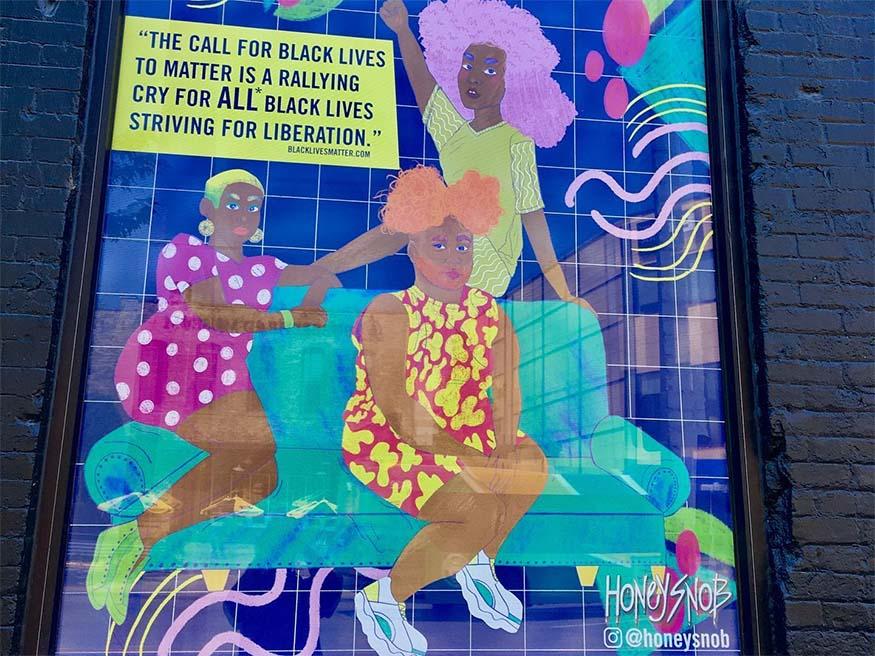 News
Letting her artistic voice 'take up space'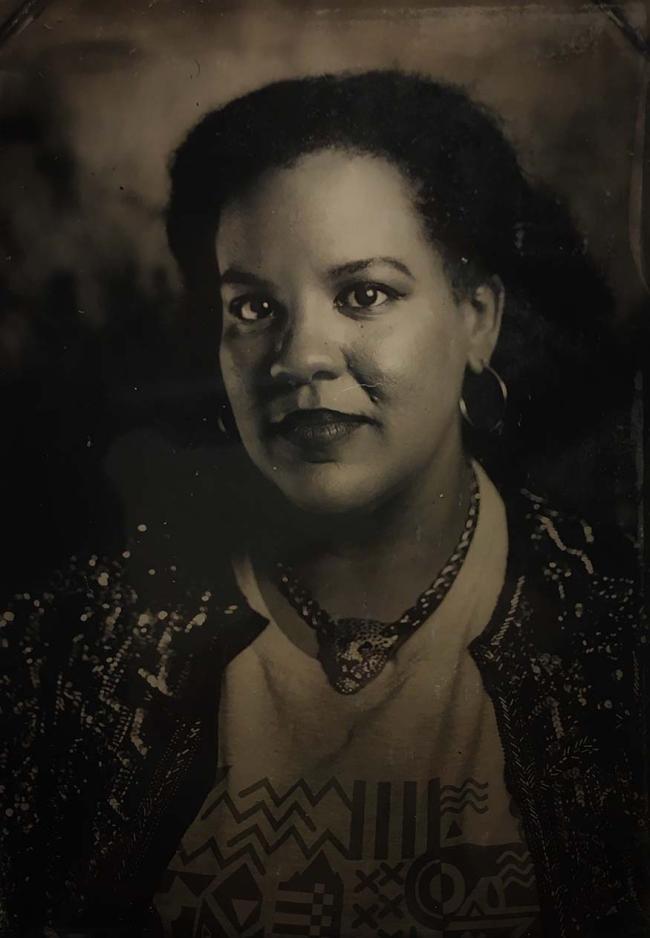 Audrey Moore '15, graduate in art history and graphic design, has given the Milwaukee community an extraordinary public work of art.
Dr. Margaret Morse, who teaches art history at Augustana, takes pride in her former student. "It's a timely image that celebrates Black queer, trans and disabled people. As you can see...it's colorful, joyful, empowering and positive."
The installation fills the front windows of BlackPaint Studios, a creative advocacy organization in Milwaukee, where Moore lives. The public art piece also delivers a public service with its uplifting message about care and inclusion, and the joy that accompanies these.
"I wanted to highlight joy as a form of resistance for Black people, and celebrate my intersections as a Queer Black Femme," Moore explained.
She created the installation while she was a Creative Leaders fellow at BlackPaint Studios from January to May 2020. The founders of the women- and queer-owned organization, Katie Mullen and Jordan Pintar, asked for a work that reflected Moore's "feelings toward the Black Lives Matter movement, Milwaukee's organizing community, and uplifting the Black community."
Moore says she loves Milwaukee, but "the city's reputation for segregation and redlining sometimes outshines some of the city's successes.
"Growing up in Milwaukee, I didn't really have a sense of belonging here," she said. "I think that's why I decided to go to Augustana. I knew of a student who was a year ahead of me there, and we had connected at Milwaukee Institute of Art and Design's Pre-College Program."
Moore was planning to study biology and art so she could go into medical illustration, but took a different direction and studied art history and graphic design.
As a graphic design student at Augustana, Moore was told that her work tended towards illustration. After graduating, she took a break from graphic design to work on her skills in painting and digital illustration.
"My skills, style and artistic voice is something I'm still working on to this day," she said.
Moore's relationship with her community also is growing. This is clear in the connections portrayed in her art, and also in her daily work as a program manager for Artists Working in Education, a non-profit organization that works with Milwaukee schools to deliver arts programming to children.
"After graduating, and finding my authentic self in my hometown, after finding community and solidarity, I felt like I was allowed to let my art and my voice take up space," she said.