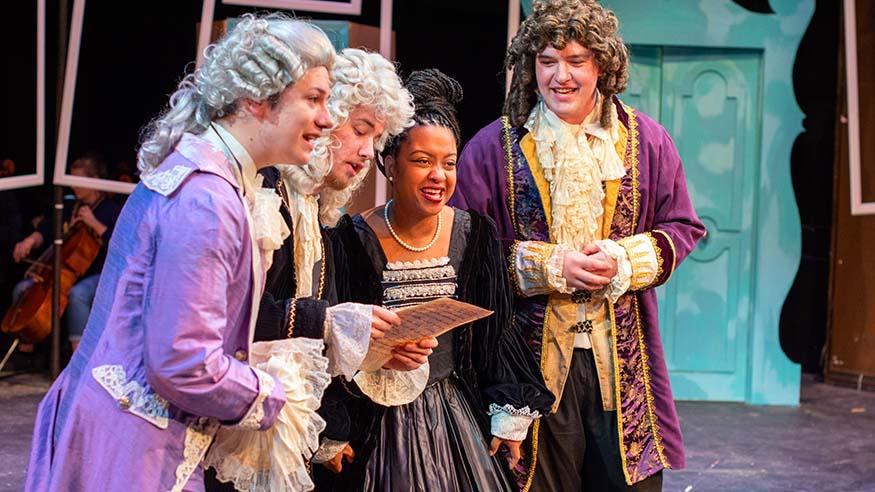 News
'The Marriage of Figaro' presented Nov. 22-23
One of the most popular operas of all time — "The Marriage of Figaro" by Mozart — will be presented Nov. 22-23 at Augustana College's Brunner Theatre Center.
The opera's libretto is based on a stage comedy about the servants Figaro and Susanna, who succeed in getting married, foiling the efforts of their employer Count Almaviva to seduce Susanna, and teaching him a lesson in fidelity. The opera will be presented in English.
"The Marriage of Figaro" will be performed at 7:30 p.m. on Friday, and at 2 p.m. 7:30 p.m. on Saturday. Admission is $14; or $12 for seniors, $10 for Augustana faculty and staff, and free for students and children. Tickets are available in advance online or at the door.
A cast of 10 student performers will be directed by Michelle Crouch, adjunct assistant professor of music. Dr. Daniel Chetel will conduct the Augustana Chamber Orchestra.
"The Marriage of Figaro" will be staged in a form abbreviated from the work's usual four acts.
"We're doing about a third of the total music, with the centerpiece being Act II," said Crouch. "Act II really stands alone very well once the drama is set up a bit, which we are doing with a brief dialogue/pantomime of Act I and Figaro's revenge aria which is briefly reprised in Act II.
"Then we are performing the Count's famous rage aria and the hilarious recognition sextet from Act II, and finishing with the final forgiveness and reconciliation scene from the Act IV finale, the non-sequential parts joined together by just enough dialogue/pantomime to help the audience have an experience of the plot."
Crouch has participated in several area operas as a performer and director.
Student performers are seniors Amber Mraz (the Countess) and Camille Myeres (Marcellina); juniors Nathaniel Bohrer (Figaro), Zoë Haenisch (Cherubino), Sabrina Massa (Susanna), Zachary Myatt (Bartolo), Elliott Peterson (the Count), and Matthew Postma (Basilio); and sophomores Ryler Knar (Antonio) and Nathan Maras (Don Curzio).