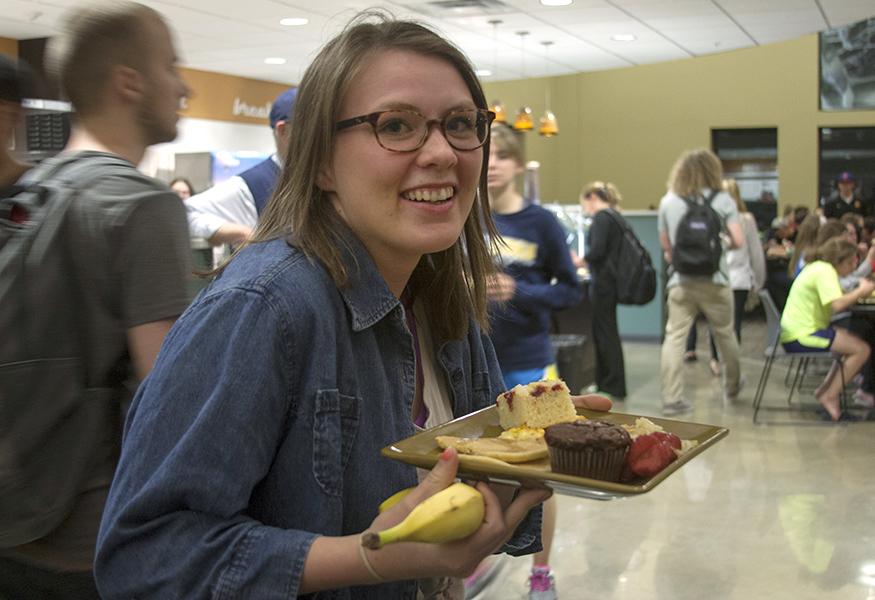 News
Midnight Breakfast, served with good humor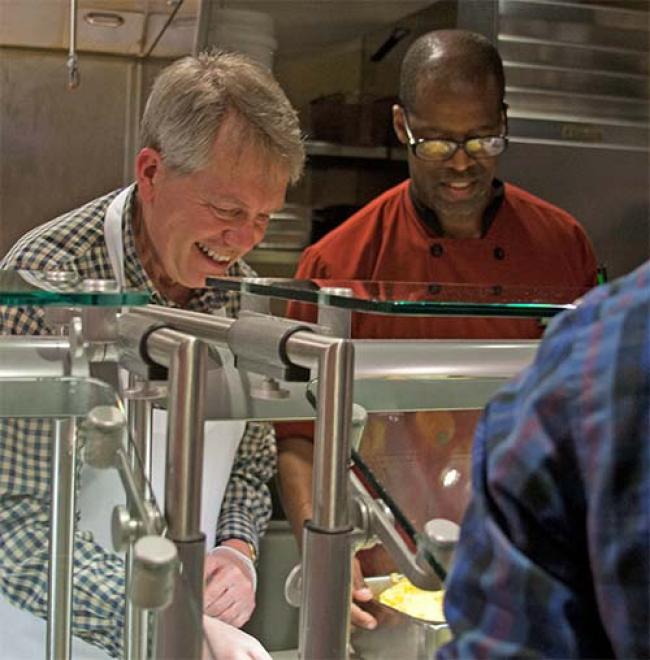 The finals week Midnight Breakfast will be served from 10 p.m. until midnight tonight. Faculty and other employees volunteer to cook, serve and wash dishes for the tired but giddy students who show up for the free late-night repast at the Center for Student Life.
Dennis Norling, an instructor in business administration, has worked the last 10 years at Augustana and the last three Midnight Breakfasts. He does it to support both the students and the dedicated people who work at the dining facility. "I dine at the CSL every weekday, often on weekends, during breaks and in the summer — pretty much whenever it's open," he said. "I've never really learned to cook, so this place is a godsend."
In a Field Notes essay for the campus newsletter, he writes:
"I always enjoy talking to students outside of class, so working at the Midnight Breakfast is a no-brainer. That probably explains why faculty and staff arrive in good humor, but, to my surprise, the students are pretty happy, too. Maybe it's akin to gallows humor, but whatever finals anxiety they may have is all but invisible. They are ebullient. The food is free and their teachers are dishing out eggs instead of tricky questions.
"In addition to scrambled eggs, we serve pancakes, sausages, cheesy potatoes, fresh fruit and a variety of sweet treats. For volunteers who would rather not be stuck in one spot serving, there's the option of cleaning tables with Kai Swanson and Kimberly Murphy.
"Hot food is served at Wild Thymes, the Carvery and at my post-the American Grill. I'm not the quickest egg slinger around and, since speed is essential with lines of students snaking back through the seating area, I take a job requiring neither skill nor speed: garnishing pancakes with chocolate chips.
"Luckily, at last Monday's Midnight Breakfast, I was surrounded by consummate professionals. Bob Tallitsch, our stentorian maître d', greeted guests as he flipped flapjacks. He seemed to know each of them by name: first, last and middle. Most smiled nervously and quickly moved on to a stack of Eric Stewart's beautifully browned pancakes, pancakes that would make Martha Stewart envious.
"Larry Peterson served eggs and potatoes with a dash of repartée. Liz Roberson flung pancakes onto plates as if they were Frisbees. Should their careers as educators falter, the Red Crow, Le Figaro or Johnny's Steakhouse should hire them in a heartbeat.
"Later on there might be no line over at the Carvery, and yet our post had a dozen students waiting. In a spasm of modesty, Bob claimed he was the draw. When we ran out of chocolate chips, I began pouring syrup on the pancakes, an act Eric deemed too Calvinist, eliminating students' free will by predetermining their choice. Oy, academics!
"It's Jason Peters I admired most. Shunning the limelight, he slaved away uncomplaining, happily scraping plates in the kitchen.
"If you didn't have a chance to volunteer this week, consider signing up to help in May. I think you will enjoy it, and I can promise you won't get stuck near Bob."