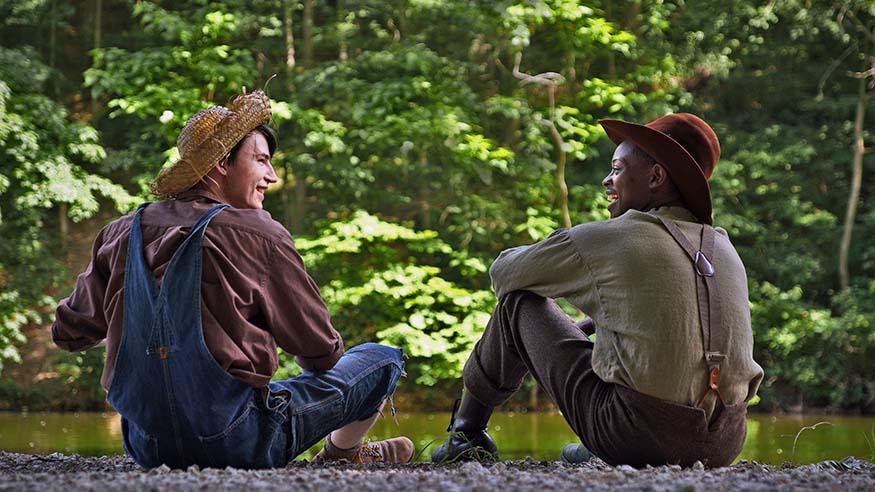 News
Mississippi Bend Players kick off with 'Big River'
The Mississippi Bend Players, led by Broadway director and Augustana alumnus Phil McKinley, will kick off their second season with the musical "Big River: Adventures of Huckleberry Finn."
"Big River," a seven-time Tony Award winner, "sweeps the audience down the mighty Mississippi as the irrepressible Huck Finn helps his friend Jim escape to freedom. Their adventures are hilarious, suspenseful, and heartwarming," says the Rogers and Hammerstein Organization.
Shows are at 7:30 p.m. June 22, 23, 29 and 30, and 2 p.m. June 24 and July 1 in Augustana's Brunner Theatre Center. A show-after-show will be presented June 29-30. This 45-minute cabaret will feature summer interns and begin 15 minutes after the curtain call.  Admission to the show-after-show is $5 per person.
Tickets are available online, at the door, or by calling 309-794-7306. Tickets are $20, or $15 for seniors, students, children and Augustana faculty and staff.
A timeless tale
Based on the Mark Twain novel, "The Adventures of Huckleberry Finn," the show features bluegrass and country music and celebrates Americana.
The show features a diverse cast of professional actors from New York, Chicago and Portland, students from Augustana and St. Ambrose University, and community members. They are supported by professional designers and administrators along with a team of interns.
Shelley Cooper, Augustana assistant professor of theatre arts, will direct the show.
"I am thrilled to work with such a wonderful team of artists and to direct this timeless tale set along the Mississippi River," she said. "This story is about two outcasts finding a bond confronting racism, inclusivity and adventure while discovering who they really are. I want the audience to walk away understanding that strength lies in differences, not in similarities."
The show stars Quinn Rigg as Huck, LaRon Grant as Jim and Jaryd Whitmore as Tom.
Rigg recently appeared as Henry Clay in the rock musical "Bloody Bloody Andrew Jackson." He is a junior at Columbia College, Chicago, pursuing a bachelor of fine arts in musical theatre.
Grant has performed across the U.S. and the globe, appearing in New York, Hong Kong and Florida in productions of "Dreamgirls," "Festival of the Lion King" and "Avenue Q."
Whitmore is a senior at Augustana College, double-majoring in theatre arts and history. He has appeared in several college productions, including "Titanic: The Musical," "The Madwoman of Chaillot" and "In the Next Room or the vibrator play."
The Mississippi Bend Players continue their season with "The Glass Menagerie" July 13-15 and 20-22, and "Beginner's Luck" Aug. 3-5 and 10-12.