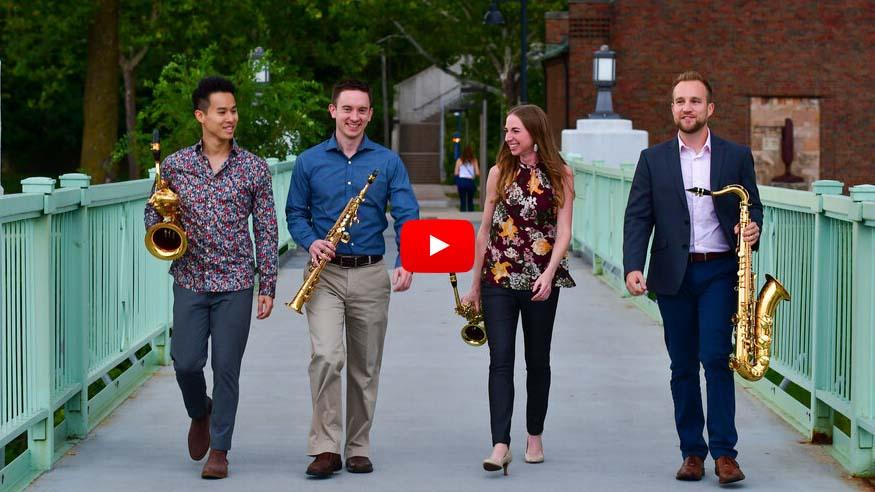 News
Music's Cummins feels the gold medal glow
The Colere Quartet, with Augustana music instructor John Cummins, won a gold medal in May at the largest chamber music competition in the U.S.
The saxophone quartet was chosen as the gold medalist in the senior wind division at the 47th Fischoff National Chamber Music Competition. More than 130 ensembles from the U.S. and abroad participated.
As a gold medalist, Colere was granted a cash prize and participation in Fischoff's Double Gold Tour. Dates and venues for the tour are TBA due to the impact of the coronavirus.  
"All of us are thrilled to have won this competition. We hope it brings more attention to the kind of music we are offering," said Cummins.
The Colere Quartet also includes Elissa Kana, Greg Rife, and Dennis Kwok. They perform classical and contemporary music at Augustana, the University of Iowa, and at communities around the Midwest.
 "The group really enjoys coming to Augustana and mingling with the students and faculty," said Cummins.
The Fischoff Competition is the longest consecutively running competition in the U.S.. Each year, an average of 125 ensembles, representing 22 nationalities, enter in either the wind or string categories of three to six performers. Since its founding, more than 7,400 musicians have participated.